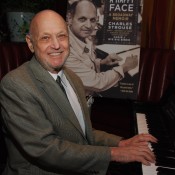 Strouse, Charles
CHARLES STROUSE (Music). Broadway credits includes Bye Bye Birdie (written with Lee Adams and Michael Stewart, Tony Award); Golden Boy (starring Sammy Davis, four Tony nominations);  It's a Bird! It's a Plane! It's Superman!; Applause (Lauren Bacall, Tony);  Annie (Tony and two Grammys).  Other musicals: Charlie and Algernon (Tony nomination), Dance a Little Closer (lyrics by Alan Lerner), Rags (Tony nomination), Nick & Nora (Tony nomination), among others. Film score: Bonnie and Clyde. Theme: "Those Were the Days" (from "All in the Family"). Founder of ASCAP Musical Theatre Workshop.
Read More
Shows Associated this writer
Songs Associated this writer
Concerts Associated this writer
Trivia about this writer
In 1986 RAGS opened at the Mark Hellinger Theatre. It was nominated for five Tony awards, including Best Musical, Book, and Original Score.
The birthday of Charles Strouse, composer of the musicals RAGS, ANNIE, and BYE BYE BIRDIE.