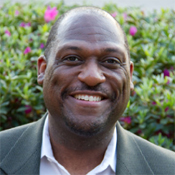 Cornelius II, John L.
A member of ASCAP, John Cornelius' output includes musicals, operas, chamber works, orchestral works, and song cycles.  Having been the music director/arranger/composer for a number of theaters including the Ensemble Theater of Houston, Adventure Theater in Glen Echo Park, Main Street Theatre (Houston), Theater Under the Stars (Houston) and Theater Under the Stars' Humphreys School of Musical Theater, he has also written, along with his collaborator, Michael J. Bobbitt, several works for the lyric theater including, The Bingo Long Travelling All-Stars and Motor Kings, The Stephen Schwartz Project, Mirandy and Brother Wind, Say It Ain't So!, The Yellow Rose of Texas and Going the Distance, a commission from the Smithsonian Institute,  about the lives and careers of Wilma Rudolph and Jesse Owens. Mirandy and Brother Wind received a 2010 NEA grant, premiered in 2011 in Washington, DC and is published by New Plays for Young Audiences.  His latest theatrical works, Three Little Birds, adapts the catalog of Bob Marley into a modern fairy tale and Garfield: The Musical With Cattitude.
He has written a number of works exploring the legacy of the African-American spiritual:  Lis'en to de Lam's, a work for soprano duet and piano, Three Spirituals for Tenor and Strings, My Kinfolks Got Wings (woodwind quintet), Conversion, a cycle for Tenor and chamber ensemble and a host of choral settings.  Of his chamber works, Charles Ward in the Houston Chronicle wrote, "The highlight … was a set of three spirituals arranged for tenor and string orchestra by composer John Cornelius. In O Fix Me, the juxtaposition of an elegant, long melody floating over a sharp, jazzy string riff was electric. "  His most recent works include Chansons Creoles, a song cycle whose text is by gens de colour of 19th-century Louisiana, Sonata of Attitudes for 2 Horns and Piano, The Kashmere Cycle, a song cycle commissioned by Houston Grand Opera's HGOCo., and Fulfilled, a Passion Week cantata, What Wings They Were, a commission from HGOCo and a Magnificat, Mary's Song of Joy for First Presbyterian Church of Kingwood, TX.
Currently an Associate Professor of Music at Prairie View A&M University, Dr. Cornelius is a native of Jackson, Mississippi and received his B. M. in Piano Performance from Jackson State University, a M. M. in Piano from Washington University in St. Louis and his M. M. and D. M. A. in Composition from Rice University.
Shows Associated this writer
Songs Associated this writer