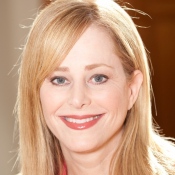 Vogt, Janet Yates
Janet Yates Vogt has been a writer, composer and lyricist all of her life. She credits her career today to her family's support, the guidance of many wonderful directors and producers, and to her many outstanding teachers – from her first grade teacher who notated Janet's first songs and taught them to the class to sing – to her inspiring piano teachers to her professors at the University of Cincinnati College-Conservatory of Music (CCM), where her studies were centered upon piano performance and music theory.
Janet is known nationally and internationally not only for her musical theatre works, but also for her numerous publications in many different musical genres, including vocal music for children and choral works for adults. Janet's educational keyboard books and methods have been translated into French, Japanese and German.
Along with her writing partner, Mark Friedman, they are true collaborators – with both writing music, lyrics and the books for their many shows. Their TYA musicals include Rapunzel! Rapunzel! A Very Hairy Fairy Tale; The Magical Adventures of Merlin; How I Became a Pirate: Sleepy Hollow, A Musical Tale; Anne of Green Gables; Jingle ARRGH the Way; Snow White and the Prince. Their non-TYA shows include River of Freedom (the life of author, Harriet Beecher Stowe) and Tenderly, the Rosemary Clooney Musical. In development is a look at the life of the famous bootlegger, George Remus and also their newest TYA show – Sherlock Holmes and the Mystery of the Crown Jewel.
Their many musicals have played at over 300 theatres, here and abroad, including children's theatres, middle and high schools, community theatres and numerous Equity stages, as well.
Shows Associated this writer
Songs Associated this writer