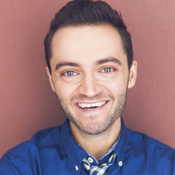 Schmuckler, Alan
Alan Schmuckler is a musical theater artist whose work includes writing, performing and music directing.  In addition to work for the live stage, Alan has also created work for television, podcasts and digital formats.  His work has been performed across the US and internationally.
He is the composer/lyricist of Diary of a Wimpy Kid (with Michael Mahler, book by Kevin Del Aguila; world premiere, produced by Kevin McCollum, Fox Stage, and Children's Theatre Company); The Secret of My Success (with Mahler, book by Gordon Greenberg and Steve Rosen; NBC/Universal); Wait Wait Don't Kill Me (book by Dave Holstein; Wondery Media Network; Flea Theater; Webby Award & International Audio Fiction Award;); musical pilot Boyfred (with Mahler, Blake Silver and Jarrod Zimmerman; Shoe Money Productions/Sony TV/ABC TV); The Emperor's New Clothes (book by Holstein; Chicago Shakespeare Theater); How Can You Run with a Shell on Your Back? (with Mahler; CST); Days Like Today (book by Laura Eason; Writers Theater); and digital choose-your-own-adventure musical My Little Red Green Coat (with Holstein; www.mylittleredgreencoat.com).
Alan's music and lyrics have been featured as part of Broadway's Future Songbook (NYPL @ Lincoln Center), Kennedy Center Millennium Stage, 54 Below, Joe's Pub, & Symphony Space.  Residencies: Johnny Mercer Foundation Songwriters' Project; Goodspeed Musicals; Weston Playhouse.
Music direction: Playwrights Horizons, O'Neill, NYMF, Ars Nova, Symphony Space, Children's Theater Company, About Face Theater, Chicago Shakespeare Theater.  As actor: LCT, Hartford Stage, Geva, MUNY, 92Y Lyrics & Lyricists.
Alan is a 2018 Kleban Prize winner and a proud graduate of Northwestern University.  He lives in New York. @alanschmuckler
Shows Associated this writer
Songs Associated this writer