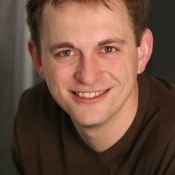 Eddie Sugarman
is Managing Director of the 16th Street Theater in Berwyn, Illinois. He has worked in the marketing department of the Tony Award-winning Chicago Shakespeare Theater and was Managing Director of the Jedlicka Performing Arts Center for three season, where he produced 18 plays and musicals and increased revenue and attendance by over 10% a year.
In addition to Meet John Doe, Eddie has written book and lyrics for The Nutcracker Sings! (music by Jihwan Kim), The Gospel Of Goliath (music by Jihwan Kim), King Of The Playground (music by Bruce Kiesling) and To Make A King (music by Jihwan Kim). He also had the coolest job on Broadway when he was a stuntman in the original production of the musical Ragtime.
Eddie holds a BFA in Musical Theatre Performance from the University of Michigan, and lives in Chicago with his amazing wife, Kara, and their very cool kids, Sam and Lucy.
Shows Associated this writer
Songs Associated this writer