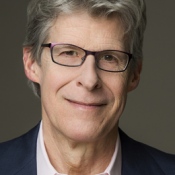 Chapin, Theodore S.
Ted Chapin was chosen by the Rodgers and Hammerstein families to run their office. He expanded it into the Rodgers & Hammerstein Organization, which is responsible for management of the copyrights created by Richard Rodgers and/or Oscar Hammerstein II. On his watch, there have been new major productions of their musicals on Broadway (seven Tony Awards for Best Revival so far), in London, and around the world. He brought in the representation of other extraordinary musical artists including Irving Berlin. In addition to revivals, he has encouraged new Broadway productions, among them "Irving Berlin's White Christmas," "Rodgers + Hammerstein's Cinderella,"  "State Fair," "A Grand Night for Singing," and "Holiday Inn" and the major television productions "The Sound of Music Live!" on NBC and the multi-racial "Cinderella" with Whitney Houston on ABC.
Read More
Shows Associated this writer
Songs Associated this writer
News about this writer
Ted Chapin's STAGE DOOR CANTEEN CD Featured At Barnes & Noble NYC In-Store Event on April 11!
New DRG Recording Celebrates WWII-era Songs from Rodgers & Hammerstein, Irving Berlin, Rodgers & Hart and Others.
Read More