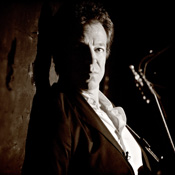 Goodman, Paul Scott
Born and raised in Glasgow, Scotland, PSG moved to NYC in 1984. He wrote the book, music, and lyrics for Bright Lights Big City, directed by Michael Greif which was presented at the New York Theater Workshop, The Guggenheim Museum, the Prince Music Theater, Philadelphia and Harvard University. The CD of the show, starring Patrick Wilson, Sherie Renee Scott, Jesse L. Martin, and Christine Ebersole is available on Sh-K-Boom Records and the live rights are available through Rodgers and Hammerstein Organization. Goodman's other produced musicals include: Him & Her, Prince Music Theater and the New York International Fringe Festival, ( 2002 Best Performance Award ); ROOMS, New York Musical Theatre Festival (directed by Scott Schwartz, nominated best musical by Outer Critics Circle, 2009); Alive in the World, Zipper Theatre 2006; God Save the New Wave (Bottom Line, West Bank Theater); Metropolitan Music (Marymount Manhattan College); Just East of Broadway (The Duplex). He is currently writing Open Road and A Walk on the Moon for Tony winning producers Steve and Ruth Hendel. A Walk on the Moon will open at A.C.T. in San Francisco, June 2018.
Shows Associated this writer
Songs Associated this writer
Trivia about this writer
The birthday of Paul Scott Goodman, composer and lyricist of the musical BRIGHT LIGHTS, BIG CITY.
In 1999, the rock musical BRIGHT LIGHTS, BIG CITY by Paul Scott Goodman opened at New York Theatre Workshop.