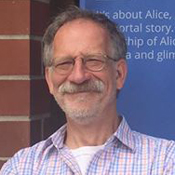 Saltzman, Mark
Mark Saltzman began his career in New York with Jim Henson writing for the Muppets. His "Sesame Street"  sketches and songs (including "Caribbean Amphibian") earned him seven Emmy Awards, but behind Kermit's back, Mark was writing cabaret shows and musicals that played at Soho Rep, 13th Street Theater, and the Village Gate, where he co-wrote the long-running revue "A, My Name is Alice."
For network television, Mark collaborated with Jerry Herman on the tv movie "Mrs. Santa Claus" starring Angela Lansbury.  His TV movie, "The Red Sneakers" directed by and starring Gregory Hines, aired on Showtime in 2004 and was nominated for a Writers Guild Award.
For the movies, he wrote "The Adventures of Milo and Otis" and "Three Ninjas Kick Back" and has written screenplays to SONY, Universal, and Disney.
Mark's musical play, "The Tin Pan Alley Rag" opened at the Pasadena Playhouse in 1997 and was nominated for five Los Angeles Ovation Awards, including Best Musical. The show continued to play in theaters throughout America, including New York's Roundabout Theater.  Another of his musicals, "Romeo and Bernadette" was produced at The Paper Mill Playhouse, as well as internationally in Seoul and Manila. Mark was especially proud that he was selected by the Rodgers and Hammerstein Organization to adapt the classic "Show Boat" for a performance at the Hollywood Bowl. His musical "Falling For Make Believe," based on the life of Lorenz Hart, opened at the Colony Theater in California and received an award from the Arch and Bruce Brown Foundation. His newest musical, "Another Roll of the Dice" based on Damon Runyon stories, coupled with Frank Loesser songs, played the Wyoming Theater Festival in 2017.
Mark is a graduate of Cornell University's English and Theater Departments and the head of the Arnold Glassman Fund which provides grants to documentary films.  More at: www.msaltzman.com
Shows Associated this writer
Songs Associated this writer