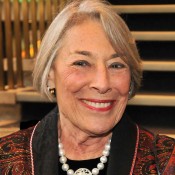 Rodgers, Mary
MARY RODGERS (1931-2014).  An accomplished author, screenwriter and composer, Mary Rodgers' earliest professional credits included serving as Assistant to the Producer of Leonard Bernstein's New York Philharmonic Young People's Concerts.
Her Broadway career began as composer of the 1959 musical ONCE UPON A MATTRESS starring Carol Burnett, later broadcast to great success on network television and revived repeatedly. More than 400 productions of ONCE UPON A MATTRESS are presented annually in the U.S. and Canada and a 1997 Broadway production starring Sarah Jessica Parker earned a Tony Award nomination for Best Musical Revival. ABC-TV presented a new version of ONCE UPON A MATTRESS on "The Wonderful World of Disney" in late 2005 (subsequently released on DVD), once again starring Carol Burnett—this time as the wicked Queen Aggravain, with Tracy Ullman as Princess Winnifred.
Ms. Rodgers had been a popular author of fiction for young people ever since her first book was released in 1972: Freaky Friday received the first prize at the Book World Spring Book Festival Awards, The Christopher Award, and was cited on the ALA Notable Book List. In 1977 Disney Studios adapted Freaky Friday into a movie, with screenplay by Rodgers, and starring Barbara Harris and Jodie Foster; a remake was broadcast on the ABC television network in 1995 and a musical version, by Rodgers and John Forster, was presented by Theatreworks/USA in 1991; and a new film remake, starring Jamie Lee Curtis and Lindsay Lohan, was released by Walt Disney Pictures in Summer 2003.
As a composer, her additional theatre credits include HOT SPOT starring Judy Holliday, THE MAD SHOW, WORKING, and THE GRIFFIN AND THE MINOR CANON. Her television credits include Once Upon a Mattress, Three to Make Music (written with her sister Linda and starring Mary Martin), Feathertop, and Marlo Thomas' Free to Be...You and Me. She also composed the scores for several productions featuring the legendary Bil Baird Marionettes, including DAVY JONES' LOCKER and PINOCCHIO, and several musicals for Theatreworks/USA. Her musicals have been celebrated in a revue, HEY, LOVE.
Additional authorship credits include The Rotten Book, A Billion for Boris (The Christopher Award; ALA Notable Book List), Summer Switch and the screenplay for Disney Studios, The Devil and Max Devlin.
The daughter of composer Richard Rodgers and Dorothy Rodgers, she collaborated with her mother on several projects, including: the 1970 book A Word to the Wives; a nationally syndicated radio program of the same title; and Of Two Minds, a monthly column for McCall's Magazine. She also made several concert appearances with William Hammerstein, son of the celebrated lyricist, in an evening of reminiscences, anecdotes and musical selections celebrating their fathers' collaboration. For many years, Mary Rodgers served as the Rodgers family representative to The Rodgers & Hammerstein Organization.
At the time of her death, Mary Rodgers was Chairman Emeritus and served on the Board of the Juilliard School. She served on the boards of Lincoln Center for the Performing Arts, Inc., the Bridgehampton Chamber Music Festival and the Dramatists Guild Council.
In private life she was married to the late Henry Guettel, former Executive Director of the Theatre Development Fund (TDF); at the time of her death she was survived by her sister, Linda Rodgers Emory, five children, and seven grandchildren and step-grandchildren.
Shows Associated this writer
Songs Associated this writer
Concerts Associated this writer
News about this writer
Spotlight Promotion: ONCE UPON A MATTRESS
Present ONCE UPON A MATTRESS from Oct. 1, 2009 Oct. 1, 2010 and your opening night royalty is on us!
Read More
Imagem Music Group Buys R&H
Imagem Music has acquired the rights to the songs and musicals of Rodgers & Hammerstein, as well as this organization...

Read More
Trivia about this writer
In 1991, the movie of THE KING AND I was shown outdoors at the Hollywood Bowl on the world's largest movie screen as part of American Cinematheque's annual "Movies at the Bowl"" event. Mary Rodgers and James Hammerstein, a daughter and son of the authors, introduced the film to a crowd of 18,000."
In 1960 ONCE UPON A MATTRESS closed on Broadway after 244 performances, not including its off-Broadway run.
In 2005, Adam Guettel, grandson of Richard Rodgers and son of Mary Rodgers, won the Tony for his score to THE LIGHT IN THE PIAZZA as its composer.
In 1959 ONCE UPON A MATTRESS opens off-Broadway at the Phoenix Theatre before moving to Broadway for 460 performances at four different theaters. Based on the story of "The Princess and the Pea,"" it is nominated for the Tony Award for Best Musical in 1960, with music by Mary Rodgers, lyrics by Marshall Barer, and book by Jay Thompson, Dean Fuller, and Marshall Barer."
Did you Know? At the 1960 Tony Awards Mary Rodgers found her musical ONCE UPON A MATTRESS competing against a show by her father Richard Rodgers - THE SOUND OF MUSIC - for the category of Best Musical!
The birthday of Mary Rodgers, daughter of Richard Rodgers. She wrote the musicals ONCE UPON A MATTRESS (1959), THE MAD SHOW (1966), a song for WORKING (1978), and contributed to the album FREE TO BE?YOU AND ME (1972). She is also the writer of the children's book "Freaky Friday."" In 1964 she gave birth to Adam Guettel, future composer of THE LIGHT IN THE PIAZZA."