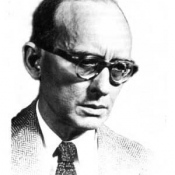 Riggs, Lynn
Lynn Riggs was the author of GREEN GROW THE LILACS, originally produced by the Theatre Guild in 1931 and later used by Richard Rodgers and Oscar Hammerstein II as the basis for their musical OKLAHOMA!. When originally produced, LILACS had a New York run of 64 performances, while its musical adaptation had an original Broadway run of 2,202 performances.
Riggs' first play to receive a New York production was THE BIG LAKE, which was presented by the American Laboratory Theatre. As a result, he received a Guggenheim Fellowship and spent a year in France, where he wrote LILACS.
Born in Claremore, OK, Riggs studied for three years at the University of Oklahoma. As a youth, he did various jobs including singing in a musical film house. He later moved to New York where he worked as a proofreader and clerked for Macy's department store and the American Express Company.
Riggs also wrote such plays as THE LONESOME WEST, THE CREAM IN THE WELL, LAUGHTER FROM A CLOUD, RUSSET MANTLE, and BORNED IN TEXAS.
Shows Associated this writer
Songs Associated this writer
Trivia about this writer
Did you know? The origins of OKLAHOMA! go back to poet, playwright and Oklahoma native Lynn Riggs (1899-1954). Riggs wrote Green Grow the Lilacs while on a Guggenheim Fellowship in France in 1928-29. The title of Riggs? play comes from a folk song of the same name. Folk songs, ballads and dances were all performed as part of GREEN GROW THE LILACS, which was first produced on Broadway in 1931. Rodgers & Hammerstein were then inspired to turn GREEN GROW THE LILACS into a new type of musical play ? what became their first hit OKLAHOMA!
Did you know? Hammerstein wrote: "When [source story playwright] Lynn Riggs attended a rehearsal of OKLAHOMA! for the first time, I asked him if he approved of [the song ""Lonely Room""]. He said, 'I certainly do. It will scare the hell out of the audience.' That is exactly what it was designed to do."""
Did you know? Searching for a way to begin what would become the musical OKLAHOMA! Oscar Hammerstein II turned to playwright Lynn Rigg's stage directions for GREEN GROW THE LILACS, on which OKLAHOMA! would be based: "It is a radiant summer morning several years ago, the kind of morning which, enveloping the shapes of earth - men, cattle in the meadow, blades of the young corn, streams - makes them seem to exist now for the first time, their images giving off a visible golden emanation that is partly true and partly a trick of imagination, focusing to keep alive a loveliness that may pass away."" From this inspiration, Hammerstein drew his lyrics for ""Oh, What A Beautiful Mornin'."""
In 1931, Lynn Rigg's folk-play GREEN GROW THE LILACS, inspiration for OKLAHOMA!, opened at the Guild Theatre in NY where it ran for 64 performances.