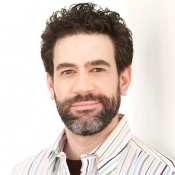 Del Aguila, Kevin
Kevin is an acclaimed actor, writer, and director in New York City. He is a two-time Emmy Award-winning writer of the PBS show Peg + Cat, recipient of the Heideman Award for his play The Greekest Of Tragedies (Actors Theatre of Louisville), and book-writer of the hit comedy Altar Boyz (NY Outer Critics Circle Award winner, Lucille Lortel and Drama Desk Award nominations) which made history as one of the longest running off-Broadway musicals of all time. Other works include his middle-aged superhero musical The Astonishing Return Of The Protagonists! (2013 NAMT Festival), his play 6 Story Building (NY Fringe winner), and his stage adaptations of the wildly popular book series Diary Of A Wimpy Kid (CTC Minneapolis) and the DreamWorks film Madagascar (Radio City Music Hall, National & International Tour). Other works include his off-Broadway adaptations of the children's books Skippyjon Jones (Lortel nomination), Click Clack Moo (Lortel and Drama Desk nominations), and The Velveteen Rabbit (DR2). Broadway audiences will recognize him as Smee in the original cast of Peter and the Starcatcher and children everywhere have heard his voice as a troll in the Disney blockbuster Frozen.
Shows Associated this writer
Songs Associated this writer
News about this writer
Did You See It? R&H Shows on National Tour
What do I LOVE A PIANO, FOOTLOOSE and ALTAR BOYZ have in common?All three shows have just wound up the latest legs of national tours that have left thousand of happy audience in their wakes...
Read More
ALTAR BOYZ: Raise the Praise
ALTAR BOYZ is definitely one of our favorite things, and theatres around the world agree. We spoke to a few customers who had great success with this show, so you can see why it's the perfect show for you...
Read More
Trivia about this writer
In 2005, ALTAR BOYZ opened off-Broadway at New World Stages and ran for 2,032 performances over the next five years.
In 2010, ALTAR BOYZ closed its five-year off-Broadway run after 2,032 performances.