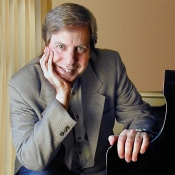 Roberts, Jimmy
Jimmy Roberts composed the music for I Love You, You're Perfect, Now Change, second longest-running Off Broadway musical in New York theater history. Written with playwright Joe DiPietro, I Love You received both the Drama Desk and Outer Critics Circle nominations as Best Musical when it opened in 1996. It has since played in all fifty states as well as over 25 countries around the world. He also collaborated with Joe DiPietro on The Thing About Men (2003, New York Outer Critics Circle award for Best Musical). His latest show, All Dressed Up and Nowhere to Go, written with Catherine Filloux and John Daggett, had a successful New York reading and is now seeking a full production. Jimmy's songs were featured in two other Off Broadway musicals: A…My Name Is Still Alice and Pets! His children's musical, The Velveteen Rabbit, toured the United States for well over a decade. Another exciting new musical, Rex & Lilli & The Master, about the lives and careers of Rex Harrison, Lilli Palmer, and Noel Coward, and written with Harrison's son, playwright Carey Harrison, is also in preparation. Among his recent compositions is a commissioned work: The Heart of the Matter, for clarinet and soprano, with words by poet and former chairman of the National Endowment for the Arts, Dana Gioia.
Shows Associated this writer
Songs Associated this writer
News about this writer
GREAT Things Come in SMALL Packages
If your production budget is currently straining under the weight of large scale shows, you can still present the high quality entertainmentfull of the first rate words and music, humor and pathos that your audiences expect...
Read More
Trivia about this writer
In 2003 THE THING ABOUT MEN opened off-Broadway at the Promenade Theatre where it ran for over 200 performances.
In 1996 the musical I LOVE YOU, YOU'RE PERFECT, NOW CHANGE opened off-Broadway at the Westside Theatre, where it ran for 5,003 performances.
In 2008 the musical I Love You, You're Perfect, Now Change closed after twelve years off-Broadway, where it ran for 5,003 performances.
In 2004, THE THING ABOUT MEN by Joe DiPietro and Jimmy Roberts closed after an off-Broadway run of over 200 performances.