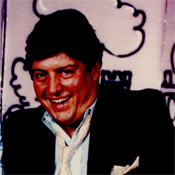 Raposo, Joe
One of the creators of Sesame Street and its first musical director, he wrote music for such diverse talents as Kermit the Frog, Frank Sinatra, Barbra Streisand, Ray Charles, Woody Allen and Dr. Seuss. Before his death in 1989, Mr. Raposo earned five Grammys and many gold and platinum records for such songs as "Sing," "It's Not Easy Being Green," "Here's To The Winners," and "You Will Be My Music." In 1989, he was posthumously honored with the Special Achievement Award from the National Academy of Television Arts and Sciences. In 1983 Mr. Raposo was nominated for an Oscar for his music for The Great Muppet Caper, including Best Song for "The First Time It Happens." His extensive scoring for network, syndicated and public television includes the music to The Electric Company, The Statue of Liberty Fourth of July Fireworks Spectacular, The Cabbage Patch Kids, The Kingdom Chums, Dennis the Menace, several Muppet specials, and three Emmy award-winning Dr. Seuss specials. He also wrote the music (lyrics: Sheldon Harnick) for a musical adaptation of the film IT'S A WONDERFUL LIFE based on the classic film. In 1986 he was the host of the CBS special America Is, which won an Emmy for Outstanding Children's Programming. RAGGEDY ANN, the Broadway musical for which Raposo composed the score, was selected by the U. S. State Department and the Soviet Union in 1986 to revive the cultural exchange program between the two countries. Mr. Raposo's other credits include the theme music from shows as widely varied as the hit series Three's Company and the CBS Morning News.
Shows Associated this writer
Songs Associated this writer
Concerts Associated this writer
Trivia about this writer
In 2005, the stage musical A WONDERFUL LIFE opened on Broadway for a single performance benefiting the Actor's Fund of America. Actors included Brian Stokes Mitchell as George Bailey and David Hyde Pierce as Clarence.
The birthday of Joe Raposo, co-creator and first musical director of the television show "Sesame Street."" Raposo composed the music for the stage adaptation of IT'S A WONDERFUL LIFE."