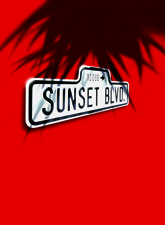 Sunset Boulevard
SUNSET BOULEVARD weaves a magnificent tale of faded glory and unfulfilled ambition. Silent movie star Norma Desmond longs for a return to the big screen, having been discarded by tinsel town with the advent of 'talkies.' Her glamour has faded in all but her mind. When she meets struggling Hollywood screen-writer Joe Gillis in dramatic circumstances, their subsequent passionate and volatile relationship leads to an unforeseen and tragic conclusion.
Run Time: Approximately 2 hours and 27 minutes.
Participate in the R&H Online Community.
Leave comments or talk with other fans in the forum!

To request the rights to make merchandise for this show email brian.sherman@rnh.com.
Fan Info:


The birthday of Christopher Hampton, who won Tonys for Best Book of a Musical and Best Original Musical Score for his work on SUNSET BOULEVARD's book and lyrics with Andrew Lloyd Webber and Don Black.

In 1948 Andrew Lloyd Webber was born, composer of hit musicals CATS, THE PHANTOM OF THE OPERA, JESUS CHRIST SUPERSTAR, EVITA, JOSEPH AND THE AMAZING TECHNICOLOR DREAMCOAT, BY JEEVES, ASPECTS OF LOVE, WHISTLE DOWN THE WIND, and SUNSET BOULEVARD.

In 1997 SUNSET BOULEVARD closed on Broadway after running for 977 performances.

In 1994, Andrew Lloyd Webber's SUNSET BOULEVARD opened on Broadway at the Minskoff Theatre, where it ran for 977 performances.

SUNSET BOULEVARD received 11 Academy Award nominations and won three Academy Awards for Best Music, Best Art Direction-Set Decoration (Black-and-White) and Best Writing, Story and Screenplay. It is one of about a dozen films in Academy history to have actor nominations in all four categories.

The birthday of Don Black, O.B.E.. Lyricist Black collaborated with Andrew Lloyd Webber on the musicals TELL ME ON A SUNDAY, ASPECTS OF LOVE, SONG AND DANCE, and SUNSET BOULEVARD.

Did you know? SUNSET BOULEVARD opened with what was then the highest advance in the history of Broadway ticket sales.



"A glorious, grandiose production. The eye-popping starts the minute the curtain rises. Lloyd Webber's music is as lushly melodic as anything he's written. Alice Ripley shines in the role of Betty Schaefer."
— Michael Kuchwara, Associated Press
"Rest assured, the sun will not set on Sunset for many a season. The performances are all excellent. It's extravagant. It's spectacular. Go and enjoy."
— Clive Barnes, New York Post
"The show's a hit. Lloyd Webber's most shamelessly and artfully constructed score. It offers two of Lloyd Webber's best songs in 'With One Look' and 'As If We Never Said Goodbye.' Director Trevor Nunn and designer John Napier, the Cats team, have fashioned one coup de theatre after another. Radiant."
— Michael Walsh, Time Magazine
"Wonderfully entertaining. Lloyd Webber and his colleagues have reinvented the movie as a romantic musical spectacle. It's a show that, like Phantom, demands his floridly romantic music. The show is visually magnificent. Grandeur is designer John Napier's signature, but he also has a breathtaking imagination. Sunset Boulevard has become a celebration of the outsized glory of Hollywood."
— Robert Feldberg, The Record

Song #
Song Name
Character Name
Play
Other Versions

SUNSET BOULEVARD: Background to the Original Movie
by John Wilcock
The crumbling mansion on Sunset Boulevard, which was the home to Norma Desmond in Billy Wilder's classic movie about Hollywood, actually stood at the corner of Crensham Street on Wilshire Boulevard. It was demolished in the late 1950s and replaced with a sleek insurance company building. Built at a cost of $250,000 in 1924 for William D. Jenkins, US Consul to Mexico, its 14 rooms featured costly interior panelling, imported tiles and a black walnut staircase at whose foot was a 10-foot-square walk-in vault. Exterior walls of steel and concrete, lined with brick, were 13.5 inches thick. Jenkins, who lived in the house for only a year, was a sugar baron reputed to be the richest man in Mexico.
Producer Charles Brackett and Director Billy Wilder found the house after a long, unsuccessful search along Sunset Boulevard itself. The mansion was by now in the possession of one of billionaire J Paul Getty's former wives, who insisted that the pool to be installed in the grounds for the movie should be removed afterwards if she didn't like it. As it happened, the pool remained (without plumbing and empty) and was used again for a scene in Rebel Without A Cause. In addition to the pool, the mansion was equipped with stained glass windows, palm trees, overstuffed furniture, dusty velvet drapes and a pipe organ. A £25,000 Isotta Fraschine was parked in the driveway after first being equipped with leopardskin upholstery and a gold-plated telephone.
The movie came about, Bracket explained, 'because Wilder, Marshman (the third writer) and I were acutely conscious of the fact that we lived in a town which had been swept by social change (as) profound as that brought about in the old South by the Civil War. Overnight, the coming of sound brushed gods and goddesses into obscurity. We had an idea of a young man stumbling into a great house where one of these ex-goddesses survived. At first we saw her as a kind of horror woman; an embodiment of vanity and selfishness. But as we went along, our sympathies became deeply involved with the woman who had been given the brush by 30,000,000 fans.'
Next they needed to find a suitable star to play Norma Desmond. Rebuffed by an indignant Mae West, 55, who was angry to be thought of as a has-been, Wilder was then turned down by Mary Pickford, 57, who wanted the part rewritten so that the movie would focus on her. Pola Negri, 51, was subsequently rejected on the basis of her incomprehensible Polish accent. Gloria Swanson, recommended by Director George Cukor, had left Hollywood after a near-flop Music in the Air (1934), only returning for the disappointing Father Takes a Wife (1941), but had scored a hit on Broadway with A GOOSE FOR THE GANDER and was now hosting a television talk show. She had forgotten Wilder, even thought he had co-written the script for MUSIC IN THE AIR, and was annoyed at being asked to come west for a screen test. 'What the hell do you have to test me for? You want to see if I'm alive, do you? Or do you doubt I can act?' Just turned 50, she had made 45 previous films, beginning as a 14-year-old extra in a movie starring Wallace Beery (whom she later married) and by 16 was playing in Mack Sennett comedies. By 1924 she was making $10,000 a week and was the second woman in Hollywood to make $1,000,000 (after Mary Pickford). She had never taken a screen test.
She had been a big star well before the fabulously successful Sadie Thompson (1928) and habitually threw lavish parties in her 22-room mansion opposite the Beverley Hills Hotel, hiring one footman per guest and sometimes giving away hundreds of gold compacts of cigarette cases as party favours. 'The public wanted us to live like kings and queens...we were making more money than we ever dreamed existed and there was no reason to believe it would ever stop', she reminisced.
George Cukor called her in New York to plead Wilder's case. 'Oh, he is so persuasive, charms the birds out of the trees, that dear man. He said this was the greatest part of my life and I'd be remembered for this part. So I took the test'. The results were so impressive that Wilder and Brackett rewrote the Norma Desmond role, ironically the way Pickford had requested.
Montgomery Clift had agreed to play the struggling screenwriter Joe Gills, but two weeks before shooting began he reneged. He was romantically involved with the torch singer Libby Holman, 30 years his senior, and rumours circulated that she drunkenly threatened to kill herself if he took the role, which she felt was a pastiche of their relationship. Even William Holden, a Paramount contract player whose last substantial role had been in Golden Boy (1939) was reluctant until his studio ordered him into the picture. He had no idea that Sunset would make him a star, after 10 years labouring in minor roles.
Wilder and Brackett, who had reached the top $5,000 a week salary level, along with their seldom-mentioned scriptwriting collaborator, D. M. Marshman, tried to keep the plot secret as long as possible, even labelling their scripts with a phoney title - A Can of Beans - but word began to leak out that it concerned the industry. Replicas of the County Morgue and Schwab's Drub Store were built on Paramount's Stage 5 and location shooting began at the Bel Air golf course and on Hollywood streets. Legendary Director Cecil B. DeMille was contracted to play himself taking direction through 10 pages of script over four scenes from Wilder. There were an average of 17 takes for each scene. 'I don't suppose Paramount will pick up my option after this', said DeMille after fluffing his lines. 'Mr DeMille was too courteous to make suggestions', Wilder confessed, 'and I was too afraid. I (felt) like a man about to explain satire to George Bernard Shaw'. Unlike DeMille, Erich Von Stroheim - who played Norma Desmond's butler/ex husband was eager to help with the direction, offering unsuitable suggestions in an attempt to enhance his character. Columnists Louella Parsons and Hedda Hopper were both invited to play bit parts but only Hopper, who had been an actress herself, accepted.
At first the movie began with a scene in the morgue, for which 30 extras had been hired to lie motionless on slabs, but when the film was sneak-previewed in a small mid-Western town the audience couldn't stop laughing. Wilder slipped out, encountered a woman near the powder room and asked how she liked it so far, 'I have never seen such a pile of crap in all my life', she replied.
The re-write took six months, mainly to fix the opening which now featured police cars screaming down Sunset with sirens blaring and Holden's off screen voice saying that he'd died. This time the movie was previewed on the Paramount lot with an audience of industry insiders. Many enjoyed it, some were stunned, but Louis B. Mayer, Hollywood's ranking mogul, as outraged. 'You bastard', he shouted at Wilder, 'You have disgraced the industry that made and fed you. You should be tarred and feathered and run out of Hollywood'. Barbara Stanwyck obviously didn't agree. Kneeling at Swanson's feet she kissed the hem of her gown. The two women embraced, sobbing.
Swanson later recalled that it had been a happy picture to make. 'There was love and excitement on the set', she said. 'Everyone was excited, even the gaffers, the juicers, the prop men. I cried when we finished because I had been so happy while we were shooting that I wished we could start it all over again. Interviewed by Newsweek, Swanson held her finger and thumb what the magazine described as a 'dramatic thumb and forefinger half an inch apart' and declared 'There isn't this much of me in the story', and whether or not this was true before Sunset Boulevard it certainly was afterwards. Far from fading away she played opposite Jose Ferrer in another Broadway hit, TWENTIETH CENTURY, toured in BUTTERFLIES ARE FREE, played herself as a passenger in Airport 1975, made hundreds of telephone calls to her fans and promoted a budget line of clothes under the label 'Forever Young'. She died in 1983 aged 84. Movie buffs like to quote one of Norma Desmond's lines from Sunset Boulevard, 'I am big - it's the pictures that got small'.
---

Drama League Awards
January 01, 1994 — 9 Awards for the 1994 Los Angeles ProductionOustanding ProductionOutsanding Original MusicOutstanding DirectionOutstanding WritingOutstanding Scenic DesignOutstanding Costume DesignOutstanding Lighting DesignOutstanding Performance - Glenn CloseOutstanding Performance - Alan Campbell

Outer Critics Circle Awards
January 01, 1995 — 2 Awards for the Original Broadway ProductionOutstanding Broadway MusicalOustanding Actress in a Musical - Glenn Close

Tony Awards
January 01, 1995 — 7 Awards for the Original Broadway ProductionBest MusicalBest ScoreBest Book of a MusicalBest Scene DesignBest Lighting DesignBest Featured Actor in a Musical - George HearnBest Actress in a Musical - Glenn Close


May 31, 1975 — test

Vocal Range of Characters:

// Photos


---
---
---
---
---

STANDARD
Sunset Boulevard - Full Score (Act 1 & Act 2)

1 – Full Score (Act I)

1 – Full Score (Act II)

Sunset Boulevard - Libretto/Vocal 10pk (20 Books)

10 – Libretto

10 – Vocal Book

Orchestration

1 – Reed I (Piccolo, Flute, Alto Flute)

1 – Keyboard IV

1 – Percussion Alternate - 1 Player

1 – Piano Conductor Score

1 – Reed II (Flute, Clarinet, Tenor Sax)

1 – Reed III (Clarinet, Bass Clarinet, Alto Sax)

1 – Reed IV (Oboe, English Horn) (optional, cued in Keyboards)

1 – Reed V (Bassoon) (optional, cued in Keyboards)

1 – Horn 1 - 2

1 – Trumpet I (Doubles Bb Piccolo Trumpet)

1 – Bass Trombone

1 – Guitar (Electric and Acoustic)

1 – Harp

1 – Keyboard I (requires some preparation)

1 – Keyboard II (requires some preparation)

1 – Keyboard III (requires some preparation)

2 – Percussion I-II

2 – Violins

1 – Violas

1 – Cello (1 player in the Original Broadway Production)

1 – Contrabass - Acoustic Bass, Pogo (Electric Upright Bass), Bass Guitar

1 – Full Score (Act I)

1 – Full Score (Act II)

Sunset Boulevard - Perusal Package (2 Books)

1 – Libretto

1 – Vocal Book

1 – Piano Conductor Score

Sunset Boulevard - Rehearsal Set (42 Books)

20 – Libretto

20 – Vocal Book

2 – Piano Conductor Score

0 – Digital Logo
ADDITIONAL
Sunset Boulevard - Pre Production Pack (3 Books)

1 – Libretto

1 – Vocal Book

1 – Piano Conductor Score
ARTWORK
Sunset Boulevard Flat Bundle

1 – Flat Banners

1 – Flat Facebook Tabs

1 – Flat Poster

1 – Flat Print

Sunset Boulevard Layered Bundle

1 – Layered Banners

1 – Layered Facebook Tabs

1 – Layered Posters

1 – Layered Print

PRINCIPALS
2 Women
2 Men
FEATURED
4 Men
CHARACTERS
PRINCIPAL AND
FEATURED
Norma Desmond
Joe Gillis
Max Von Mayerling
Betty Schaefer
Cecil B. DeMille
Artie Green
Sheldrake
Manfred
ENSEMBLE
CHARACTERS
(in order of appearance)
Myron
Mary
Joanna
First And Second Finance Men
Sammy
Morino
Wunderkind
Myron
Secretary
Cliff
Katherine
Lisa
John
Anita
Adam
Waitress
Actor
Sandy
Larissa
Jane
Glenn
Danielle
Dawn
Barman
First through Seventh Salesmen
Richard
Jean
Actor #4
Guard
Jones
Heather
Hog-Eye
Victor Mature Stand-In (Non-Speaking)
Hedy Lamarr Stand-In (Non-Speaking)
Victor Mature (Non-Speaking)
Hedy Lamarr (Non-Speaking)
Astrologer
Masseuse #1 And #2
Beautician #1, #2, #3
Analyst
Doctor
Journalist
Policeman (Non-Speaking)

SUNSET BOULEVARD takes place in Hollywood between 1949 and 1950.
SPECIFIC LOCATIONS
The House On Sunset
Paramount Studios
On The Road
Garage On Sunset
NormaÂ's Guest house
SchwabÂ's Drugstore
The Terrace On Sunset
Artie GreenÂ's Apartment
NormaÂ's Swimming Pool
BettyÂ's Office at Paramount
Paramount Backlot
Materials Notes
Featured Videos
Media Rights
Promotional Video Right
1. The Promotional Video shall be recorded and shown for the sole purposes of advertising your licensed production of the Play.
2. The Promotional Video may not include more than (i) 1 minute from any song or (ii) 3 minutes, in the aggregate, of footage of copyrighted material from the Play.
3. With respect to advertising on YouTube, you may only produce one (1) Promotional Video.
4. The Promotional Video may not include any sponsorship or underwriting without the prior consent of all R&H.
5. The Promotional Video must be submitted to R&H by sending the source video and video link to editor@rnh.com.
6. The Promotional Video must include the following: "Rights courtesy of Rodgers & Hammerstein, www.rnh.com"
7. Upon approval by R&H of the Promotional Video, you agree not to make any alterations in the approved copyrighted material used therein and you agree to obtain the prior written approval of R&H for any other use of the Promotional Video not specifically granted herein.
8. In the event you shall breach any of the provisions set forth herein, the rights herein granted to you shall automatically terminate, without prejudice to our right to recover damages and obtain such other relief as we may be entitled to including, without limitation, a penalty of not less than $600.00 for each such occurrence.
9. Upon termination of the Term, you shall cease to have any rights to use the Promotional Video including, without limitation, in connection with a future production of the Play, and shall immediately remove its content from any and all websites on the Internet.
10. You may not use a commercially available recording.
11. Any additional promotional rights must be approved by R&H by contacting Theatre@rnh.com.
*
Promotional Video Right video rights can only be granted once a performance license for Sunset Boulevard has been secured. Please contact customer service if you have any questions. If you have not yet applied for Sunset Boulevard, you can do so here. LOG IN to learn more.
---
Banner Ads - Flat Graphics
Format: .JPG
Price: $60.00
Display customized, eye-catching banner ads to promote your production.
Don't worry about reshaping banners to fit different websites: This package already includes 4 standard banner sizes - vertical, horizontal, and rectangular.
Don't worry about optimizing the color format, size and resolution. These files are already optimized for online viewing.
Don't worry about needing a designer to convert static banners into rotating, animated ads. We've taken care of this for you! Text and video instructions are provided to help you animate your ads with ease – using free programs and apps.
Don't worry about needing fancy design programs – these flat .JPG files are ready to use with any free paint or photo editing program. Demos show you how to customize graphics with your theater's text.
Included:
160x600 - Wide Skyscraper
300x250 - Medium Rectangle
468x60 - Full Banner
728x90 – Leaderboard