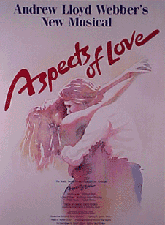 Aspects of Love
This bold and ambitious chamber opera explores the landscape of the human heart, charting the shifting alliances of six lovers across three generations. Alex is only seventeen when love changes everything. His brief affair with the ambitious actress, Rose, sets the course for a succession of romantic liaisons that last well into manhood. Alex loses Rose to his shrewd, worldly uncle George and they marry. In time, George's mistress, the lovely Giulietta, has a fling with Rose, who keeps her own lover, Hugo. Echoes of Rose's initial caprice with the virginal Alex haunt the proceedings when he, in turn, beds the teenage daughter Rose has borne his aging uncle. This elaborate la ronde en famille is driven by an engrossing and muscular score of pure emotional directness. MATURE SUBJECT MATTER MAY NOT BE APPROPRIATE FOR SCHOOLS.
Participate in the R&H Online Community.
Leave comments or talk with other fans in the forum!

To request the rights to make merchandise for this show email brian.sherman@rnh.com.
Fan Info:

In 1991, ASPECTS OF LOVE closed its Broadway run after 377 performances

In 1948 Andrew Lloyd Webber was born, composer of hit musicals CATS, THE PHANTOM OF THE OPERA, JESUS CHRIST SUPERSTAR, EVITA, JOSEPH AND THE AMAZING TECHNICOLOR DREAMCOAT, BY JEEVES, ASPECTS OF LOVE, WHISTLE DOWN THE WIND, and SUNSET BOULEVARD.

In 1990 Andrew Lloyd Webber's ASPECTS OF LOVE opened on Broadway at the Broadhurst Theatre where it ran for 377 performances.

In 1989 Andrew Lloyd Webber's musical ASPECTS OF LOVE premiered in London under the direction of Trevor Nunn. The show ran for 1,325 performances, and opened on Broadway the next year.

The birthday of writer Charles Hart, who collaborated with Andrew Lloyd Webber on THE PHANTOM OF THE OPERA and ASPECTS OF LOVE.

The birthday of Don Black, O.B.E.. Lyricist Black collaborated with Andrew Lloyd Webber on the musicals TELL ME ON A SUNDAY, ASPECTS OF LOVE, SONG AND DANCE, and SUNSET BOULEVARD.



Song #
Song Name
Character Name
Play
Other Versions


Drama Desk Awards
January 01, 1990 — 5 Nominations, including Outstanding Musical
January 01, 1990 — 5 Nominations, including Outstanding Musical

Vocal Range of Characters:

// Photos

---
---
---
---


Written By: Andrew Lloyd Webber

My first encounter with David Garnett\'s ASPECTS OF LOVE was in 1979. Tim Rice had been sent the book as a film was being planned to which we were possibly to contribute songs. Some time later, we felt it was an interesting subject for us to write, particularly as it was so different from EVITA and I had just finished TELL ME ON A SUNDAY, which was not so very far in scale from how I imagined Aspects. But a splendid and somewhat indulgent few days at Eugenie-les-Bains, chosen because we argued it was vaguely near Pau, bore little fruit.

During the course of CATS rehearsals, I gave the book to Trevor Nunn, who was delighted with it. In 1983, we presented a "cabaret" of some songs we wrote together for a possible full-length musical. But these songs did not work either. I often feel that I was trying to impose a big, grandiose, romantic style onto the novel and in fact a fair amount of the music of the cabaret became THE PHANTOM OF THE OPERA.
It was a little before the completion of Phantom that I realised that I wanted to change direction sharply in my next work. Thus I returned to the Garnett novel and in the company of Don Black, who I had worked with on TELL ME ON A SUNDAY, and Charles Hart, with whom I was completing Phantom, we decided to try once more.
Of the 1979 version, nothing survives in this score as nothing much was written anyway. Of the 1983 version, the most substantial melody to survive is the Pyrenees folk song. Two others also survive: George\'s section about Rose in the Venice sequence and also in that sequence a motif I used as a television theme tune when I thought in 1984 Aspects was a subject I would not return to.
All of the principal melodies and the great body of the work were written, therefore, during the course of my collaboration with Don and Charlie.
To offer the work to Trevor Nunn to direct was obvious, since his interest in the book has been every bit as great as mine for almost as long. Indeed, in 1983 he took over the rights to develop the novel as a film. It is, perhaps, worth recording that Aspects very nearly did become the first musical of mine that was made as a film without a theatrical presentation, but Trevor Nunn convinced me otherwise and thus we are enjoying our first collaboration together about human beings.
---

Playbill VIP
: 
MAKE YOUR OWN PLAYBILL! Playbill VIP allows you to create your very own Playbill Program. We have provided Playbill with all of the credits, song listings, musical numbers and more so that most of the work is already done for you. Just add your productions details, photos of the cast and share it with all of your friends. Learn more: www.playbillvip.com
---

STANDARD
ASPECTS OF LOVE - Orchestration Package - (15 Books/14 Players)

1 – Reed I (Flute, Alto Flute, Piccolo)

1 – Reed II (Oboe, English Horn)

1 – Reed III

1 – Reed IV (Flute, Clarinet, Alto Sax)

1 – Horn

1 – Percussion (see "Materials Notes", under "Production Information")

1 – Piano-Celeste

1 – Harp

1 – Synthesizer

1 – Violin I

1 – Violin II

1 – Viola

1 – Cello

1 – Bass

1 – Piano-Vocal

ASPECTS OF LOVE - Perusal Package - (2 Books)

1 – Libretto

1 – Piano-Vocal

ASPECTS OF LOVE - Rehearsal Set - (42 Books)

20 – Libretto

1 – Logo CD

22 – Piano-Vocal

1 – Logo sheet

Digital Logo
ADDITIONAL
ASPECTS OF LOVE - Pre-Production Package - (2 Books)

1 – Libretto

1 – Piano-Vocal

PRINCIPALS
2 Women
1 Teenage Girl
2 Men
FEATURED
3 Women
2 Men
ENSEMBLE
Singing-Dancing Ensemble with numerous small roles
CHARACTERS
Alex Dillingham - a young Englishman
Rose Vibert - a struggling actress
Marcel Richard - an actor-manager
Crooner (off-stage)
George Dillingham - Alex's uncle
Giulietta Trapani - an Italian sculptress
Jerome - George's gardener
First Fairground Barker
Second Fairground Barker
Elizabeth - George's housekeeper
A Hotelier
A Hotel Cashier
A Doctor
A Pharmacist
A Gondolier
A Registrar
An Assistant Registrar
Hugo - Rose's lover
Jenny Dillingham - daughter of George and Rose
Ensemble (suggested minimum 8 men 6 women)

ASPECT OF LOVE takes place in France and Italy between 1947 and 1964. A unit set is suggested to achieve fluidity and various locations.
SPECIFIC LOCATIONS
The Garden at Pau
A Small Theatre in Montpellier
A Café in Montpellier
The Railway Station
In a Train Compartment
The House as Pau
The Terrace at Pau
Outside the Bedroom
Up in the Pyrenees
Outside the House at Pau
The Railroad Station
A Fairground in Paris
George's Flat in Paris
Guilietta's Studio in Venice
A Café in Venice
A Registry Office
A Military Camp in Malaya
A Grand Theatre inParis
Rose's Dressing Room
The Countryside around the House
Inside the House at Pau
A Circus in Paris
Jenny's Bedroom in Paris
The Vineyards at Pau
Materials Notes
Bass Drum, Small Suspended Cymbal, Medium Suspended Cymbal, Large Suspended Cymbal, Hi Hat, Rototoms, Timpanis, Snare Drum, Claves, Castanets, Xylophone, Triangle, Glockenspiel, Bell Tree, Gong, Gong Cymbal, Tam Tam and Tambourine
---
Media Rights
Promotional Video Right
1. The Promotional Video shall be recorded and shown for the sole purposes of advertising your licensed production of the Play.
2. The Promotional Video may not include more than (i) 1 minute from any song or (ii) 3 minutes, in the aggregate, of footage of copyrighted material from the Play.
3. With respect to advertising on YouTube, you may only produce one (1) Promotional Video.
4. The Promotional Video may not include any sponsorship or underwriting without the prior consent of all R&H.
5. The Promotional Video must be submitted to R&H by sending the source video and video link to editor@rnh.com.
6. The Promotional Video must include the following: "Rights courtesy of Rodgers & Hammerstein, www.rnh.com"
7. Upon approval by R&H of the Promotional Video, you agree not to make any alterations in the approved copyrighted material used therein and you agree to obtain the prior written approval of R&H for any other use of the Promotional Video not specifically granted herein.
8. In the event you shall breach any of the provisions set forth herein, the rights herein granted to you shall automatically terminate, without prejudice to our right to recover damages and obtain such other relief as we may be entitled to including, without limitation, a penalty of not less than $600.00 for each such occurrence.
9. Upon termination of the Term, you shall cease to have any rights to use the Promotional Video including, without limitation, in connection with a future production of the Play, and shall immediately remove its content from any and all websites on the Internet.
10. You may not use a commercially available recording.
11. Any additional promotional rights must be approved by R&H by contacting Theatre@rnh.com.
*
Promotional Video Right video rights can only be granted once a performance license for Aspects of Love has been secured. Please contact customer service if you have any questions. If you have not yet applied for Aspects of Love, you can do so here. LOG IN to learn more.
---