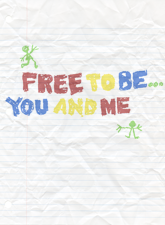 Free to Be... You and Me
From the Book "Free To Be... You And Me" | Conceived By
Marlo Thomas
and and Friends | Contributions by Judy Blume, Dan Greenberg, Carol Hall,
Sheldon Harnick
, Bruce Hart,
Edward Kleban
, Elain Laron, Stephen Lawrence, Betty Miles, Shelley Miller, Carl Reiner,
Mary Rodgers
, Shel Silverstein,
Peter Stone
and Charlotte Zolotow | Adaptation Written for the Stage by Douglas Love and Regina Safran
Marlo Thomas conceived a children's book that, instead of telling boys and girls who they should be, would open them to the possibilities of who they could be. She gathered many of her supremely talented friends from various worlds of the arts and the remarkable result is highly regarded as a modern classic of children's literature. Life-enhancing themes are imaginatively blended with music and humor to expand children's personal horizons, enabling them to invent their own futures without limitation, while dispelling some old constraints and worn-out conventions in the process. Parents, teachers and other grown-up friends will delight in sharing this extraordinary and memorable experience with the children in their lives.
Participate in the R&H Online Community.
Leave comments or talk with other fans in the forum!

To request the rights to make merchandise for this show email brian.sherman@rnh.com.
Fan Info:




Song #
Song Name
Character Name
Play
Other Versions


Vocal Range of Characters:

// Photos

---
---
---
---
---


Playbill VIP
: 
MAKE YOUR OWN PLAYBILL! Playbill VIP allows you to create your very own Playbill Program. We have provided Playbill with all of the credits, song listings, musical numbers and more so that most of the work is already done for you. Just add your productions details, photos of the cast and share it with all of your friends. Learn more: www.playbillvip.com
---

STANDARD
Orchestration Package (16 Books)

1 – FULL SCORE (Conductor)

1 – KEYBOARD (Piano, Celesta, Organ)

1 – REED I (Flute, Piccolo, Alto Sax)

1 – REED II (Flute, Tenor/Alto Sax)

1 – REED III (Clarinet, Baritone Sax)

1 – HORN

1 – TRUMPET I

1 – TRUMPET II

1 – TROMBONE I

1 – TROMBONE II

1 – GUITAR/BASS

1 – DRUMS (see list below)

1 – PERCUSSION (see list below)

1 – VIOLIN I

1 – VIOLIN II

1 – CELLO

Rehearsal Set (22 Books)

20 – Libretto/Vocal Books

1 – Logo CD

2 – Piano Vocal Scores
ADDITIONAL
Libretto/Vocal Books 10 pack

10 – Libretto/Vocal Books

FREE TO BE - PRE-PRODUCTION PACKAGE

1 – Libretto/Vocal Books

1 – Piano Vocal Scores

PRINCIPALS
2 Women
2 Men
ENSEMBLE
Singing-Dancing ensemble of 6 (can be expanded to include a chorus, babies, tigers, racers, people of the kingdom, etc.)
CHARACTERS
Vickie - strong-willed, centered and demanding.
Janet - kind-hearted and a loyal friend to William.
Richard - reluctant to change and afraid to display his emotions.
William - sensitive and open.

FREE TO BE… YOU AND ME requires a unit set. Scrims, props and platforms can be used to suggest various locations as desired.
Materials Notes
DRUMS: Trap Set, Ratchet, Wood Block, Tom Toms, Sand Paper, Triangle, Cow Bell.
---
Bells, Vibraphone, Casaba, Clave, Conga, Marimba, Xylophone, Tambourine.
---
DRUMS: Trap Set, Ratchet, Wood Block, Tom Toms, Sand Paper, Triangle, Cow Bell.
---
Media Rights
*

Currently media rights for Free to Be... You and Me are not available. Please contact customer service with any questions.