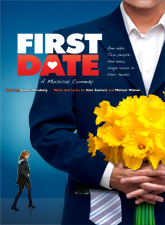 First Date
When blind date newbie Aaron is set up with serial-dater Casey, a casual drink at a busy New York restaurant turns into a hilarious high-stakes dinner. As the date unfolds in real time, the couple quickly finds that they are not alone on this unpredictable evening. In a delightful and unexpected twist, Casey and Aaron's inner critics take on a life of their own when other restaurant patrons transform into supportive best friends, manipulative exes and protective parents, who sing and dance them through ice-breakers, appetizers and potential conversational land mines. Can this couple turn what could be a dating disaster into something special before the check arrives? Running time: 90 minutes, no intermission
Participate in the R&H Online Community.
Leave comments or talk with other fans in the forum!

To request the rights to make merchandise for this show email brian.sherman@rnh.com.
Fan Info:


"A WINNING CROWD-PLEASER delivered with comic verve and charm."
— The Hollywood Reporter, August 08, 2013
"THIS IS ONE FIRST DATE YOU DON'T WANT TO END! Fun and very funny by a pair of boffo lead performances that make A PERFECT MATCH in Broadway's newest musical."ť
— NY1, August 08, 2013
"SASSY, MADCAP FUN"
— August 08, 2013
"FIRST DATE SHOULD BE THE FIRST SHOW YOU SEE THIS SEASON"
— WOR Radio, August 08, 2013
How I Met Your Musical,
The New York Times
Written By: Devan Sipher , July 25, 2013
Sometimes it helps to sing about your problems.
Michael Weiner, Alan Zachary and Austin Winsberg have spent many afternoons in Los Angeles coffee bars commiserating about their love lives. But as aspiring musical-comedy writers, their ultimate dream date wasn't a beautiful blonde — it was Broadway.
So they used their romantic tribulations as source material for their musical "First Date," which opens at the Longacre Theater on Aug. 8. The show takes place over the course of one evening, but the three writers have been preparing for this date for decades.
"My parents took me to see 'The Music Man' with Dick Van Dyke when I was 3 years old," said Mr. Weiner, 38, a composer and lyricist. "I memorized the entire show, and we have videos of me performing Harold Hill at 3."
Mr. Zachary, who also writes both music and lyrics, was 8 when he was first mesmerized by a production of "Little Shop of Horrors," but his parents had already exposed him to their collection of cast recordings and movie musicals. "I watched 'My Fair Lady' more than 'Sesame Street,' " said Mr. Zachary, 39. "I knew all the words to 'I've Grown Accustomed to Her Face' when I was 5."
Mr. Weiner and Mr. Zachary became friends at the Oakwood School, a private high school in Los Angeles. "We were drama jocks," Mr. Zachary said. They were also budding writers, who spent their free time analyzing the chord progressions of their favorite theater songs.
In 1992, they wrote their first musical together, an adaptation of the Grimm fairy tale "The 12 Dancing Princesses," inspired by Howard Ashman and Alan Menken's animated"Beauty and the Beast."
"We submitted it to every movie studio, saying: We're 17, please meet with us," Mr. Weiner said.
It was the kind of spunky move one might think would only work in, well, musicals. But by January 1993, they had landed a meeting with Hanna-Barbera, the animation company, and Mr. Zachary negotiated a development deal from his freshman dorm room at Amherst College.
Mr. Winsberg, 36 and the book writer of "First Date," was similarly precocious. As a teenager, he was a five-time winner of the national Young Playwrights Competition at the Blank Theater in Los Angeles, and he attended Stagedoor Manor, the theater camp in the Catskills, whose alumni include Lea Michele and Natalie Portman.
"There were 50 guys and 200 girls," Mr. Winsberg recalled. "It was a heterosexual Jewish boy's fantasy."
It was a fantasy that the equally self-conscious Mr. Weiner and Mr. Zachary could appreciate. They recognized a kindred soul when they met Mr. Winsberg in 2000, and he quickly became a sort of menschy third musketeer.
"We had all suffered at some point from being nice guys who wanted a certain type of girl, but that type of girl only wanted to be friends with guys like us," Mr. Winsberg said.
"We never seemed like the dangerous, brooding types of guys," Mr. Weiner added, with some residual wistfulness.
The three gathered for long lunches, where they'd share their artistic dreams — and dating disasters, of which they had their ample share.
There was the time Mr. Zachary discovered he had lactose intolerance at an inopportune intimate moment, but it was Mr. Winsberg who required medical intervention by paramedics after suffering a panic attack on a memorably unsuccessful first date.
All three men described themselves as "romantically challenged," though romantically ambitious might be the more apt description.
"When I was young, I had a really skewed vision of romance, from watching all these musicals," Mr. Zachary said. "I thought how cool it was to have these passionate ideals and express them in such a grand way. It took a while to realize that wasn't going to happen, especially not with girls who were 12 years old."
They were self-aware enough to see the humor in their struggles and to take responsibility for their single status. "Theater and writing are part of who I am," Mr. Weiner said. "It's not just what I do. It's a 24-hour job. I'm always thinking about it."
That kind of intense focus accelerated their careers. Mr. Winsberg got his first television staff writing job at 24, and at 27, in 2005, he was the creator and executive producer of "Jake in Progress," starring John Stamos. The same year marked the debut of "Twice Charmed," a musical by Mr. Weiner and Mr. Zachary that's a sequel to Disney's "Cinderella" and has been performed on the Disney Cruise Line for the past eight years.
But Broadway eluded them.
In 2009, it looked as if that was about to change for Mr. Weiner and Mr. Zachary, when their musical "Secondhand Lions," based on the film of the same name, was slated for a 2010 opening. They had been hired by New Line Cinema to write the score and had been working on it for almost four years with Rupert Holmes ("The Mystery of Edwin Drood") writing the book. But as often happens in theater, plans went awry.
That's when Mr. Weiner, Mr. Zachary, and Mr. Winsberg conceived "First Date." The idea was to write something small and personal, and maybe vent a little about being single. Except Mr. Winsberg, a self-proclaimed commitment-phobe, had already wed the previous year.
He described his first date with his future wife as being easy and natural. "I sent her an e-mail the day after," he said. "The subject line was 'I'm just wondering,' and underneath it I wrote 'What are we going to name our kids?' "
It turns out both Mr. Weiner and Mr. Zachary were already dating the women they would eventually marry. So the three collaborators started writing about first dates after possibly having their last.
"The show in a way has been therapy for all of us," said Mr. Zachary, who married last August.
Broadway was no longer the primary focus. But as many a suitor knows, it's only when you stop waiting for the phone to ring that it finally does.
Producers who had seen a 2012 engagement of "First Date" at A Contemporary Theater in Seattle, decided in February to open the show on Broadway in August, hiring as the leads Krysta Rodriguez, from "The Addams Family" and "Smash," and, in his Broadway debut, Zachary Levi, from television's "Chuck" and Disney's "Tangled."
Mr. Weiner's wedding was in June, and he found it amusing when guests asked him if he was nervous. "Being in a rehearsal for a Broadway show is way more nerve-racking than getting married," he said. "That was a vacation for me."
Expressing the vulnerability all three men are feeling during the show's preview performances, Mr. Zachary said, "If people don't like the show, it's like them not liking us." Onstage, the characters talk about putting up walls to protect themselves. But the writers don't have that luxury.
"We've put our hearts on our sleeves," Mr. Winsberg said.
"It's a combination of exhilarating, thrilling, torturous, nauseating and completely one of the most fulfilling things I've ever experienced in my life," Mr. Weiner said.
Sounds a lot like a good first date.
"Hopefully," Mr. Winsberg added, "we'll get invited back for a second."
Devan Sipher writes for The New York Times's Vows column and is the author of the novel "The Wedding Beat."
This article has been revised to reflect the following correction:
Correction: August 4, 2013.
An article last Sunday about the new Broadway musical "First Date," at the Longacre Theater, misidentified where in Seattle it was staged in 2012. It played at A Contemporary Theater — not at 5th Avenue Theater, which produced it with A Contemporary Theater. And an accompanying picture caption misspelled the surname of one of the musical's writers. He is Austin Winsberg, not Winsburg.

Song #
Song Name
Character Name
Play
Other Versions

Songwriters Michael Weiner and Alan Zachary have been working together since they were high school classmates in Los Angeles in the 1990s.
First Date premiered in Seattle in March 2012, co-produced by 5th Avenue Theatre and A Contemporary Theatre.
The show opened on August 8th, 2013, at Longacre Theatre.
Zachary Levi, best known for his work in TV's Chuck, made his Broadway debut with the show. Co-star Krysta Rodriguez (TV's Smash) has previously appeared in The Addams Family, Spring Awakening, In the Heights, and more.
---

Vocal Range of Characters:


// Photos





PRINCIPALS
1 Man
1 Woman
FEATURED
2 Women
3 Men
CHARACTERS
(in order of appearance)
Man #1 (Gabe / YouTube / Stoner Guy)
Woman #1 (Grandma Ida / Lauren / Facebook / Female with Megaphone #2 / AaronÂ's Mother)
Man #2 (Reggie / AaronÂ's Future Son / Instagram / British Artist)
Woman #2 (Allison / Google Girl / Female with Megaphone #1)
Man #3 (Waiter / CaseyÂ's Christian Father / Blaze / Twitter / Friendly Therapist)
Aaron
Casey

FIRST DATE takes place in a restaurant and on the street in present day New York City.
Materials Notes
Media Rights
*

Currently media rights for First Date are not available. Please contact customer service with any questions.