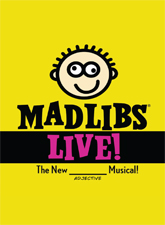 Mad Libs Live!
MAD LIBS LIVE! is the new musical based on the most popular word game of all time! Our story begins at the finals of Teen Superstars, the live TV show that will determine the most popular singing group at Blankville Central High. Virtuosa, Gogo, Geyser, and Merrily seem to have nothing in common – until just before airtime, when they realize that their songs are missing words! In the spirit of the 'World's Greatest Word Game,' our gang fills in the blanks with words from the audience! This truly interactive musical changes at every performance – thanks to you! Will GoGo get the girl? Will Geyser make new friends? Will Merrily come out of her shell? Will Virtuosa get out of the spotlight? And who will be the next Teen Superstars?? There is only one way to find out: MAD LIBS LIVE!

Suggested Audience Age: Ages 7 and Up
Running Time: 60 minutes, No Intermission
Participate in the R&H Online Community.
Leave comments or talk with other fans in the forum!

To request the rights to make merchandise for this show email brian.sherman@rnh.com.
Fan Info:



"Will you resist the impulse to sink to the level of a giggly second grader?"
— Laura Collins-Hughes, The New York Times, November 10, 2015
"It's so much fun! This was an incredible show!"
— Iain Armitage, Iain Loves Theatre, November 14, 2015
"Adorable! Hysterical!"
— Stephanie Ogozalek, MommyPoppins.com, November 15, 2015

Song #
Song Name
Character Name
Play
Other Versions


Vocal Range of Characters:


// Photos




STANDARD
8 – Libretto Vocal

8 – Piano Vocal Score

PRINCIPALS
2 Men
2 Women
1 Voice
CHARACTERS
MERRILY - 16. Empathic, cheerful, smart, but lacks confidence.
RYAN SEABLANK – The M.C. for the evening. Never seen.
(This role can either be pre-recorded, or performed live offstage. If performed live, the name of the M.C. may be replaced with another name such as a local DJ, the town Mayor, a teacher, etc.)
VIRTUOSA – 16. Self-involved, desperate for fame. (Think Rachel from "Glee.") GOGO is her older brother.
GEYSER – 14. The "new kid." Quirky, into video games, sci-fi and outer space. His speech cadence often resembles that of a sci-fi space captain.
GOGO – 17. Active, athletic. Exhibits leadership qualities, but can be overly competitive. VIRTUOSA is his younger sister.
DYLAN – 16. The lead singer of No Direction. Massive ego. He stole away GOGO's girlfriend, Lindsey.
(This character is played by the actor who plays GEYSER)

MAD LIBS LIVE takes place in the present in Blankville Central High School. A unit set is recommended.
Materials Notes
Hello, and welcome to MAD LIBS LIVE!
Directing this silly, wacky, goofy show is a joy. Here are a few things that we found useful in the original New York production that may also be useful to you.
• Pace is key. We jump between backstage, onstage, and flashback worlds in an instant, so a flexible lighting and scenic setup that can become different "locations" in a few seconds is preferred. A few colorful, abstract units (that, thematically, could represent the four characters and the four parts of speech) were enough to give us differing locations and different levels, and gave space to our audiences to use their imaginations. The script does a good job of telling us what is happening and where we are, so don't feel like you have to define every space in a "realistic" way.
• Make sure you have a plan for rehearsing the MAD LIBS LIVE! words! In our Off-Broadway rehearsal process, we had hundreds of words from a school workshop of the show, which gave our actors several weeks of real experience pulling words from buckets and incorporating them into the scenes and songs. The greatest fun of this show is watching that instant when the actors (and the characters) get a completely silly, off-the-wall word and yet still have to incorporate it into the show. Also, backstage and onstage "bucket-tracking" might need to be a part of your rehearsal process depending on how many buckets you choose to use and where you want them to come from when they are needed. We kept it simple and had one bucket for each part of speech (four total), and had specific tracking for who was holding them when, and when they came in and out.
• Along those lines – definitely allow room for the "improv" vibe of the show! Of course, you will have choreography and staging, but for the many moments where words are pulled from buckets, I found it effective to leave space for the actors to improvise in their actions and their "moves." You want to create a feeling that anything could happen – what word is going to be next, and how is that going to fit into Virtuosa, Geyser, Gogo, or Merrily's story?
• Lastly, the audience is a key and ever-present character in this show. After all, they are writing part of the script and songs! Especially with kids and family audiences, the actors should feel encouraged to be present with the people watching the show, and not just in the moments written into the script. Let the audience cheers, laughs, squirms, and gasps be a part of the characters' world, and at certain moments, the characters may even respond to them. You will have to use your discretion with your actors and the audiences specific to your production, but remember that this isn't a typical show where the audience sits in the dark in silence – from the very beginning, Merrily brings them on board to help!
Have a wonderful time with this hilarious musical!
Austin Regan
Director, MAD LIBS LIVE!, Off-Broadway at New World Stages
---
Media Rights
*

Currently media rights for Mad Libs Live! are not available. Please contact customer service with any questions.