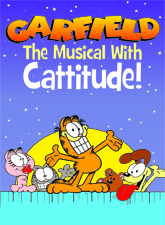 GARFIELD, The Musical with Cattitude
Garfield, a chubby and sarcastic tabby cat fantasizes about having the most amazing birthday in the history of birthdays. He deserves it for being the best cat ever! But, it seems that all his friends – Arlene, Odie, Jon and even his nemesis, Nermal, seem to have forgotten. Feeling rejected, Garfield ventures out to find adventure, but quickly learns that "home is where the heart… and the food is."
Suggested Audience Age: Ages 4 and Up
Running Time: 60 minutes
Participate in the R&H Online Community.
Leave comments or talk with other fans in the forum!

To request the rights to make merchandise for this show email brian.sherman@rnh.com.
Fan Info:



Philadelphia Weekly
, February 08, 2017
Interview with:
Davis, Jim
Written By: Austin Macfadden
When Jim Davis first created Garfield he never imagined how iconic the sarcastic overweight, orange tabby cat would become. Davis, the Indiana farm boy began making comics as a child and named his most famous character, Garfield, after his grandfather—a gruff man with a soft heart.
Since those early comics in the late 1970s, Garfield has grown to be an international brand, with movies, TV shows, books, and merchandise galore. In 1981, Davis founded Paws, Inc. a company that employs licensing experts, artists and writers who work to manage Garfield's global brand.
But it's the creation of Garfield musical that Davis can now cross off his bucket list.
"Garfield: The Musical with Cattitude" opened Feb. 3 and runs through Feb. 18 at Walnut Street Theater. The musical tells the story of Garfield, the overweight, sarcastic kitty who loves lasagna, excited about his upcoming birthday party. But when all his friends seem to have forgotten, Garfield runs away, only to learn an invaluable lesson in the end.
"Cartoonists are frustrated playwrights. We write the script we set the stage, we create the blocking. We are the directors and the producers," joked Davis. "The honesty in Garfield may be what has made it such a success. Having patience and being able to speak your mind[...] You develop a relationship with characters like that, and I always thought that if I could get Garfield to last more than two or three years then I could do this for the rest of my career."
Today, he's busy running the licensing company, and Davis relies on a staff of cartoonists to draw the daily comic strip. However he himself drafts and sketches multiple strips at one time, and of course Davis has the final say on the finished product. With so much behind the orange tabby and for so many years, it may come as little surprise Garfield is the world's most widely syndicated comic strip.
For Davis, the pleasure of creation is in the joy it brings others. Some of the most valuable lessons he's learned in the comics industry have come the from perseverance.
"If you have fun doing something, then others will have fun seeing it or reading it [...] When I speak with school groups, I emphasize, do what makes you happy. That's the most important thing."

Song #
Song Name
Character Name
Play
Other Versions


Vocal Range of Characters:


// Photos





PRINCIPALS
4 Men*
1 Woman
CHARACTERS
Garfield – a lazy tabby cat with a large ego.
Nermal – a kitten, Garfield's arch nemesis.
Odie – a simple-minded dog, Garfield's friend.
Jon Arbuckle – a nerd, Garfield's human.
Arlene – a cat, Garfield's friend and perhaps, love interest.
Animal Control (played by the same actor as Jon)
*
NOTE:
The music for Nermal was written for an unchanged male voice. Because of vocal arrangements, this is very important. You can also cast a young girl or adult female.

GARFIELD, THE MUSICAL WITH CATTITUDE takes place in and about Garfield'?s home and an alley.
Materials Notes
Media Rights
*

Currently media rights for GARFIELD, The Musical with Cattitude are not available. Please contact customer service with any questions.