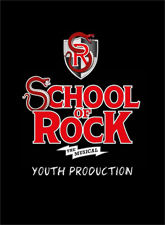 School Of Rock
SCHOOL OF ROCK is a brand new musical based on the famous Paramount film written by Mike White, which starred Jack Black. The musical follows Dewey Finn, a failed, wannabe rock star who decides to earn a few extra bucks by posing as a substitute teacher at a prestigious prep school. Completely disinterested in academic work, Dewey decides to create his own curriculum, turning his class into a guitar-shredding, bass-slapping, mind-blowing rock band. The stage musical on Broadway is produced by Andrew Lloyd Webber, who has composed 14 new songs to create a score, which also features all of the original songs from the movie. SCHOOL OF ROCK, with its sensational live kids' rock band, is a loving testimony to the transforming power of music. May the spirit of rock be with you!
Available for youth performers 18 and under only.
Running Time: 2 hours; One intermission (2 Acts)
Participate in the R&H Online Community.
Leave comments or talk with other fans in the forum!

To request the rights to make merchandise for this show email brian.sherman@rnh.com.
Fan Info:


Song #
Song Name
Character Name
Play
Other Versions


Vocal Range of Characters:
| | | | |
| --- | --- | --- | --- |
| Name | Vocal Type | Low Note | High Note |
Vocal Range notes for School Of Rock:


// Photos



AccompanEase
:
 This product is a rehearsal tool that allows for unlimited teaching, training and practice of individual vocal parts or dance sequences. Contact Realtime Music Solutions for more information: 
www.accompanease.com
, via email: info@rms.biz, or via phone: 212-620-0774
---
KeyboardEase
: 
This unique resource is designed specifically to meet the needs of productions that want convenient, cost-effective access to these hard to find keyboard sounds. We have carefully assembled all sounds required for a given show. Everything is laid out in correct sequential order, so you can easily progress through each song in each keyboard book with professional, authentic, show-specific sounds. All you have to do is connect any standard keyboard (or multiple keyboards) to your laptop and you'll be ready to perform. And we'll help you every step of the way.
Contact Realtime Music Solutions for more information: www.keyboardease.com, via email: info@rms.biz, or via phone: 212-620-0774.
---

STANDARD
SCHOOL OF ROCK - Rehearsal Set

1 – Digital Logo

20 – Libretto Vocal

2 – Piano Vocal
ADDITIONAL
SCHOOL OF ROCK - Libretto Vocal 10 Pack
SCHOOL OF ROCK - Pre-Production Pack

1 – Piano Vocal

1 – Libretto Vocal

Cast of Characters
Principals
Dewey Finn
Rosalie Mullins
Ned Schneebly
Patty
Kids
Summer Hathaway
Tomika
Zack Mooneyham (guitar)
Freddy Hamilton(drums)
Katie (bass)
Lawrence (piano / keyboard)
Marcy
Shonelle
Billy Sandford
Sophie
Mason Ward
James
Madison
Teachers
Mrs. Sheinkopf
Mr.Noble
Mr. Green
Gabe Brown
Mr. Sanders
Ms. Gordon
Ms.Bingham
Mr. Woodward
Mr. Janes
Ms. Macapugay
Mr. Wagner
Parents
Mr. Mooneyham
Mrs. Hathaway
Mr. Williams
Mr. Spencer
Mr. Sandford
Mr. Ward
Mr. Hamilton
Mrs. Turner
Mrs. Travis
Others
Jeff Sanderson – Manager of Battle of the Bands
Theo (No Vacancy)
Doug (No Vacancy)
Bob (No Vacancy)
Snake (No Vacancy)
Stanley
Security Guard 1
Security Guard 2
Note: Teachers, Parents and Other characters may be doubled as it is performed on Broadway.

SCHOOL OF ROCK takes place in the present day in the following locations:
The Olympic Powerhouse
Ned's Apartment & Dewey's Bedroom
Rehearsal Space
Horace Green School – The Assembly Hall, The Music Room, The Faculty Lounge, Classrooms and Hallways
Students' Homes
The Palace Theatre – Onstage and Offstage
The Roadhouse
Materials Notes
Orchestration for SCHOOL OF ROCK
1 Full Score (Conductor)
1 Keyboard 1 (doubling Descant Recorder)
1 Keyboard 2
1 Electric Guitar 1 (doubling Acoustic Guitar, Alto Recorder)
1 Electric Guitar 2 (doubling Alto Recorder, 12-string guitar)
1 Electric Guitar 3 (doubling Acoustic Guitar, Descant Recorder)
1 Bass Guitar
1 Drums
1 Onstage Guitar (Dewey)
1 Onstage Guitar (Zack)
1 Onstage Keyboard (Lawrence)
1 Onstage Bass (Katie)
1 Onstage Drums (Freddy)
13 Books (7 Pit Players + 5 Onstage Players)
NOTE: SCHOOL OF ROCK requires 5 onstage players: Dewey, Zack, Freddy, Katie and Lawrence.
---
Media Rights
*

Currently media rights for School Of Rock are not available. Please contact customer service with any questions.