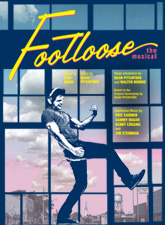 Footloose
Music by
Tom Snow
| Lyrics by
Dean Pitchford
| Stage Adaptation by Dean Pitchford and Walter Bobbie | Based on the original screenplay by Dean Pitchford | Additional Music by Eric Carmen, Sammy Hagar, Kenny Loggins and Jim Steinman
One of the most explosive movie musicals in recent memory bursts onto the live stage with exhilarating results. When Ren and his mother move from Chicago to a small farming town, Ren is prepared for the inevitable adjustment period at his new high school. What he isn't prepared for are the rigorous local edicts, including a ban on dancing instituted by the local preacher, determined to exercise the control over the town's youth that he cannot command in his own home. When the reverend's rebellious daughter sets her sights on Ren, her roughneck boyfriend tries to sabotage Ren's reputation, with many of the locals eager to believe the worst about the new kid. The heartfelt story that emerges is of a father longing for the son he lost and of a young man aching for the father who walked out on him. To the rockin' rhythm of its Oscar and Tony-nominated top 40 score (the soundtrack album reached number one on the Billboard charts and has sold over 15 million copies!) and augmented with dynamic new songs for the stage musical, FOOTLOOSE celebrates the wisdom of listening to young people, guiding them with a warm heart and an open mind.
Participate in the R&H Online Community.
Leave comments or talk with other fans in the forum!

To request the rights to make merchandise for this show email brian.sherman@rnh.com.
Fan Info:
Cast Recording Now Available On Ghostlight Records
HEAR THE SHOW!
The newly re-mastered Original Broadway Cast Recording of "Footloose, The Musical" features the bonus track "Still Rockin'," sung by original cast member Hunter Foster. The handsome souvenir booklet includes a synopsis, color photos and complete lyrics, as well as two blank 'yearbook' pages for collecting autographs and recording memories of your own special production!
Wholesale rates available for bulk orders, please contact footloose@sh-k-boom.com for details. www.sh-k-boom.com
FOOTLOOSE Songbook available from Hal Leondard
The updated "Footloose, The Musical" song folio is now available from Hal Leonard Corporation. www.halleonard.com
This 14-song collection includes every number in the show.
(Please note: The purchase of this folio does not carry with it a license to present the stage musical.)


The birthday of Dean Pitchford, writer of book and lyrics for the film FOOTLOOSE as well as its stage adaptation.

In 1998, FOOTLOOSE the musical opened at the Richard Rodgers Theatre on Broadway and ran for 709 performances.

The birthday of Jim Steinman; rock composer who wrote music for the original film FOOTLOOSE and collaborated with singer Meat Loaf on the classic album "Bat Out Of Hell"" "

The birthday of Walter Bobbie, director of FOOTLOOSE (the stage adaptation) and co-author of its book. Bobbie also directed the musical WHITE CHRISTMAS, and the 2005 concert version of SOUTH PACIFIC starring Reba McEntire.

In 2000 FOOTLOOSE the musical closed on Broadway after 709 performances.


"Exhilarating! You'll have a hard time staying in your seat!"
— WNBC
"One of the most extraordinary musicals ever to come out of Hollywood. FOOTLOOSE blends fantastical situations with important issues and balances them perfectly."
— L.A. Weekly
"FOOTLOOSE is an exuberant entertainment, bursting to life with music, romance and dance."
— L.A. Movie Gazette
"This is a show you want to dance to! The score is the best kind of blast from the past!"
— Cincinnati Enquirer
"A crackling show . . .better than the movie!"
— Green Bay Press-Gazette

Song #
Song Name
Character Name
Play
Other Versions

---
Through all the years of development and the many months of rehearsals and previews for the original Broadway production of FOOTLOOSE, STILL ROCKIN' had been assigned to a female singer who fronts a band at the Bar-B-Q, a noisy dive to which Ren takes his friends at the opening of Act II.  That scene ends with a showstopping version of LET'S HEAR IT FOR THE BOY, sung by the character Rusty, who is Willard's girlfriend.

What that meant was that we had two, back-to-back, powerhouse female vocal performances in the first fifteen minutes of Act II, and the creative team worried that that was simply too much of a good thing. The solution we came up with at the time was to write a country waltz. It was pretty and sedate and didn't, in any way, challenge the impact of  LET'S HEAR IT FOR THE BOY.

But what the new song did, unfortunately, was to slow down the show's momentum.  It wasn't until after FOOTLOOSE closed on Broadway and we continued to work on the show that my collaborators and I realized that we could get the high energy of STILL ROCKIN' to kick off Act II if we took it away from a female singer and gave it to a guy.

There had always been a character at the Country/Western bar named Cowboy Bob, who dances with Rusty and eventually punches out Willard. I decided to pump up his part by making Cowboy Bob the lead singer for the band at the Bar-B-Q. And, yes, he still dances with Rusty and fights with Willard.

When it came time to record STILL ROCKIN', I had only one thought about who to get to sing it. Hunter Foster was a member of the original cast (he understudied the lead role of Ren, as a matter of fact), and I've always been a huge fan of his talent. He came into the studio and delivered a sensational performance of the song, and in doing so gave 'voice' to this character - Cowboy Bob -  who had never been called upon to sing before.
---
FOOTLOOSE first burst onto the silver screen in 1984 and proved to be one of that year's most successful motion pictures. The soundtrack recording reached #1 on the Billboard charts, and went on to sell over 17 million copies worldwide, generating such Top Forty hits as the title song, "Let's Hear It For The Boy," (both of which received Academy Award nominations), "Almost Paradise," "Holding Out For A Hero," and "I'm Free (Heaven Helps the Man)." With a screenplay and lyrics by Oscar winner Dean Pitchford, the story focuses on young people, as does his previous, wildly successful movie musical, FAME.
Its journey to the Broadway stage began in 1996 when director Walter Bobbie collaborated on a stage adaptation with Dean. After Tom Snow and Dean added new songs to supplement the already existing hits, Walter directed the first of a series of workshops.  Work on FOOTLOOSE was temporarily suspended, however, so that Walter could open his acclaimed revival of CHICAGO on Broadway (for which he'd go on to win the 1997 Tony Award), a success which he repeated in London.
FOOTLOOSE finally previewed at the Kennedy Center in Washington, D.C., in Summer, 1998, and opened on Broadway on October 22. The next day, the show broke the box office record for the Richard Rodgers Theatre, where it continued to thrill audiences well into July, 2000. During the course of its New York run, FOOTLOOSE also enjoyed successful national and a bus-and-truck tours.
After the show closed, the creators continued to examine and refine their work. Not only did they make changes throughout the libretto, they excised three songs from the original score and restored one ("Still Rockin'," now available on the newly mastered Broadway CD on Ghostlight Records). The reaction to the 'new' FOOTLOOSE was immediate and enthusiastic; a tour in the U.K. resulted in a West End engagement, which in turn triggered excitement throughout Europe, where FOOTLOOSE has been seen in Italy, France, Scandinavia, Germany, Poland, Croatia and many other countries. Additional productions in Japan,  South Korea, Australia, New Zealand, Brazil and South Africa have spread the message of FOOTLOOSE around the world.
In 2011, Paramount Pictures' re-make of FOOTLOOSE - with a screenplay by Dean Pitchford and the film's director Craig Brewer - brought this heartwarming story and electrifying music to a whole new generation.
---

Tony Awards
January 01, 1999 — 4 Nominations

Grammy Awards
January 01, 1985 — 2 Nominations, including Best Soundtrack Album
January 01, 1985 — 1 Nomination, Best Original Cast Recording
January 01, 1999 — 1 Nomination, Best Original Cast Recording

Vocal Range of Characters:

// Photos

---
---
---
---
---
---
---
---
---
---
---


Written By: Dean Pitchford

After FAME, I was being approached by all these folks [in Hollywood] because, by that time, I was also writing pop material for Melissa Manchester, Kenny Loggins, Steve Perry.
I was approached about writing films: about a girl who's going to be a pop artist or a girl who wants to go to Broadway or a guy who wants to go on the road and I thought, 'well, those are really kind of dull.' One way to make it more interesting is to forbid it, to outlaw it.
That was in the back of my head and I had read this story in the news in 1979 about a small town in Oklahoma—Elmore City—that banned dancing. The law had been on the books for 90 some odd years and that year, the high school class, which numbered about 11 kids, wanted to have a dance and the town elders decided they had a problem with that. They got very dogmatic about it, though no one could remember why they had instituted that interdiction, and they dug their heels in. A fight ensued and families split. People took sides and neighbors weren't talking to neighbors and the minister there put his foot down [and dancing was banned].
I kept thinking, because my background was Broadway, where no one really calls themselves a songwriter unless you do a score in a show, I always felt like a bit of a pretender; I had a song on this television show, in that movie, on that album, so I wanted to put a bunch of songs in a movie. And the only way I could make that work is if I know what the movie is, so I had better sit down and write a movie.
They said nobody would believe [it]—unless it happened in 1964. But in 1964, not being able to dance would not be remarkable. But in 1980, it would be. That's what makes it. It's often thought of as that movie about the town where you can't dance. But really, the dance is the mechanics to explore another theme which is underlying everything: a boy who's lost his father meets a man who has lost his son and the two clash. The dancing is the thing that they fight over but they're both angry about the thing that they're not saying and it becomes the focus. It's about expression—when they dance, they're able to express themselves. But it is a story about loss and people's attempts to deal with loss and whether banning a book or dancing there's a rallying point into which people bury their rage.
FOOTLOOSE went through 22 drafts and, in that period of time, the Moral Majority was rising in power and there was the Ayatollah [Khomeini] in Iran. We are seeing it now with the rise of the far right, the neoconservatives and a White House in the grip of the far religious right. I was certainly aware of [religious fundamentalism] but, when I began [FOOTLOOSE], I was writing [primarily] from my belief that people who don't express themselves hurt.
In the case of FOOTLOOSE, it was always driven forward from the script [which Pitchford wrote]. We knew exactly where songs were going to go. As I mapped it out, we had to trim, just because we knew what budget we had so we had to spend our pennies wisely. In every case, I had to ask: what's the rhythm of the song, what kind of artist is singing the song? Is it black? Is it pop? Is it rock-n-roll? Is it dance? That brought into play a whole list of artists and, in some cases, their collaborators. For instance, we had this idea to go to Bonnie Tyler to sing "Holding Out for a Hero" and she was only working with [composer] Jim Steinman.
There's different kind of energy that's necessary when [music's] coming at you from the screen as against radio speakers and, with Jim [Steinman], who has that sense of theatricality, I didn't have to do too much prodding. He knew I wanted this to be big. I did walk into my meeting with Jim with the full lyric [to "Holding Out for a Hero"]. I had studied a lot of his work and he's very clever and wordy and he keeps the momentum going—like in "Paradise by the Dashboard Lights"—so I wrote a Jim Steinman lyric. Also, we rented an upright piano and rolled it into Herb Ross' office. Instead of running off and working in the studio before we got the thumbs up from Herbert, we would go in and sing the songs at the piano or on guitar and he would say 'yeah, that's the right direction' and then we would demo it to show the artist. With "Holding Out for a Hero," we brought a girlfriend of mine who's a singer and we went into Herbert Ross' office and Jim Steinman, with the long, long hair, sat there at the keyboard and played the full orchestra part of the song and when he finished, there was blood on the keyboard. He played the s—t out of that song. Afterwards, Herbert Ross said: Do it—that's the song.
---

Artwork and Marketing Materials
:
 ARTWORK: This show now has new iconic artwork, bringing the professional look of Broadway straight to your theater. Show posters, print ads, Facebook graphics, and marketing materials  are all available in customizable formats.
---
AccompanEase
:
 This product is a rehearsal tool that allows for unlimited teaching, training and practice of individual vocal parts or dance sequences. Contact Realtime Music Solutions for more information: 
www.accompanease.com
, via email:
info@rms.biz
, or via phone: 
212-620-0774
---
KeyboardEase
: 
This unique resource is designed specifically to meet the needs of productions that want convenient, cost-effective access to these hard to find keyboard sounds. We have carefully assembled all sounds required for a given show. Everything is laid out in correct sequential order, so you can easily progress through each song in each keyboard book with professional, authentic, show-specific sounds. All you have to do is connect any standard keyboard (or multiple keyboards) to your laptop and you'll be ready to perform. And we'll help you every step of the way.
Demo KeyboardEase for Mac or PC.

Contact Realtime Music Solutions for more information: www.keyboardease.com, via email: info@rms.biz, or via phone: 212-620-0774.
---
InstrumentalEase
:
 This product is an orchestra enhancement instrument capable of augmenting a traditional ensemble of any size. Contact Realtime Music Solutions for more information:
www.rms.biz
, via email:
info@rms.biz
, or via phone: 212-620-0774.
---
RMS Mix®
:
 RMS Mix® is a new app from Realtime Music Solutions that can be added onto your purchase of AccompanEase and InstrumentalEase and brings rehearsal and performance tools to your mobile devices. RMS Mix® syncs with AccompanEase and InstrumentalEase to allow your creative team, cast and instrumentalists access to rehearsal tracks on their own computer, tablet or smartphone. Customized changes made on AccompanEase and InstrumentalEase can be exported to the RMS Mix® app, so that rehearsing for your production is as easy as hitting play!
Contact Realtime Music Solutions for more information:
www.rms.biz
, via email:
info@rms.biz
, or via phone: 212-620-0774.
---
Playbill VIP
: 
MAKE YOUR OWN PLAYBILL! Playbill VIP allows you to create your very own Playbill Program. We have provided Playbill with all of the credits, song listings, musical numbers and more so that most of the work is already done for you. Just add your productions details, photos of the cast and share it with all of your friends. Learn more: www.playbillvip.com
---

STANDARD
FOOTLOOSE- Orchestration Package (8 Books/8 Players)

1 – KEYBOARD I (Synth)

1 – KEYBOARD II (Synthesizer)

1 – REEDS (Flute, Clarinet, Tenor Sax, Baritone Sax)

1 – GUITAR I (Electric, Acoustic Steel, Acoustic Nylon)

1 – GUITAR II (Electric, Acoustic Steel, Acoustic Nylon)

1 – BASS

1 – DRUMS

1 – PERCUSSION

Rehearsal Set (22 Books)

20 – Libretto/Vocal Books

1 – Logo CD

2 – KEYBOARD I (Synth)

0 – Digital Logo

FOOTLOOSE - Full Score (2 Volume)

1 – Full Score, Act 1

1 – Full Score, Act 2
ADDITIONAL
Libretto/Vocal Books 10 pack

10 – Libretto/Vocal Books

FOOTLOOSE - PRE-PRODUCTION PACKAGE

1 – Libretto/Vocal Books

1 – KEYBOARD I (Synth)
ARTWORK
Footloose Flat Bundle

1 – Flat Banners

1 – Flat Facebook Tabs

1 – Flat Poster

1 – Flat Print

Footloose Layered Bundle

1 – Layered Banners

1 – Layered Poster

1 – Layered Print

1 – Layered Facebook Tabs

PRINCIPALS
2 Woman
2 Teen Girls
1 Man
3 Teen Boys
FEATURED
3 Women
3 Teen Boys
1 Man
ENSEMBLE
Singing-dancing ensemble consisting of Townspeople and High School Students
CHARACTERS
Ren McCormack - teenage boy from Chicago
Ethel McCormack - his mother
Reverend Shaw Moore - the minister of Bomont
Vi Moore - his wife
Ariel Moore - their teenage daughter
Lulu Warnicker - Ren's aunt
Wes Warnicker - her husband
Coach Roger Dunbar - the high school gym teacher
Eleanor Dunbar - his wife
Rusty - Ariel's best friend
Urleen - Ariel's friend
Wendy Jo - Ariel's friend
Chuck Cranston - Ariel's boyfriend
Lyle - Chuck's buddy
Travis - Chuck's buddy
A Cop
Betty Blast - the owner of The Burger Blast
Willard Hewitt - Ren's friend, a country boy
Principal Harry Clark
Jeter - Ren's friend
Bickle - Ren's friend
Garvin - Ren's friend
Cowboy Bob - the lead vocalist at the Bar-B-Que
Cowboy Bob's Band
Townspeople and High School Students

FOOTLOOSE takes place in Chicago and the small town of Bomont.
SPECIFIC LOCATIONS
City of Chicago
Town of Bomont, in Church
The Churchyard
Behind a Gas Station
A High School Hallway
The Moore Home
The Burger Blast
The Great Plains of Bomont
The High School Gym
The Bar-B-Que, a Country/Western Dance Hall
The Junk Yard
Under the Train Bridge
The Town Hall
Materials Notes
Tambourine, Industrial Sounds, Congas, Huge Electronic Hits, Cymbal, Mark Tree, Vibes, Shaker, Tubular Bells, Cow Bell, Bell Tree, Timpani, Xylophone & Triangle.
---
Featured Videos
Featured News
Footloose Original Broadway Cast Recording available again!
Ghostlight Records releases a revised and re-mastered version of FOOTLOOSE The Musical's Original Broadway Cast Recording.
Read More
Media Rights
Promotional
1. The Promotional Video shall be recorded and shown for the sole purposes of advertising your licensed production of the Play. For such a video, R&H allows theatres to film up to 10 minutes of total footage taken at either a performance or rehearsal (i.e.: 10 minutes of scripted moments.)
2. The Promotional Video may not include more than (i) 1 minute from any song or (ii) 3 minutes, in the aggregate, of footage of copyrighted material from the Play.
3. The Promotional Video may not include any sponsorship or underwriting without the prior consent of all R&H.
4. The Promotional Video must be submitted to R&H by sending the source video and video link to editor@rnh.com.
5. The Promotional Video must include the following: "Rights courtesy of Rodgers & Hammerstein, www.rnh.com"
6. Upon approval by R&H of the Promotional Video, you agree not to make any alterations in the approved copyrighted material used therein and you agree to obtain the prior written approval of R&H for any other use of the Promotional Video not specifically granted herein.
7. Upon termination of the Term, you shall cease to have any rights to use the Promotional Video including, without limitation, in connection with a future production of the Play, and shall immediately remove its content from any and all websites on the Internet.
8. You may not use a commercially available recording.
9. Any additional promotional rights must be approved by R&H by contactingTheatre@rnh.com.
*
Promotional video rights can only be granted once a performance license for Footloose has been secured. Please contact customer service if you have any questions. If you have not yet applied for Footloose, you can do so here. LOG IN to learn more.
---
Archival
1. Subject to the information provided in Licensee's application and payment of the fee as set forth in Paragraph 3 herein, Licensee shall have the right to create a single copy of the Video for internal archival, private viewing purposes at Licensee's address only and shall not be re-copied, distributed or otherwise exploited, in whole or in part, in any media now known or hereafter developed without the prior written approval of R&H. Without limiting the generality of the foregoing, the Video shall not be (i) sold to anyone (ii) telecast by any television station or network, including, without limitation, any local cable station or (iii) distributed, exhibited or otherwise exploited over the Internet or as part of any online auction.
2. Licensee agrees to include the following language at the beginning of the Video:
©Year By R&H Theatricals. This production was videotaped by special arrangement with R&H Theatricals for archival purposes only. All Rights Reserved.
WARNING: Federal law provides severe civil and criminal penalties for the unauthorized reproduction, distribution or exhibition of copyrighted motion pictures, videotapes or videodiscs. Criminal copyright infringement is investigated by the FBI and may constitute a felony with a maximum penalty of up to five years in prison and/or a $250,000.00 fine.
This Video is provided to you for private, organizational and home viewing purposes only. By accepting the Video, you agree not to authorize or permit the Video to be copied, distributed, broadcast, telecast or otherwise exploited, in whole or in part, in any media now known or hereafter developed.
*

You must be logged in and licensed to present Footloose in order to license Archival rights. Please contact customer service with any questions.
---
Banner Ads - Flat Graphics
Format: .JPG, 72 dpi, RGB
Price: $60.00
Display customized, eye-catching banner ads to promote your production.
Don't worry about reshaping banners to fit different websites: This package already includes 4 standard banner sizes - vertical, horizontal, and rectangular.
Don't worry about optimizing the color format, size and resolution. These files are already optimized for online viewing.
Don't worry about needing a designer to convert static banners into rotating, animated ads. We've taken care of this for you! Text and video instructions are provided to help you animate your ads with ease – using free programs and apps.
Don't worry about needing fancy design programs – these flat .JPG files are ready to use with any free paint or photo editing program. Demos show you how to customize graphics with your theater's text.
Included:
160x600 - Wide Skyscraper
300x250 - Medium Rectangle
468x60 - Full Banner
728x90 – Leaderboard