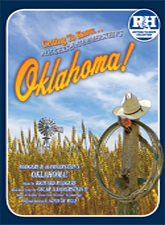 Getting to Know...Oklahoma!
The Getting To Know Series: Uniquely adapted musicals specifically for youth performers. Rodgers & Hammerstein's first collaboration remains, in many ways, their most innovative, having set the standards and established the rules of musical theatre still being followed today. Set in a Western Indian territory just after the turn of the century, the high-spirited rivalry between the local farmers and cowboys provides the colorful background against which Curly, a handsome cowboy, and Laurey, a winsome farm girl, play out their love story. Although the road to true love never runs smooth, with these two headstrong romantics holding the reins, love's journey is as bumpy as a surrey ride down a country road. That they will succeed in making a new life together we have no doubt, and that this new life will begin in a brand-new state provides the ultimate climax to the triumphant OKLAHOMA! In this adaptation for pre-high school students, the content has been edited to better suit younger attention spans, but all the elements that make this show a classic are still in place. You and your students will be enchanted by the timeless story and the dazzling score, while at the same time learning about theater and its production.
Participate in the R&H Online Community.
Leave comments or talk with other fans in the forum!

To request the rights to make merchandise for this show email brian.sherman@rnh.com.
Fan Info:




Song #
Song Name
Character Name
Play
Other Versions


Vocal Range of Characters:
| | | | |
| --- | --- | --- | --- |
| Name | Vocal Type | Low Note | High Note |
| | | | |
| --- | --- | --- | --- |
| Aunt Eller | Mezzo-Soprano | G | D |
| | | | |
| --- | --- | --- | --- |
| Laurey Williams | Mezzo-Soprano | B | D |
| | | | |
| --- | --- | --- | --- |
| Ado Annie Carnes | Mezzo-Soprano | C | Eb |
| | | | |
| --- | --- | --- | --- |
| Cord Elam | Slim | Mike | and Joe |
Vocal Range notes for Getting to Know...Oklahoma!:


// Photos




STANDARD
1 – Accompaniment Tracks (CD)

1 – Digital Resources Download

1 – Digital Resources Disc (CD)

1 – Guide to Choreography & Staging (DVD)

1 – Production Guide

1 – Vocal Tracks (CD)

30 – Student Script

1 – Piano Vocal Score
ADDITIONAL
GTK OKLAHOMA!- Libretti/Vocal Books 10 Pack

10 – Libretto Vocal Books

GTK OKLHAOMA!-Pre-Production Pack

1 – Piano Vocal Score

1 – Student Script

CHARACTERS
Aunt Eller Murphy
Curly McLain, a cowboy
Laurey Williams, a farm girl
Jud Fry, a farm hand
Will Parker, a cowboy
Ado Annie Carnes, a farm girl
The Peddler
Gertie Cummings
Andrew Carnes, a farmer
Ike Skidmore, a rancher
Cord Elam, a rancher
Fred, a rancher
Slim, a rancher
Mike, a farmer
Joe, a cowboy
Tom, a cowboy
Vivian
Ellen
Kate
Virginia

OKLAHOMA takes place in the Western Indian Territory soon to become the state of Oklahoma, in the early 1900s.
SPECIFIC LOCATIONS
The Front Yard of Laurey's Farmhouse
The Smokehouse
A Grove on Laurey's Farm
The Skidmore Ranch
Materials Notes
In each of our iTheatrics' adaptations, we are careful to remain true to the storytelling of the original show. Our goal is for our adaptations to be as seamless as possible, allowing us to tell the story, but in a way that is appropriate for the age group. Our new adaptation of Oklahoma! eliminates the song "Poor Jud is Dead," as we found this song's subject matter challenging for the age group. In addition, we added back "Many a New Day" and "All er Nuthin" to ensure more stage time for female performers. The response from teachers who attended our workshop productions, or who have piloted the show in their schools, has been incredibly positive.
---
Special Feature: Instant Digital Downloads
Once you have been approved for a license, you will receive an email from the Rodgers & Hammerstein organization welcoming you to the Getting To Know family. This email will include a download link for the following digital resources:
Audition-ready materials, including ready-to-print, show-specific audition music, scenes, and even specially created audition accompaniment tracks (Audition accompanist optional!)
Show specific information, including a music cue sheet, props list, scene-by-scene set breakdown, a list of costumes by character, and official show artwork
A digital copy of the Production Guide, which you can use on your tablets and mobile devices
A complete set of Vocal Tracks for the show - start your rehearsals now!
By accessing these digital resources, you can begin the process of planning your show, and even hold auditions, prior to receiving your printed Production Pack. No more waiting for your show materials to arrive!
New Production Pack Resources:
iTheatrics built on the strength of the original G2K resources and brought them up to date with the best practices from the field. Materials are streamlined and consist of:
Production Guide
Student Scripts
Piano/Vocal Score
Accompaniment and Vocal Tracks
Guide to Choreography and Staging DVD
Digital Resources Disc.
This means fewer physical books for you to carry. It also means that the resources you need most in rehearsals like Vocal Tracks and the Production Guide can be uploaded onto your mobile device. Forgot your Production Guide? No worries, you can now access it on your iPad. This is an industry first, and something that will make putting on a show with young people even better!
---
Media Rights
*

Currently media rights for Getting to Know...Oklahoma! are not available. Please contact customer service with any questions.