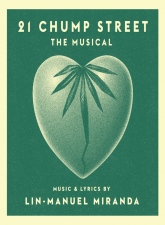 21 Chump Street
Music and Lyrics by
Lin-Manuel Miranda
| Based on the story by Robbie Brown which originally appeared on WBEZ's This American Life
21 CHUMP STREET by Lin-Manuel Miranda (IN THE HEIGHTS, HAMILTON) is a new 14-minute musical based on a true story as reported in the series 'This American Life'. 21 CHUMP STREET is a cautionary tale of a high school honors student who falls for a cute transfer girl. He goes to great lengths to oblige her request for marijuana in the hopes of winning her affection - only to find out that his crush is actually an undercover cop planted in the school to find drug dealers. 21 CHUMP STREET discusses the ramifications of peer pressure, conformity and drug use in our schools with a message that will stay with teenagers long after they leave the theater. Perfect for donor evenings, galas, special events and student/community outreach programs. [Running Time:14 minutes]
Participate in the R&H Online Community.
Leave comments or talk with other fans in the forum!

To request the rights to make merchandise for this show email brian.sherman@rnh.com.
Fan Info:



"Still, the evening's melodic highlight belonged to Lin-Manuel Miranda's 21 JUMP STREET. Giddy and bittersweet, this quickie musical adapts a tale of bad romance that was broadcast in 2012 on the "What I Did For Love" episode of 'This American Life.'"
— Alexis Soloski, New York Times, June 08, 2014
"This would be a great musical with a great score even if it hadn't been written in such an admirably short time... but the fact that it was created that fast says even more about it. Lin-Manuel Miranda continues to prove his immense talent with a funny, alive, endearing, and interesting show that explores a world of teenage love and the complications surrounding Justin's unknowing infatuation with an undercover police officer, and how the officer uses this to her advantage to make an arrest. There's a moral ambiguity here that makes for fascinating theatre, supported by a memorable score that leaves us wanting more. As it is, 21 CHUMP STREET is a delicious little bite-sized musical that's totally satisfying."
— Michael Kras, The Cast Album Review, June 23, 2014
"I have no idea if the musical on our show this weekend had the same effect on you that it did for all of us who sat through it during a week of rehearsals, but I and pretty much everyone else could NOT get the tunes out of our heads. I heard the dancers singing it in their dressing room. One producer heard her KIDS singing it in their room, even though they hadn't been to the show. They'd heard HER singing the songs around the house and they picked it up like a virus."
— Ira Glass, This American Life, June 23, 2014

Song #
Song Name
Character Name
Play
Other Versions


Vocal Range of Characters:


// Photos



RMS Mix
: 
RMS Mix prerecorded tracks are free with your booking of 21 CHUMP STREET. To download, visit the RMS Mix Website and download the RMS Mix App from the Apple App Store or Google Play.
RMS Mix® is a new app from Realtime Music Solutions that brings rehearsal and performance tools to your mobile devices. RMS Mix® allows your creative team, cast and instrumentalists access to rehearsal tracks on their own computer, tablet or smartphone.  Rehearsing and performing your production is as easy as hitting play!  RMS Mix® app is available to download through the Apple App Store and Google Play.
---

STANDARD
21 CHUMP STREET-Rehearsal Set

1 – Digital Logo CD

8 – Libretto

8 – Piano Vocal

1 – Piano Conductor

1 – Guitar (Electric & Nylon String)

1 – Electric Bass

1 – Drums

1 – Violin

1 – Cello
ADDITIONAL
21 CHUMP STREET-Pre-Production Package

1 – Libretto

1 – Piano Vocal

PRINCIPALS
5 Men
1 Woman
CHARACTERS
Narrator
Justin
Naomi
Tevin (Boy 1) / Cousin 1
Derek (Boy 2) / Cousin 2 / Lawyer
Andrew (Boy 3) / Cousin 3 / Police Officer

21 CHUMP STREET: THE MUSICAL takes place in Park Vista Community High School.
Materials Notes
Click Tracks and Supplemental Backing Tracks are required to perform the full orchestration; they are available for download via www.rnh.com/mydownloads upon booking confirmation.
---
Media Rights
*

Currently media rights for 21 Chump Street are not available. Please contact customer service with any questions.