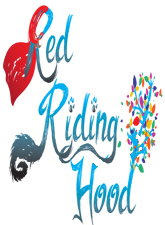 Red Riding Hood
An uplifting story of brave Red who must journey through the forest to reunite her family and save Mother's bakery from closing down. Will she reach Grandma's house in time? Or will the charming Big Bad Wolf distract here from her quest? Join Red on the adventure into the woods, where no one is what they seem!
Suggested Audience Age Range: Ages 4 and Up
Running Time: 1 hour, No Intermission
Participate in the R&H Online Community.
Leave comments or talk with other fans in the forum!

To request the rights to make merchandise for this show email brian.sherman@rnh.com.
Fan Info:




Song #
Song Name
Character Name
Play
Other Versions


Vocal Range of Characters:


// Photos




STANDARD
RED RIDING HOOD-Rehearsal Set (20 Books)

10 – Libretto

10 – Piano Vocal
ADDITIONAL
RED RIDING HOOD-Pre-Production Pack

1 – Libretto

1 – Piano Vocal

PRINCIPALS
3 Women
3 Men
CAST OF
CHARACTERS
Little Red
Mother
Father / Wolf
Grandma
William the Woodcutter
Freddie the Parrot
The musical can be performed by a company of 5 or 6, depending on if you choose to cast a separate actor/puppeteer for Freddie the Parrot. In the original production Freddie was voiced by Mother and operated as a hand-held puppet by both Mother and/or Grandma, depending on the scene.
There is also an evil berry bush in the woods, which should be sung by Grandma.

Prologue
Scene 1: The Cake Shop - morning
Scene 2: The Path Through the Woods
Scene 3: The Woods
Scene 4: Grandma's House
Scene 5: The Path
Materials Notes
We loved writing Red Riding Hood and we hope you enjoy putting it on as we much as we did creating it. The show should be fun and lively with lots of energy. Kids will love William the Woodcutter's stupidity, the suave charm of the Wolf and the feisty spirit of Little Red.
The original production, brilliantly directed by Kate Golledge and cleverly designed by Andrew Riley, offered some good practical solutions to a couple of staging questions. The berry bush was operated by Grandma as a costume with a huge red berry head, and arms which lit up with red LEDs. It was very spooky and Tim Burton-esque.
The Book of Important Things was worn as a backpack over William's shoulder; when he was looking for it he couldn't find it because it was on his back – cue much comedy in him swinging around trying to find it. He then took it off his back and used it for its intended purposes. The sillier the portrayal of William, the better – he should be very clumsy, but hugely lovable.
As to how Grandma is eaten by the Wolf – we'll leave that up to you to decide! There are many exciting and inventive ways you could do this, so let your imagination run wild.
And finally, at the end of the original Singapore Repertory Theatre production, there was a sing-a-long with the audience where the actors made up fun actions for the children to copy. You're welcome to ad lib your own version, or use the suggested scripted version. If you don't feel a sing-a-long is appropriate for your production, please feel free to just use it as play-out music instead.
INTERVAL OR NO INTERVAL?
Red Riding Hood can be performed with or without an interval. Each Act runs for approximately 30 minutes, so 60 minutes without. If you are performing without an interval, please omit the Entr'acte and follow the script's instructions as to the dialogue you should use.
BACKING TRACKS
Occasionally, where appropriate, we have given notes in the script to explain at what point in each backing track the next piece of stage directions or dialogue should occur. Our advice would be to get to know the backing tracks as much as you can and use them in rehearsals as often as possible in order to become second nature to the performers.
---
Featured News
Theatre for Young Audiences (TYA) Now Available at R&H Theatricals
R&H Theatricals is proud to announce the launch of a new collection of titles for Young Audiences. All of the titles in the Theatre For Young Audiences (TYA) series have a run-time of approximately 60 minutes and are designed for adults to perform for an audience of children.
Read More
Media Rights
*

Currently media rights for Red Riding Hood are not available. Please contact customer service with any questions.