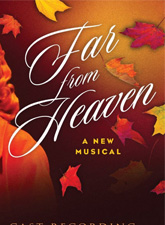 Far From Heaven
Book by Richard Greenberg | Music by
Scott Frankel
| Lyrics by
Michael Korie
| Based on the Focus Features/Vulcan Productions motion picture written & directed by TODD HAYNES
Cathy Whitaker seems to be the picture-perfect wife and mother in 1957 suburban Connecticut. But roiling beneath the surface, secret longings and forbidden desires cause her world to unravel, with incendiary consequences. With a book by Richard Greenberg, lyrics by Michael Korie and a lush score by Scott Frankel that is both jazz-inflected and hauntingly lyrical, FAR FROM HEAVEN is a powerful story of romance, betrayal, and intolerance, as a woman grapples with her identity in a society on the verge of upheaval. Running time: 2 hours 15 minutes, including one intermission
ACT ONE
Hartford, 1957. On a crisp October afternoon, housewife Cathy Whitaker revels in her favorite season ("Autumn in Connecticut") as eleven-year-old David plays on his scooter; Janice, his little sister, pleads for new ballet slippers; and Sybil, the maid, puts away groceries. Cathy's friend Eleanor Fine drops by to confirm catering plans for the annual company party for Magnatech, where their husbands are executives. Later that evening, as Cathy dresses for a neighbor's cocktail party, Janice worries she will never be as pretty as her mother is ("Once Upon a Time"). A call from the police informs Cathy that her husband, Frank, has been arrested for loitering. After bailing him out, Cathy drives home from the station as Frank fumes ("If It Hadn't Been"). Back home, Cathy calls Eleanor and invents a pretense for having missed Mona Lauder's cocktail party, then invites Frank upstairs to bed. He declines. Putting the incident out of her mind, Cathy tears up the police report and goes upstairs alone.
The next morning Frank is his dapper self again, reading the paper as the kids are served breakfast by Sybil ("Table Talk"). As Frank heads for the office, Sybil lets in Mrs. Leacock and a photographer, who have come to profile Cathy for the local newspaper ("Mrs. Magnatech"). The interview comes to a halt when Cathy notices a stranger in her back yard, a black man. Cathy mistakenly accuses him of trespassing only to learn that he is Raymond Deagan, her regular gardener's son, obliged to take over his father's business since his passing. Cathy offers Raymond her condolences. Mrs. Leacock writes it all down for her column. At the Magnatech offices downtown, Eleanor's husband, Stan, flirts with Frank's secretary, Connie, as Frank phones home to say he'll be working late – it's portfolio season ("Office Talk"). But instead, Frank goes for a walk through the city, pausing to smoke as he exchanges glances with a stranger ("Evening Stroll"). A few days later, Mrs. Leacock's article in The Weekly Gazette reports that Cathy Whitaker is "kind to Negroes." This sends Eleanor and friends Doreen and Nancy into peals of laughter as they enjoy afternoon cocktails around Cathy's kitchen table. Comparing their sex lives ("Marital Bliss"), the ladies insist that Cathy give details about hers.

When the girls leave, Cathy feels obscurely troubled as she observes the garden at dusk. Her reverie is broken by Raymond, who has come to return a silk scarf he found entangled in the branches. Cathy accepts it gratefully but then, not knowing how to speak to each other, they mull the differences between the varieties of plants ("Sun and Shade"). Frank phones at dinnertime: He'll be late yet again ("Table Talk II"). Cathy calms the distraught children and
heads downtown to surprise him with a home-cooked meal ("Autumn in Connecticut [Reprise]"). At his office she discovers him in flagrante delicto with an anonymous man. She bolts. Back home, Frank stammers a confession ("Secrets"). Cathy presses him to see a doctor, and he agrees, confident he can cure this "illness" that's plagued him since his days in the armed forces ("If It Hadn't Been [Reprise]"). At the Hartford Center for the Arts, gallery visitors gaze blankly at abstract prints by twentieth-century artists ("Interesting"). Eleanor tells Cathy that their catty neighbor Mona Lauder has already arrived and brought her uncle, Morris Farnsworth, a condescending art dealer from New York City whose effeminacy irks Eleanor. Cathy notices Raymond and his little girl, Sarah, the only black people there. Sending Sarah outside to play, Raymond and Cathy admire an abstract lithograph ("Miró"). Their interaction attracts the titillated attention of everyone in the gallery. Cathy's guests at the Magnatech party celebrate their hostess's unerring style ("Once a Year"), while Frank jokes drunkenly at Cathy's expense. When the guests are gone, Cathy wonders why things have to turn so ugly ("Secrets [Reprise]"). Frank tries, and fails, to make love to Cathy, and when she encourages him, he pushes her away and accidentally strikes her hard in the face with his cufflink. Frank runs to find ice as Cathy breaks down, climbing the stairs to her bedroom, where she tries to cover the bruise by rearranging her hair. Her new hairstyle almost fools Eleanor the next morning, but she spies the bruise and grows suspicious ("Cathy, I'm Your Friend"). In the garden, Raymond notices Cathy weeping. He suggests a change of scene, a ride in the suburbs with him as he delivers some shrubs. Walking on a wooded trail with Raymond among the changing foliage, Cathy admits to strain in her marriage. She wonders why she finds it so natural to confide in Raymond. Raymond suggests that sometimes it's easier to confide in an outsider, which prompts Cathy to ask him what it felt like to be the only black man at the art exhibition ("The Only One"). He demonstrates how it feels by taking Cathy to Ernie's Bar and Grill, where Cathy is the only white person in the place. Acknowledging their mutual feelings, Raymond
and Cathy slow-dance amidst several black couples. The unlikely pair catches the eye of Mona, who is having her car repaired across the street. Scandalized, she makes a phone call to spread the word.
ACT TWO
Eleanor calls to say that gossip about Cathy is all over town ("Phone Talk"). Then Frank confronts her about the rumors he's heard ("If It Hadn't Been [Reprise]"). He's been sent home early from work on an "unpaid vacation." Though it's due to his declining job performance, he blames Cathy and her association with Raymond.  Intimidated, Cathy fibs, telling Frank that Raymond has already been dismissed. She arranges to meet Raymond in town at Keller's drugstore and tells him in person they cannot afford to see each other again.
On Christmas morning, as David and Janice open presents ("Table Talk II"), Cathy gives Frank a box of travel brochures. He chooses a swanky Miami Beach resort. As a Latin singer croons in the Starlight Room, Cathy feels desired again in Frank's arms, even as he is glancing over her shoulder at Chase Decker, a handsome preppie who is dancing nearby with his sister ("Wandering Eyes"). Next morning at the hotel poolside, Cathy is feeling blissful that romance has returned to her marriage, unaware that Frank is being seduced by the determined young man from the nightclub. Back home in Hartford, Cathy learns that a little black girl was hit in the head by a rock thrown by one of David's school friends. Cathy's renewed marital bliss is cut short when Frank breaks down one night in front of the frightened children.
Cathy sends them upstairs as Frank confesses ("Secrets [Reprise]"). He has fallen in love with a man ("I Never Knew"). Speaking honestly of his feelings, he unintentionally crushes Cathy's. With the marriage over, Cathy seeks sympathy from Eleanor, but finds her friend's support has limits ("Cathy, I'm Your Friend [Reprise]").
Back home, Sybil reveals that the little girl struck by a rock was Raymond's daughter, Sarah. Cathy hurries to Raymond's house to ask after Sarah, and also to see if there is a glimmer of hope for her and Raymond to be together now that she is to be single again. It's too late. Raymond, concerned for his daughter's safety, has sold the house and business and is moving to Baltimore come the first of April. Late that night, Frank calls Cathy to confirm a meeting with their divorce lawyer ("Tuesdays, Thursdays").
April 1st finds David practicing catching a baseball and squabbling with his sister ("Table Talk IV"). Cathy puts on her coat and scarf, the one Raymond found for her, and excuses herself to run an errand. At the Hartford train station, Raymond finds a seat on the train for Sarah, then checks the luggage with the porter. As he looks up, Cathy is across the platform. He wishes her a proud and splendid life ("A Picture in Your Mind"). The train departs and Cathy walks home feeling the sting of loss. And yet she somehow senses she will emerge from her lifelong cocoon, changed ("Heaven Knows/Act II Finale"). Back at home, she pauses to watch spring blossoms float down from the trees. Janice and David run to her. With a gentle embrace, Cathy puts her scarf around Janice, sends them off to play and stands looking out at the day.
Participate in the R&H Online Community.
Leave comments or talk with other fans in the forum!

To request the rights to make merchandise for this show email brian.sherman@rnh.com.
Fan Info:


A Paradise and a Prison,
The New York Times
Written By: Ben Brantley , June 02, 2013
When Kelli O'Hara sings the word "garden," an arid landscape blossoms into lushness. This poetic note is sounded halfway through the first act of the generally prosy new musical "Far From Heaven,"which opened on Sunday night at Playwrights Horizons. And all your senses come to attention, the way they do on one of those days when an early, full-blown spring seems to have broken through winter without warning.
Up to that point in this earnest musical adaptation of Todd Haynes's 2002 film about Eisenhower-era repression, Ms. O'Hara has been giving a polished, efficient performance as Cathy Whitaker, a polished, efficient housewife in the Hartford of 1957. Cathy has interrupted her daily regimen of domestic duties to have a word with her new gardener, Raymond Deagan (Isaiah Johnson), who has returned a scarf she had lost.
Cathy is polite and self-conscious, in the way white women of her time and class often were with the black people who worked for them. But as Raymond explains the care and feeding of plants in a song called "Sun and Shade," Cathy joins in with a hesitant confession: "You see, one day, I too would like to garden."
And on that one word, "garden," her hitherto clipped soprano expands into a voice that stretches and shimmers. The sense of hope, of the possibilities of a world with a wider view, that pulses in this voice breaks your heart. It's one of those lovely moments that happens only in musicals or operas, when a single note lets you peek into the heart of a previously concealed self.
Since "Far From Heaven" stars Ms. O'Hara, whose radiant interpretations have rejuvenated the heroines of Broadway classics like "The Pajama Game" and "South Pacific," there will be other such moments in this production. But there's the nagging sense throughout that Ms. O'Hara, like the character she plays, is not being allowed to express her vast potential. Too often she seems confined to two dimensions; so do the imperfectly cast actors portraying the men in her life, Mr. Johnson as Raymond and Steven Pasquale as Cathy's husband, Frank, a closeted homosexual. So, for that matter, does the show as a whole.
"Far From Heaven" reunites three of the creators of the 2006 musical "Grey Gardens": the songwriters Scott Frankel (music) and Michael Korie (lyrics) and the director Michael Greif. Though it suffered from some imbalances of tone, that show did wonders in finding the wounded humanity within two seemingly monstrous women, the flamboyantly eccentric real-life Edith Bouvier Beale and her rebellious daughter, known as Little Edie. The actresses playing them, Mary Louise Wilson and Christine Ebersole, both walked off with Tonys that season.
Featuring a tight and serviceable book by the industrious Richard Greenberg (whose "Assembled Parties" is up for a Tony this year), "Far From Heaven" reverses the portrait-painting process that made much of "Grey Gardens" so moving. Instead of finding the quiet center of a bizarre and exhibitionistic heroine, Little Edie (Ms. Ebersole, in the second act), "Far From Heaven" seeks to elucidate the big and disturbing emotions beneath Cathy's shiny, conformist surface.
The superb film that inspired this musical accomplished this through principally cinematic means. As conceived by Mr. Haynes, "Far From Heaven" is an hommage to Douglas Sirk's intense movie soap operas of the 1950s, works in which people seemed to think, breathe and talk in Technicolor. Mr. Haynes's approach brought out the subtext in that style, while adhering to, and even enhancing, Sirk's ruling aesthetic.
When the camera moved in on the face of its Cathy, a wonderful Julianne Moore, the slightest flicker of that actress's eyelid told you everything you needed to know about her interior life, especially with Elmer Bernstein's dark purple soundtrack swelling in counterpoint. The film's visual lavishness turned a picket-fence, compartmentalized, racially segregated America into something like a sinister fairy-tale forest; you could feel Cathy being smothered by its excesses.
If the film gave the impression of swirling in enclosing circles, Mr. Greif's production mostly follows a straight line. This geometry is echoed in Allen Moyer's skeletal modular set, which relies on Peter Nigrini's projections of mid-20th-century Better Homes and Gardens-style imagery to create atmosphere. Flatness is the dominant effect.
Such a look may be appropriate to an analysis of lives ironed by rules and ritual into crisp uniformity. But as a visual concept, it comes across as too-obvious satire. So does the portrayal of gossiping stay-at-home wives and their hard-drinking executive husbands. These were clichés when Mr. Haynes made his movie 10 years ago, but his skewed angle made us see them freshly. In more recent years, the television series "Mad Men" could be said to have achieved the same thing, if by different means.
In contrast, the musical "Far From Heaven" is at its least interesting as a picture of a society. The songs here that dissect such sour 1950s caricatures as secretary-pinching bosses and cocktail-tippling matrons (which are given the tired punctuation of one drinker's hiccups) are especially stale. (I did like Nancy Anderson, as Cathy's sly best friend, for whom Mr. Frankel has written songs that give gorgeously insinuating form to the rhythms of everyday hypocrisy.)
The eroding marriage of Cathy and Frank somehow never unsettles us as it needs to, even when he drunkenly humiliates her in public. Mr. Frankel has scored Frank's parallel life as a gay man with jazzy film-noir dissonance, and Mr. Pasquale hits the jagged notes of self-loathing required. But even in anger, he projects an attenuated, almost ghostly presence, and when he finally walks out on Cathy, it doesn't leave much of a vacuum.
As the gardener for whom Cathy feels a forbidden affinity, Mr. Johnson also registers as slighter than he needs to. His Raymond is as neutrally genteel and well-spoken as a docent in a museum. (In one scene, set at an art exhibition, he opens Cathy's eyes to the wonders of Miró.) The wistful, quietly absorbing duets of longing for Cathy and Raymond are lovely. That they don't stay with you has to do with the lack of chemistry between them.
Playing layers has never been Ms. O'Hara's strength. What makes her one of the best performers in musicals today is her direct, unconditionally sincere way with a song. Here, when she's doing Cathy in superficial housewife mode, she's convincing, but not compelling.
It's only when Cathy discovers how she's really feeling, and surprises herself as she expresses those feelings in song, that we perceive the glories of which her character and Ms. O'Hara are capable. Then the tight little world of "Far From Heaven" — and I mean the show as well as the life it portrays — opens up into a briefly glowing vision of a paradise that might have been.
Far From Heaven
Book by Richard Greenberg; music by Scott Frankel; lyrics by Michael Korie; based on the Focus Features/Vulcan Productions motion picture written and directed by Todd Haynes; directed by Michael Greif; sets by Allen Moyer; costumes by Catherine Zuber; lighting by Kenneth Posner; sound by Nevin Steinberg; projections by Peter Nigrini; wig and hair design by David Brian Brown; orchestrations by Bruce Coughlin; musical director, Lawrence Yurman; music coordination, John Miller; choreography by Alex Sanchez; production stage manager, Judith Schoenfeld; production manager, Christopher Boll. Presented by Playwrights Horizons, Tim Sanford, artistic director; Leslie Marcus, managing director; Carol Fishman, general manager. At Playwrights Horizons, 416 West 42nd Street, Clinton, (212) 279-4200, ticketcentral.com. Through July 7. Running time: 2 hours 15 minutes.
WITH: J. B. Adams (Dr. Bowman/Morris Farnsworth), Marinda Anderson (Esther), Nancy Anderson (Eleanor Fine), Elainey Bass (Sarah Deagan), Quincy Tyler Bernstine (Sybil), Justin Scott Brown (Photographer/Chase), Alma Cuervo (Mona Lauder), Korey Jackson (Gus), Isaiah Johnson (Raymond Deagan), Jake Lucas (David Whitaker), James Moye (Stan Fine), Kelli O'Hara (Cathy Whitaker), Steven Pasquale (Frank Whitaker), Julianna Rigoglioso (Janice Whitaker), Sarah Jane Shanks (Connie/Doreen), Tess Soltau (Nancy), Mary Stout (Mrs. Leacock) and Victor Wallace (Dick Dawson/Band Singer).
'Far From Heaven' pretty close to heavenly,
Associated Press
Written By: JENNIFER FARRAR , June 02, 2013
NEW YORK (AP) — Richard Greenberg's new musical, "Far From Heaven" is actually pretty close to heavenly. Tightly staged by Michael Greif at Playwrights Horizons, it's smart, sophisticated and a perfect vehicle for Kelli O'Hara's soaring voice and endearing stage presence.
Based on the 2002 movie written and directed by Todd Haynes, the transporting, potent show has an elegant diversity of music by Scott Frankel. Thoughtful lyrics by Michael Korie sensitively express the characters' turbulent inner emotions, and the score is beautifully performed by the entire cast. It opened Sunday.
Greif's depiction of a superficially perfect suburban American family coming apart in 1957 hums with undercurrents of secrecy, prejudice and sexism. A dark aura of repressed sensuality alternates with scenes of suburban placidity. Furtive pick-up scenes or moody vignettes about racial unease and prejudice give way to hopeful domestic tableaus.
Greif and his design team have created a fluid, visually compelling production, enhanced by Catherine Zuber's gorgeous costumes. Interspersing songs with crisp dialogue that is often sung-through, Greenberg and Greif accurately depict the artificial tenor of the times. The worlds of blacks and whites were quite separate in 1950s America, and it was difficult to be a homosexual when that subject was not even discussed.
A luminous O'Hara leads the picture-perfect, lilting opening number, "Autumn in Connecticut," as housewife Cathy Whitaker happily sings about her wonderful life and the beauty all around her. In subtle contrast, her African-American housekeeper/nanny, Sybil (a skillful performance by Quincy Tyler Bernstine) trudges back and forth across the stage as she performs her job.
Stephen Pasquale is perfectly cast as Cathy's husband Frank, a handsome, privileged, white-collar executive who's secretly homosexual and miserable. While Cathy tries lovingly to cope with his drinking problem and then his "illness" after she discovers his secret, Pasquale blazes with hidden anguish, until he bursts out in Frank's passionate confession, "I Never Knew," about the wonders of being truly in love for the first time.
Trouble deepens when Cathy begins an innocent friendship with her new African-American gardener, Raymond, (a touching, restrained performance by Isaiah Johnson). With quiet dignity, Johnson appears both respectful and masterful, especially when Raymond is around white people who act like he's invisible. Johnson and O'Hara share several lovely duets, their voices warmly combining although their bodies may not whenever they sing their rueful theme song, "The Only One."
O'Hara subtly conveys Cathy's increasing inner turmoil as she learns that her so-called friends are all too ready to spread nasty gossip about her. O'Hara's performance is replete with delicate expressions and perfectly-timed gestures, as Cathy firmly tries to maintain a plucky, cheerful demeanor. Her homey scenes with her children (lively portrayals by Jake Lucas and Julianna Rigoglioso) lend an air of normalcy to her increasingly discordant life.
The orchestra, led by musical director Lawrence Yurman, creates a rich sound. Quiet, introspective numbers are mixed with fizzy, funny ones, like "Marital Bliss" a cocktail-fueled discussion by women about how often they have sex. A would-be romantic vacation in Miami features a wonderful, Latin-tinged nightclub dance number, as closeted gay men exchange longing glances during the song, "Wandering Eyes"
It's a little surprising who defies conformity and who broken-heartedly retreats from possible happiness. Inevitably, Cathy recaps everything she's might lose if she divorces Frank, when her "vows to love and honor and obey/are swept away" in the poignant "Tuesdays, Thursdays." In the bittersweet ballad "A Picture In Your Mind" reluctantly parting lovers sing, "though I may be far away/we'll never say goodbye."
Bright rear projections and atmospheric lighting supplement Allen Moyer's versatile rolling scaffolding, with stairs and platforms that smartly denote many locations. Difficult emotional journeys are beautifully rendered in "Far From Heaven," and the musical is profoundly effective.

Song #
Song Name
Character Name
Play
Other Versions

The Only One
,FAR FROM HEAVEN Original Cast Recording from PS Classics, February 12, 2014
Written By: Jesse Green
A simple question, posed in various transformations and musical settings, haunts Far from Heaven, the story of a conventional woman's crushing discovery of the terrible costs of convention. The question is: What does it feel like being the only one? And the woman is Cathleen Whitaker, known to all of Hartford, Connecticut by that impenetrably banal nickname, Cathy; she is the loveliest and most-cocooned housewife of her white middle-class coterie circa 1957. She is also the one to whom life at its most cruelly ironic—and abetted by some unconscious drive within herself—throws the worst curve.
How this story is dramatized in Richard Greenberg's book, based on Todd Haynes's 2002 movie of the same title—itself an homage to the lush 1950s melodramas of Douglas Sirk—is a subject best contemplated with script in hand. But on this superb cast recording you can hear how the story is dramatized in song: song that functions in much the way Sirk's highly saturated color schemes did on film to raise the emotional temperature of the plot. Or should I say plots? For although Cathy's narrative predominates, it is cleverly, and painfully, echoed by that of at least two other main characters, without which it would be impossible to produce songs as densely multilayered as "The Only One."
We first hear that song, and the haunting question within it, when Cathy, somewhat bravely and somewhat naively, asks her gardener, who is black, what it's like to be different. (Michael Korie's lyric puts it faux-casually: "What does it feel like bein' the only one?") The question is a plot point, of course: an invitation to greater intimacy that only Cathy, of the two, has the privilege of offering. But it also pins down the way in which a woman at the start of a budding and (for that time and place) impossible romance takes a fateful step beyond her kin and ken. And it's more than that, too. One of the typically smart things about the writing of Far from Heaven is that it doesn't just leave the question, as musicalized by the composer Scott Frankel, to stretch, however enjoyably, atop its shifting harmonic footings and Patsy Cline curlicues. Instead, the gardener, Raymond Deagan, gently but quickly turns it back on Cathy. Taking her to lunch in a restaurant patronized by an all-black clientele that does not seem to appreciate her presence, he poses the same question, in the guise of a second chorus. What does it feel like bein' the only one? "Oh—I see," Cathy says. And as the music swells in the orchestrator Bruce Coughlin's gorgeous tribute to Nelson Riddle, she suggests that Raymond ask her to dance.
It's an electrifying moment, drawing together all the best powers of the musical theater and all the particular threads of this unusually fine example of the genre. We recognize the song form and the way it has been manipulated. At the same time, we enjoy but sense the danger of Cathy's momentary happiness. For her world has by this point in the story already begun to crack. Her superficially perfect husband, Frank, has been stopped by the police for loitering, as the euphemism goes, and Cathy has learned that beneath his bluff and conventional shell he harbors unconquerable longings for men. It turns out that he, like Cathy, is in the midst of a crushing discovery, or in his case admission, of the terrible costs of convention; he too is trapped, believing himself to be the only one. (When Cathy suggests they seek help from someone who "can help us understand," he responds incredulously: "In Hartford?") For that matter, Raymond, raising a daughter in an environment of racial tension and even violence, is trapped as well. That he is educated, attends art exhibits, and has a naturally questing nature is a form of alienation no less potent for his bearing it more steadily than Cathy and Frank do theirs.
Which is why, when we first hear Cathy and Raymond sing "The Only One" at the climax of the first act, the conflicts of all the major characters, even the one who isn't present at the moment, resoundingly snap into place. That particular focusing and redoubling effect is something that song, with its density of conscious and unconscious reference, alone permits. Technically, you can attribute it to the way Frankel's yearning chord progressions underpin and destabilize the main melody, and to the sulfurous suspensions of unexpected notes hanging on where they don't "belong," and to the cadences that don't quite connect except by a kind of musical doggedness—we will get back to C major!—suggesting Cathy's need to find a way to safety. Or you can recognize it dramatically in the way the phrase transforms over time. (When it resurfaces, furiously, near the end of the show, it demonstrates just how far Cathy has come from the complacent naïf she was.) Or you can simply let the characters' momentary pleasure in each other merge with your pleasure in a damn good song, one that's sure to be sung for years in contexts wholly divorced from this particular story.
Many shows have one song or motif that functions perfectly on many levels, but the theatrical intelligence apparent in "The Only One" typifies the score of Far from Heaven from its very first notes. The prologue begins with the interval of a descending fourth followed by a descending fifth: open, hollow sounds that quickly become associated with falling leaves (it's autumn) and the external prettiness of Cathy's Connecticut life. But listen as the motif recurs and reconfigures itself throughout the story, eventually emerging as the bleak opening phrase of "Tuesdays, Thursdays," in which Cathy contemplates the unbearable meaninglessness of her days. (The Korie lyric says it all: "Christmas. Summers. Painters, Plumbers.") The leaves dropping to the stage so gently have in the course of a few months, or just two hours' stage time, become prison bars descending between Cathy and her hopes of happiness.
There are many other such examples, but if the score of Far from Heaven were merely a technical triumph, we could not take much joy in it. Fortunately, it is full of the pleasures of a century's worth of song, not used as pastiche but as characterization of the individuals and their normative milieu. Cathy's music references the longing lines of both Puccini and Frank Loesser in his full-throated Most Happy Fella vein. Her best friend, Eleanor, gets a marvelous clutch of scatty Kay Thompson-style numbers. Raymond, in singing about a Miró print—"When I look at this Miró I see an image of the soul, the interplay of light and shadow"—sounds a lot like that painter's sometime colleague Ravel. And Frank's music is aptly reminiscent of Leonard Bernstein's 1950s theater scores, particularly the angsty angularity of Trouble in Tahiti, another elegy for a hopeless marriage. But the breadth of Frankel's sonic palette doesn't stale the result. The score is completely fresh, often heartbreakingly lovely, and sometimes terrifying. Is there any scarier sound in recent musicals than the sickening downward spirals that accompany Frank's despair, like water circling a drain?
Well, there's not much like Far from Heaven in recent musicals at all. Sure, there have been a handful of great theater scores in our still-young century, but they have almost all been dug from the joyful or "merely" delightful vein of the art form. Only a few—including Frankel and Korie's delicious Grey Gardens, written with Doug Wright—have been primarily serious in their intent, and fewer still have been political, by which I mean that they explicitly engage the failures of society as a primary factor in their characters' dilemmas. Far from Heaven would surely win any contest for the number of evils it considers: racism, the oppression of women, the hatred (and self-hatred) of homosexuals.
But it's not a contest. Each successful show is unique in beating its own particular and nearly impossible odds. The singular achievement of Far from Heaven is to have turned so much seriousness—so much fury and pain—into so much songwriting beauty. It understands what it feels like, or at any rate sounds like, being the only one.
Jesse Green has written about theater (among many other things) for New York Magazine since 2008, and for the New York Times (among many other places) before that.
---

Vocal Range of Characters:


// Photos




STANDARD
FAR FROM HEAVEN-Rehearsal Set (22 Books)

20 – Libretto Vocal

2 – Piano Vocal

1 – Digital Logo

FAR FROM HEAVEN - Orchestration (13 Books/12 Players)

1 – Reed I (Flute, Clarinet, Alto Sax)

1 – Reed II (Clarinet, English Horn, Oboe, Tenor Sax, Flute)

1 – Reed III (Bassoon, Clarinet, Bari Sax, Bass Clarinet)

1 – Trumpet (doubling Flugelhorn)

1 – Horn

1 – Trombone

1 – Keyboard I

1 – Keyboard II

1 – Violin

1 – Cello

1 – Double Bass

1 – Percussion (Drum Set, Ride, Sus. Cymbal, Toms, FloorTom, Sleigh Bells, Alpen Bells, Rainstick, Vibes, Timpani, Bells, Wood Block, Temple Block, Triangle, Mark Tree, Slapstick, Crotales, Xylophone

1 –

1 –

FAR FROM HEAVEN - Libretto Vocal 10-Pack
FAR FROM HEAVEN - Full Score, Act 1, Full Score, Act 2

1 – Full Score Act I

1 – Full Score Act 2
ADDITIONAL
FROM FROM HEAVEN - Pre Production Pack (2 Books)

1 – Libretto Vocal

1 – Piano Vocal

PRINCIPALS
1 Woman
2 Men
FEATURED
1 Girl
1 Boy
8 Women
5 Men
ENSEMBLE
An ensemble may be added.
CHARACTERS
(in order of appearance)
Cathy Whitaker
Sybil
David Whitaker
Janice Whitaker
Eleanor Fine
Frank Whitaker
Photographer/Chase Decker
Mrs. Leacock
Raymond Deagan
Connie/Doreen
Stan Fine
Nancy
Dr. Bowman/Morris Farnsworth
Mona Lauder
Sarah Deagan
Dick Dawson/Nightclub Singer
Esther
Gus
The original production used 18 actors with some doubling.

FAR FROM HEAVEN takes place in and around Hartford, Connecticut in 1957 at the following locations:
The Whitaker House
Magnatech Office
Hartford Center for the Arts
A Wooded Trail
Ernie's Bar and Grill
Keller's Drugstore
A Miami Beach Restort
Raymond's House
The Hartford Train Station
Materials Notes
Orchestration by Bruce Coughlin
Violin
Cello
Flute, Alto Flute,Clarinet, Alto Sax
Clarinet, Flute Oboe, English Horn, Tenor Sax
Clarinet, Bass Clarinet, Baritone Sax, Bassoon Flute
Trumpet/Flugelhorn
Trombone/Bass Trombone
French Horn
Bass
Percussion/Drums
Keyboards
---
Media Rights
*

Currently media rights for Far From Heaven are not available. Please contact customer service with any questions.
Banner Ads - Flat Graphics
Format: .JPG
Price: $60.00
Display customized, eye-catching banner ads to promote your production.
Don't worry about reshaping banners to fit different websites: This package already includes 4 standard banner sizes - vertical, horizontal, and rectangular.
Don't worry about optimizing the color format, size and resolution. These files are already optimized for online viewing.
Don't worry about needing a designer to convert static banners into rotating, animated ads. We've taken care of this for you! Text and video instructions are provided to help you animate your ads with ease – using free programs and apps.
Don't worry about needing fancy design programs – these flat .JPG files are ready to use with any free paint or photo editing program. Demos show you how to customize graphics with your theater's text.
Included:
160x600 - Wide Skyscraper
300x250 - Medium Rectangle
468x60 - Full Banner
728x90 – Leaderboard