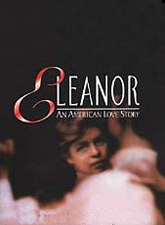 Eleanor - An American Love Story
A hit at regional theaters across America, ELEANOR - An American Love Story chronicles the remarkable journey of the shy, insecure aristocrat who was destined to become First Lady of the World. Warmth, humor and insight inform the evolving relationship between young Eleanor and Franklin, their passionate courtship, tumultuous marriage and the courage that eventually lead to Eleanor's emergence as a compelling catalyst for social change. By turns heartwarming and heartbreaking, the lush score, thoughtful lyrics and moving book make ELEANOR an uplifting celebration of the American spirit.
Act I
The year is 1902. Eighteen-year-old Eleanor Roosevelt has just returned home after three years in a progressive girls' school in England. Shy, not pretty, and with deep feelings of inadequacy, she dreads the upcoming social rituals expected of a debutante.
In a First Class train carriage, Eleanor is engrossed in a book describing conditions in New York's slums ("How the Other Half Lives").  She is spotted by her distant cousin, twenty-year-old Franklin Roosevelt, a handsome dandy on his way home from Harvard.
Seeing a pregnant immigrant woman being ousted from the First Class car, Eleanor instinctively goes to her rescue. Franklin is intrigued by Eleanor's spontaneous reaction to a minor injustice.
At "The Assembly Ball," Eleanor is presented to New York Society. As the fathers serenade their debutante daughters ("Our Beautiful Daughters"). Eleanor, orphaned at age 10, remembers her own beloved father – a dashing man destroyed by alcoholism.
Tart-tongued cousin Alice Roosevelt and Franklin lead the young people in a giddy dance ("The New Century Walk"). Eleanor, feeling awkward and left out, tries to flee the ball, but is intercepted by Franklin. As they dance, he draws her out, discovering that she does volunteer work with the poor. Once again, he is fascinated.
Eleanor is teaching immigrant children at a settlement house on the Lower East Side. Franklin pays a surprise visit. When a young girl reveals an injury she received at her sweatshop job, Eleanor soothes the child ("Give") as Franklin tries to help. They are beginning to fall in love.
At the Hyde Park family estate, Franklin seeks the approval of his formidable and doting mother Sara. Despite Sara's sly maneuvering to keep them apart, Franklin vows to marry Eleanor.
Eleanor's uncle, President Teddy Roosevelt gives the bride away ("United"). Later that evening Sara presents her wedding gift – a New York townhouse – with a house for herself next door. That night Eleanor expresses her dismay to Franklin, who calms her fears ("Running Before The Wind").
The couple settles into the rarefied life of their privileged class. But not for long. Sara is aghast when Eleanor expresses the desire to return to her social work ("First You Serve Your Husband"). The confrontation is interrupted when Franklin arrives with the news that he's been offered a chance to go into politics. He promises Eleanor that they'll work together as a team.
Louis Howe, a brash and savvy newspaperman, senses the naïve Franklin's political potential and takes him under his wing ("Practical Politics"). Eleanor is advised to smile and stand beside her husband like a good political wife.
Washington D.C: When Franklin is appointed Assistant Secretary of the Navy, Eleanor does her best to be that "good political wife." But the threat of war and the Washington social whirl ("Foggy Bottom"), along with five children and a difficult mother-in-aw, begin to take a toll on their marriage ("The Life of the Party").
Franklin is annoyed when Eleanor is unable to attend a Navy event. She suggests her social secretary as her replacement for the evening and Lucy Mercer, young and attractive, agrees to help out ("Dancing On and On"). 
Vacationing with the children at the Roosevelt summer home in Campobello while Franklin remains behind in Washington, Eleanor begins to sense something has gone wrong. Finally, Franklin's affair with Lucy is revealed and Eleanor's world is turned upside down.
Act II
At a family conference, Eleanor listens stoically as Sara, Howe and the family lawyer confront Franklin with the possible consequences of the affair ("What Would You Do About Eleanor"). To herself, Eleanor vows to take control of her life and never again to live it for someone else ("Doing").

Gently but firmly, Howe makes Lucy realize the future Franklin would have to give up for them to have a life together. Hurt, confused, deeply in love, Lucy makes the choice to end the affair (Dancing On and On" Reprise).
Franklin asks Eleanor's forgiveness and a chance to start over. She can forgive, she says, but she cannot forget (If We Go On"). The two agree to begin a new kind of partnership.
At the 1920 Democratic Convention, Franklin is nominated for Vice President (The Life of the Party" Reprise). As Franklin speaks before an admiring crowd, Eleanor realizes that the causes he so powerfully espouses are hers (He Touches Me").
The next summer at Campobello, Howe tries to persuade Eleanor to take a more active political role. But Eleanor feels almost phobic about public speaking. After a swim, Franklin complains of feeling ill. The diagnosis is polio. Franklin begins a series of disappointing therapies.
Denying the possibility that he may be permanently disabled, Franklin and a band of cronies wile away the months aboard a Florida houseboat (Nothing in Particular").
Howe confides to Eleanor his fear that Franklin will be forgotten unless Eleanor starts going before the public and speaking on his behalf. She is appalled by the prospect – but Howe suspects her hidden strength (Fun!"). On the stump she begins to gain confidence in her voice. Soon she is feeling the freedom to express her own opinions. She is emerging.
Back in New York, Eleanor has learned that Franklin will never walk again. Finally standing up to Sara, she challenges Franklin to overcome his disability and return to politics. Franklin agrees to make a speech at the Democratic Convention ("If We Go On" Reprise). There is no time to celebrate. Eleanor is late for a speech of her own.
As Eleanor makes her speech ("Give" Finale) we realize that she has finally come into her own. It is the end of the journey of a shy, unsure young woman – and the beginning of quite another.


Participate in the R&H Online Community.
Leave comments or talk with other fans in the forum!

To request the rights to make merchandise for this show email brian.sherman@rnh.com.
Fan Info:



"A quality tribute to a First Lady … has warmth, humor, wisdom and some darned catchy tunes to boot."
— Scott Bessho, The Seattle Press
"Red-white-and-blue history with energy and warmth, pace and fluidity."
— Donald Rosenberg, The Pittsburgh Press
"A beautifully realized dramatic piece that explores the hidden heart and soul of the young Eleanor Roosevelt."
— Bill Morrison, The New York Observer


From www.eleanorthemusical.com:
ELEANOR has been a regional theatre favorite since its first production at Seattle's Village Theatre in 1987. The 1999 Ford's Theatre (Washington, DC) Original Cast Recording has been praised from San Francisco to Pittsburgh to Great Britain.
Based on the early lives of Eleanor and Franklin Roosevelt, the play has been a hit at Virginia's historic Barter Theatre, the Pittsburgh Public Theatre, Chicago's Marriott Lincolnshire, LA's Musical Theatre West and many others throughout the U.S..
---

Jefferson Awards
January 01, 1999 — 2 Nominations, Jefferson Awards
January 01, 1995 — 2 Nominations, Jefferson Awards

L.A. Dramalogue Awards
January 01, 1997 — 6 Nominations

Robby Awards
January 01, 1997 — 7 Nominations including Best Musical Score and 1 Award

Vocal Range of Characters:

// Photos

---
---
---
---


Written By: Thomas Tierney

ELEANOR – An American Love Story was originally to be a musical about the young Franklin Roosevelt, but when the show's writers Jonathan Bolt (book), John Forster (lyrics) and Thomas Tierney (music) began to research their subject, they were overwhelmed instead by the dramatic possibilities of Eleanor Roosevelt's story, not Franklin's. Orphaned at a young age, Eleanor's life became a series of challenges and setbacks, including struggles with self-doubt, a domineering mother-in-law and eventually the infidelity of her own husband. But her determination to overcome these challenges eventually leads her to triumph and to find a voice of her own – indeed, to become "First Lady of the World."
The full length musical ELEANOR opened the season at the Village Theatre of Issaquah, Washington (near Seattle) in 1987, and was an instant hit in its initial six week run. Village Theatre had seen the earlier one-act version of the show produced by Theatreworks/USA (under the title, FIRST LADY) – and asked the writers if they would expand it to full length to open the Village season. FIRST LADY already had a loyal following with a successful three year national tour, New York City performances at The Promenade Theatre and Town Hall, excellent press reviews, and even a special performance at the White House for the Eleanor Roosevelt centennial celebration. Following the initial Issaquah, Washington run, ELEANOR was revised and transferred to the Seattle Center Theatre where it ran an additional 10 weeks in 1987 and 1988.
Next stop for ELEANOR was the Pittsburgh Public Theatre in 1990 with director Mel Shapiro (Broadway's TWO GENTLEMEN OF VERONA) and choreographer Rob Marshall (director of the Academy Award-winning film CHICAGO) at the helm. The musical director was Keith Lockhart, now the conductor of the Boston Pops. This full Equity production of the show was again a hit, with enthusiastic press reviews and sell-out performances – leading to an extended run of seven weeks. As each production of ELEANOR was mounted, the authors remolded the show, adding new songs and scenes.
In 1992, ELEANOR was selected for presentation at New York City's annual Festival of New Musicals sponsored by The National Alliance for Musical Theatre (NAMT). There ELEANOR came to the attention of Marriott's Lincolnshire Theatre (Chicago) which led to a 10 week production in 1995 – also a hit – with sold-out houses and excellent press reviews. The Marriott Lincolnshire suggested the addition of the show's subtitle, "An American Love Story," and it has remained since. The NAMT presentation also led to the 1997 Los Angeles production by Musical Theatre West (La Mirada and Long Beach) and seven Robby Award nominations.
In 1999, the historic Ford's Theatre in Washington and Theater Previews at Duke (University) teamed up to present ELEANOR. The nation's capitol embraced the show during its 11 week run, and its success there led to the making of the original cast CD recording in New York City on the ValKill Label. You can read the rave reviews on the show's own website (www.EleanorTheMusical.com). The two ELEANOR leads, Anne Kanengeiser and Anthony Cummings, each won Helen Hayes "best actor" awards for their Ford's Theatre performances – and First Lady Hillary Rodham Clinton became a fan after attending a performance on Mother's Day with a Roosevelt granddaughter and other White House guests.
Simultaneous with the Ford's Theatre run in 1999, Seattle's Village Theatre (Issaquah, Washington) did a successful revival of the show in their brand new 488 seat theatre – followed by a transfer to their theatre partner The Everett Performing Arts Center – for a total run of 9 weeks. In October of that year, ELEANOR was produced as a concert reading at Long Island's Hofstra University.
In May 2001, the historic Barter Theatre of Abingdon, Virginia, presented ELEANOR for 12 weeks – again with excellent press and audience response. Since then, there have been several amateur productions, including the Woodland Opera House near Sacramento, California and the Trumbull New Theatre of Warren, Ohio.
Now ELEANOR – An American Love Story is proud to be represented by R&H Theatricals– alongside musical theatre classics like THE SOUND OF MUSIC, ANNIE GET YOUR GUN, THE KING AND I, BIG RIVER and CATS.
---

Playbill VIP
: 
MAKE YOUR OWN PLAYBILL! Playbill VIP allows you to create your very own Playbill Program. We have provided Playbill with all of the credits, song listings, musical numbers and more so that most of the work is already done for you. Just add your productions details, photos of the cast and share it with all of your friends. Learn more: www.playbillvip.com
---

STANDARD
Orchestration Package (8 Books)

1 – KEYBOARD I

1 – KEYBOARD II

1 – REED I (Flute, Piccolo, Clarinet, Soprano Sax, Alto Sax)

1 – REED II (Flute, Clarinet, Bass Clarinet, Alto Sax)

1 – TRUMPET (Doubles Flugelhorn)

1 – TROMBONE

1 – BASS

1 – DRUMS (see list below)

Rehearsal Set (22 Books)

10 – Libretto-Vocal Book

1 – Logo CD

2 – PIANO VOCAL SCORE

0 – Digital Logo
ADDITIONAL
Libretto/Vocal Books 10 pac
Eleanor - PRE-PRODUCTION PACKAGE

1 – Libretto-Vocal Book

1 – PIANO VOCAL SCORE

PRINCIPALS
1 Woman
1 Man
FEATURED
1 Woman
1 Man
ENSEMBLE
The ensemble can be comprised of 6-12 men and women, plus one girl.
CHARACTERS
Eleanor Roosevelt - ages 18 to 38, a shy woman with a self-deprecating spunk.
Franklin Roosevelt - ages 20 to 40, a charming, patrician, handsome man.
Sara Delano Roosevelt - ages 40 to 60, Franklin's handsome, imperious mother.
Louis Howe - age 40, Franklin's mentor; a small, abrasive former newspaper hound.
Young Eleanor - age 10, plain and shy. Also plays Hester, Young Anna, and Little June Pike.
Young James Roosevelt - age 9. Also plays Poor Son, Pepini and Newsboy.
Alice Roosevelt - Same age as Eleanor. Gorgeous, spoiled, but quick-witted and abrasive.
Theodore Roosevelt - aged 40s to 50s, the President in his prime.
Lucy Mercer - aged 22, attractive and intelligent. Also plays Hot Head's Wife and a Debutante.
Woman One - early 20s, plays Teenage Anna, Pregnant German Woman, Debutante, Cook, and others.
Woman Two - in her 30s, plays June Pike, Chaperone, Debutante, Supervisor, Nurse Nellie, and others.
Man One - in his 30s, plays Elliot Roosevelt, Eleanor's handsome, alcoholic father, and others.
Man Two - in his 20s, plays Teenage James, Train Conductor, a Beau, Junior Pike, and others.
Man Three - in his 30s, plays Hot Head, a Beau, Connell, Senator, Sullivan, and others.
Man Four - an older character, plays Rich Man #2, a father, Simmons, Jackson Pike, and others.

ELEANOR takes place in a young country in a young time, 1894 to 1924. The setting and properties should consist of minimal pieces to define place and character and should be changed in view of the audience.
SPECIFIC LOCATIONS
A Train
The 1902 Assembly Ball, Waldorf Hotel, New York
The Rivington Street Settlement House, New York
Springwood, Hyde Park
A Fifth Avenue Townhouse, St. Patrick's Day, 1905
The White House
The Campaign Trail, Lost in Duchess County
Washington Years
The Roosevelt Home in Washington
Aboard the U.S.S. George Washington/Campobello, 1918
The Mall, Washington, D.C.
The League of Women Voters in Washington
Madison Square Garden, New York, 1920
The Campaign Train, North Dakota
The Roosevelt Summer Home at Campobello
The 'Larooco', a Houseboat, Florida
The Political Trail: Albany, Buffalo, Manhattan
Materials Notes
DRUMS: Trap Set (including Snare Drum, Tom Toms, Bass Drum, High Hat, Large Suspended Cymbal, Small Cymbal), 2 Timpani, Xylophone, Vibes, Bells, Tiny Bells, Chimes, Mark Tree, Wood Blocks, Temple Blocks, Triangle, Medium Triangle, Small Triangle, Cow Bell, Octapad
---
DRUMS: Trap Set (including Snare Drum, Tom Toms, Bass Drum, High Hat, Large Suspended Cymbal, Small Cymbal), 2 Timpani, Xylophone, Vibes, Bells, Tiny Bells, Chimes, Mark Tree, Wood Blocks, Temple Blocks, Triangle, Medium Triangle, Small Triangle, Cow Bell, Octapad
---
Media Rights
Promotional
1. The Promotional Video shall be recorded and shown for the sole purposes of advertising your licensed production of the Play. For such a video, R&H allows theatres to film up to 10 minutes of total footage taken at either a performance or rehearsal (i.e.: 10 minutes of scripted moments.)
2. The Promotional Video may not include more than (i) 1 minute from any song or (ii) 3 minutes, in the aggregate, of footage of copyrighted material from the Play.
3. The Promotional Video may not include any sponsorship or underwriting without the prior consent of all R&H.
4. The Promotional Video must be submitted to R&H by sending the source video and video link to editor@rnh.com.
5. The Promotional Video must include the following: "Rights courtesy of Rodgers & Hammerstein, www.rnh.com"
6. Upon approval by R&H of the Promotional Video, you agree not to make any alterations in the approved copyrighted material used therein and you agree to obtain the prior written approval of R&H for any other use of the Promotional Video not specifically granted herein.
7. Upon termination of the Term, you shall cease to have any rights to use the Promotional Video including, without limitation, in connection with a future production of the Play, and shall immediately remove its content from any and all websites on the Internet.
8. You may not use a commercially available recording.
9. Any additional promotional rights must be approved by R&H by contactingTheatre@rnh.com.
*
Promotional video rights can only be granted once a performance license for Eleanor - An American Love Story has been secured. Please contact customer service if you have any questions. If you have not yet applied for Eleanor - An American Love Story, you can do so here. LOG IN to learn more.
---
Archival
1. Subject to the information provided in Licensee's application and payment of the fee as set forth in Paragraph 3 herein, Licensee shall have the right to create a single copy of the Video for internal archival, private viewing purposes at Licensee's address only and shall not be re-copied, distributed or otherwise exploited, in whole or in part, in any media now known or hereafter developed without the prior written approval of R&H. Without limiting the generality of the foregoing, the Video shall not be (i) sold to anyone (ii) telecast by any television station or network, including, without limitation, any local cable station or (iii) distributed, exhibited or otherwise exploited over the Internet or as part of any online auction.
2. Licensee agrees to include the following language at the beginning of the Video:
©Year By R&H Theatricals. This production was videotaped by special arrangement with R&H Theatricals for archival purposes only. All Rights Reserved.
WARNING: Federal law provides severe civil and criminal penalties for the unauthorized reproduction, distribution or exhibition of copyrighted motion pictures, videotapes or videodiscs. Criminal copyright infringement is investigated by the FBI and may constitute a felony with a maximum penalty of up to five years in prison and/or a $250,000.00 fine.
This Video is provided to you for private, organizational and home viewing purposes only. By accepting the Video, you agree not to authorize or permit the Video to be copied, distributed, broadcast, telecast or otherwise exploited, in whole or in part, in any media now known or hereafter developed.
*

You must be logged in and licensed to present Eleanor - An American Love Story in order to license Archival rights. Please contact customer service with any questions.
---