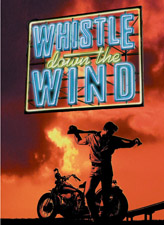 Whistle Down The Wind (Andrew Lloyd Webber)
Based on the novel by Mary Hayley Bell and subsequent Richard Attenborough-produced film, Whistle Down the Wind follows the fortunes of a fugitive caught between the prejudice of adults and the innocence of the young. Andrew Lloyd Webber and Jim Steinman, together with Patricia Knop and Gale Edwards (co-book writers with Andrew Lloyd Webber) reset the original story in Louisiana in 1959. Whistle Down the Wind revolves around the time and place where the word teenager was invented. Swallow, a 15 year-old-girl growing up in America's deep South in the fifties, discovers a mysterious man hiding out in a barn. When she asks who he is and the first words he utters are "Jesus Christ", it's as if all her prayers have been answered. Swallow and the town's other children vow to protect the stranger from the world that waits outside – the townspeople who are determined to catch a fugitive hiding it their midst. As fantasy and reality collide, Swallow is torn between the two and begins to discover who she is and where she is going. Andrew Lloyd Webber's emotive score combines hauntingly beautiful love songs and explosive rock music with lyrics by acclaimed rock'n'roll songwriter Jim Steinman. The score contrasts the relentless influence of the modern world with the traditional values of the old days – something which the community at the heart of Whistle Down the Wind yearns to return to. After successfully playing at the Aldwych Theatre in London for over two years, Whistle Down the Wind undertook two UK tours as well as touring the USA from 2007-2008.
Participate in the R&H Online Community.
Leave comments or talk with other fans in the forum!

To request the rights to make merchandise for this show email brian.sherman@rnh.com.
Fan Info:

In 1948 Andrew Lloyd Webber was born, composer of hit musicals CATS, THE PHANTOM OF THE OPERA, JESUS CHRIST SUPERSTAR, EVITA, JOSEPH AND THE AMAZING TECHNICOLOR DREAMCOAT, BY JEEVES, ASPECTS OF LOVE, WHISTLE DOWN THE WIND, and SUNSET BOULEVARD.

In 1998 WHISTLE DOWN THE WIND had its London premiere at the Aldwych Theatre. The musical is a collaboration between Andrew Lloyd Webber and Jim Steinman, known for his work with musician Meatloaf, and took its inspiration from the 1961 film. The show ran for 1,044 performances.



"Lloyd Webber's best show since Phantom"
— Charles Spencer, Daily Telegraph
"Sensationally Good Performances; I relished every minute"
— Lynda-Lee Potter, Daily Mail
"Strikingly Dramatic Stuff…Brilliantly Theatrical"
— What's On in London
"Lloyd Webber's terrific new musical. A Superb Uplifting Evening"
— Michael Coveney, Daily Mail
"Blessed with an outstanding score. Completely Brilliant"
— Martin Collins, Capital Radio
"I was captivated by Whistle Down the Wind. The best musical production I have seen on stage. Simply superb... Go and see it."
— Sunderland Evening Chronicle
"Technically a miracle...vocally, the performers sound like Angels."
— Yorkshire Post, Bradford
"A show with immense heart."
— The Mail on Sunday, Glasgow
"A clutch of melodies crying out to be hummed all the way home."
— Keighley News, Bradford
"This high-quality production works like a charm and looks a treat. The big barn set is spectacular and the cast of principals and children are outstanding."
— Aberdeen Press and Journal
"Hugely entertaining with a gripping tear jerker of a finale that had the first night audience on their feet, cheering."
— Wolverhampton Adnews
"This rock musical spectacular kicked up an almighty storm thanks to catchy songs, strong performances and compelling story."
— Southampton Daily Echo
"It works triumphantly!"
— Evening Herald, Plymouth
"Strong emotional scenes. Intense, satisfying, gripping drama."
— Edinburgh Theatre Guide

Song #
Song Name
Character Name
Play
Other Versions

---
Rural Louisiana
Written By: Professor Adam Fairclough, University of East Anglia
Soaring on stilts above swamps and bayous, the four-lane interstate highway – a product of the federal road-building programme started by Eisenhower in the 1950s – will get you to the state capital in little over an hour. It bypasses the towns and there is not much to see, although the dead armadillos and the Spanish moss that clothes the cypress trees reminds you that this is indeed Louisiana. Airline Highway takes a little longer. Built by Huey Long, the flamboyant governor and virtual dictator of Louisiana who was assassinated in 1935 (tourists can inspect the bullet holes in the marble walls of the capitol building where he was gunned down), it passes through a few small towns. In one of them, LaPlace, you can stop at a restaurant whose shiny chrome facade identifies it as a classic diner, one of the first in America.
Take the old River Road, however, to flavour Louisiana's history at its richest. Hugging the left bank of the Mississippi, which is hidden from view by towering levees, River Road twists and turns past oil refineries, sugar plantations, wooden shacks, and ante-bellum mansions. The columned mansions bear names like Belle Helene and Oak Alley, and remind us that slavery once made this narrow, fertile strip of land one of the most lucrative in America. Before the Civil War, southerners boasted that "cotton is king". In semi-tropical southern Louisiana, however, sugar reigned supreme. In the 1950s, sprawling petro-chemical plants were springing up along the river, yet the cane fields still supplied America's sweet tooth. Most of the surviving mansions are derelict, or, like England's stately homes, have been turned into tourist attractions. But the ageless shotgun houses that line River Road – one floor high and one room wide, you can fire a shotgun into the front door and the pellets will pass out of the back door – are still occupied by the descendants of slaves.
That French settlers first colonised this flat, swampy land is obvious from the names of the towns – Lafayette, Napoleoville, Thibodeaux, Baton Rouge, Pointe-a-la-Hache. But other immigrant groups also settled here, as indicated by towns named Des Allemands, New Iberia, Welsh, and, less obviously, Yclosky (inhabited by shrimp-fishing Canary Islanders). In New Orleans, the influx of Irish, German and Italian immigrants has produced an accent that is more like Brooklyn, New York, than Atlanta, Georgia.
Louisiana is the only part of the South that is strongly Catholic. The counties are called parishes and have names like Assumption, Ascension, St. Helena, St. Charles, St. James, St. John, St. Bernard, St. Mary, St. Landry, St. Tammany and St. Martin. The white-washed churches, the secluded convents, and the oven-like tombs remind one of France or Spain. On St. Joseph's Day, the cemeteries are cleaned and tidied and adorned with flowers. On Shrove Tuesday – Mardi Gras Fat Tuesday – schools close down for the festivities.
Louisiana is also part of America's Protestant heartland, the famous Bible Belt that stretches from Virginia to Oklahoma. The northern half of the state is a stronghold of Baptists and Methodists. More obscure religious sects and cults, from voodoo to snake-handling, abound among the poorer blacks and whites. Baton Rouge is home to Jimmy Swaggart, one of America's slickest and most popular TV evangelists. During August each year, the Baptist churches still hold emotion-packed revivals to convert sinners and test the stamina – for they go on for at least a week – of the faithful.
Driving west from Baton Rouge one enters Acadiana, Cajun country, populated by the French-speaking descendants of people who fled British rule in Canada two hundred years ago. In the 1950s, Cajun culture seemed to be dying. Derided by outsiders as coonasses – uncouth, illiterate swamp-dwellers – Cajun parents decided that French was a liability and insisted that their children speak English. Yet south Louisiana's oil boom was already transforming and energising this isolated backwater, bringing jobs, money, roads and tourists.
A French-speaking politician called Edwin Edwards personified the Cajun revival. Elected to the city council of Crowley in 1955, Edwards not only became the first Cajun governor in the state's history, but also the most successful politician of his generation, serving as governor for 16 years between 1972 and 1996. A debonair man of striking good looks, with well-attested weaknesses for gambling and pretty women, Edwards was the kind of loveable rogue that Louisiana voters not only tolerate but admire. Twice prosecuted for corruption, and twice acquitted, Edwards quipped he would never be convicted by a Louisiana jury – unless he were caught in bed "with a live boy or a dead girl". Louisiana is world-famous for its laid-back, "laissez les bons temps roulez", way of life. Tourists flock to New Orleans in their millions to attend Jazz Fest, pace up and down Bourbon Street gawping at the strip-joints, revel in the inebriated madness of Carnival, and waltz and two-step to Cajun (white) and Zydeco (black) bands. Millions who have never set foot in Louisiana know about it second-hand, for the state's music and cuisine are among America's biggest cultural exports. Legions of fans listen to Dr. John, the Neville Brothers, and Wynton Marsalis, who regularly perform in European concert halls. Virtually every city in Britain boasts a Cajun or New Orleans restaurant that serves up imitation gumbo, jambalaya and crawfish etouffe. Dave Lee Burke's crime novels, set in New Iberia and featuring a Cajun cop named Dave Robicheaux, can be bought in airports everywhere. Films like Oliver Stone's JFK popularise an image of New Orleans as an exotic city of Byzantine intrigue and decadent sex.
In 1959, however, Louisiana was in the throes of a racial crisis that threatened to destroy its reputation for tolerance and gaiety. Alarmed by the Supreme Court's decision Brown v. Board of Education (1954), which ruled that the South's segregated schools were illegal, rabble-rousing politicians warned Louisiana's whites that their southern way of life was being undermined by the growing Civil Rights Movement. In Louisiana, as in the rest of the South, black people were finally rebelling against a system of white supremacy that denied them the vote, forced them to sit in the back of the bus, and relegated them to schools that were separate and inferior. But although they had the Constitution and the Supreme Court on their side – as well as the force of right – blacks had no political power. They were terribly vulnerable.
In 1956 the die-hard racists formed a movement called the Citizens' Council – an innocuous name that belied its vicious intent – and set out to annihilate the Civil Rights Movement. The ultra-racists could only slow down, not reverse, America's progress toward racial equality. Yet in postponing the inevitable they wreaked havoc. Employing blackmail, intimidation, economic pressure and political coercion, the Citizens' Councils brought Louisiana to the brink of anarchy and bloodshed. In 1959 they destroyed Governor Earl Long – Huey Long's younger brother – who suffered a mental breakdown as he bravely defended the right of black people to vote. In 1960 they engineered one of the most shameful episodes in the history of Louisiana, when obscenity-spewing mobs tried to stop four young black girls from attending white schools in New Orleans. And in the early 1960s, they encouraged the most extreme haters and psychopaths to burn, beat and murder in the name of the Ku Klux Klan. For race relations, the years between 1956 and 1964 were grim ones indeed.
Teenagers growing up in Louisiana during the 1950s could be forgiven for feeling rootless and confused. A traditional society based on family, farm and church, was being eroded by industrialisation and the growth of cities. Highways, radios and televisions were connecting isolated communities with the outside world. Yet the modern society of postwar America, with all its promise of material abundance, provided little in the way of emotional satisfaction and spiritual security. The Cold War produced anti-Communist hysteria and national anxiety. Schoolchildren were given classes in Americanism that inculcated conservatism and conformity: a national civil defence programme trained them to duck and take cover in the event of a nuclear attack. At home, white children heard their parents talk fearfully and incessantly about the threat of racial integration – how black people wanted to intermarry with, and mongrelise, the white race.
Movies of the time occasionally captured the frustration and latent rebelliousness of America's youth. Rebel Without a Cause made James Dean – killed in a car crash after completing the film – a potent symbol of alienated youth. The Wild One depicted Marlon Brando as the surly, black-jacketed leader of a violent motorcycle gang that terrorises a tranquil, conservative town. "What are you rebelling against?" a puzzled town elder asks him. "What have you got?" replies Brando.
Rock-and-roll, the most important musical event of the 1950s, spoke directly to the boredom, alienation and frustrated sexuality of America's teenagers. Too young for the laid-back, world-weary crooning of a middle-aged Frank Sinatra, too sophisticated for the inane warblings of squeaky-clean Doris Day and Pat Boone, the generation that came of age in the 1950s greeted rock-and-roll with a roar of spontaneous enthusiasm. Adults were horrified by the raw sexuality of the leering, hip-grinding Elvis Presley – and by the hysterical way that their teenage daughters responded to him. Whites in the South had an extra reason for alarm: the fact that Presley and the other rock-and-rollers were frankly imitating black rhythm and blues intensified the sexual anxiety that was never far from the surface when white people thought about blacks. Not even talk of Communist plots, however, could put the rock-and-roll genie back in the bottle. It was too exciting, too sexy and too good. Besides, rock-and-roll was an indigenous southern product – Presley was from Tupelo, Mississippi; Jerry Lee Lewis from Ferriday, Louisiana.
Broadcast from a Shreveport radio station, Louisiana Hayride brought the music of Presley, Lewis and other rock-and-rollers into homes all over the state. Rock-and-roll resembled a religious revival that swept across the South. Indeed, although preachers denounced the new music as the devil's work, rock-and-roll and religion were like two sides of the same coin. Jimmy Swaggart and Jerry Lee Lewis were, after all, cousins.
Courtesy of www.reallyuseful.com
---
1996 National Theatre, Washington, D.C. (April 17, 1997 opening for Broadway cancelled)
1998 West End, London – 1044 performances

2001-2004 UK Tour

2006 West End Revival

2007-2008 USA Tour

TUTS, Houston; Bushnell Center for the Performing Arts, Hartford; Ordway Center for the Performing Arts, St. Paul; Community Center Theater, Sacramento; 5th Avenue Theatre, Seatles; Princess of Wales Theatre, Toronto; Fisher Theater, Detroit; Boston, MA; Merriam Theatre, Philadelphia; Chrysler Hall, Norfolk, VA

(San Francisco and Los Angeles dates cancelled)

2010 UK Tour
---

Vocal Range of Characters:


// Photos



Playbill VIP
: 
MAKE YOUR OWN PLAYBILL! Playbill VIP allows you to create your very own Playbill Program. We have provided Playbill with all of the credits, song listings, musical numbers and more so that most of the work is already done for you. Just add your productions details, photos of the cast and share it with all of your friends. Learn more: www.playbillvip.com
---

STANDARD
Rehearsal Set

20 – Libretto-Vocal Book

2 – Piano Vocal Score

1 – Logo CD

Digital Logo

Full Score

1 – Full Score, Act 1

1 – Full Score, Act 2

WHISTLE DOWN THE WIND (WEBBER) - Orchestration (16 Books/14 Players)

1 – Woodwind 1

1 – Woodwind 2

1 – Horn 1

1 – Percussion/Drums

1 – Keyboard 1

1 – Keyboard 2

1 – Keyboard 3

1 – Guitar 1

1 – Guitar 2/Banjo

1 – Bass Guitar

1 – Cello

1 – Full Score, Act 1

1 – Full Score, Act 2

3 – Violin

Violin

1 – Full Score, Act 1

1 – Full Score, Act 2

1 – Woodwind 1

1 – Woodwind 2

1 – Horn 1

1 – Percussion/Drums

1 – Keyboard 1

1 – Keyboard 2

1 – Keyboard 3

1 – Guitar 1

1 – Guitar 2/Banjo

1 – Bass Guitar

3 – Violin

1 – Cello
ADDITIONAL
Pre-Production Pack

1 – Libretto-Vocal Book

1 – Piano Vocal Score

Libretto/Vocal 10 Pack

PRINCIPALS
2 Women
8 Men
1 Boy
1 Girl
ENSEMBLE
Mixed ensemble (adults and children)
CHARACTERS
The Man
Swallow
Amos
Candy
Boone
Brat (girl)
Poor Baby (boy)
Edward
Sheriff
The Minister
Snake Preacher
Earl
Featured Children:
Elizabeth
La Vonne
Winston
Vikki
Louise
Clarence
Louis
Jackie
Ramona
Curly
Charity

WHISTLE DOWN THE WIND takes place in a small Louisiana town, just before Christmas 1959.
Materials Notes
Media Rights
Promotional Video Right
1. The Promotional Video shall be recorded and shown for the sole purposes of advertising your licensed production of the Play.
2. The Promotional Video may not include more than (i) 1 minute from any song or (ii) 3 minutes, in the aggregate, of footage of copyrighted material from the Play.
3. With respect to advertising on YouTube, you may only produce one (1) Promotional Video.
4. The Promotional Video may not include any sponsorship or underwriting without the prior consent of all R&H.
5. The Promotional Video must be submitted to R&H by sending the source video and video link to editor@rnh.com.
6. The Promotional Video must include the following: "Rights courtesy of Rodgers & Hammerstein, www.rnh.com"
7. Upon approval by R&H of the Promotional Video, you agree not to make any alterations in the approved copyrighted material used therein and you agree to obtain the prior written approval of R&H for any other use of the Promotional Video not specifically granted herein.
8. In the event you shall breach any of the provisions set forth herein, the rights herein granted to you shall automatically terminate, without prejudice to our right to recover damages and obtain such other relief as we may be entitled to including, without limitation, a penalty of not less than $600.00 for each such occurrence.
9. Upon termination of the Term, you shall cease to have any rights to use the Promotional Video including, without limitation, in connection with a future production of the Play, and shall immediately remove its content from any and all websites on the Internet.
10. You may not use a commercially available recording.
11. Any additional promotional rights must be approved by R&H by contacting Theatre@rnh.com.
*
Promotional Video Right video rights can only be granted once a performance license for Whistle Down The Wind (Andrew Lloyd Webber) has been secured. Please contact customer service if you have any questions. If you have not yet applied for Whistle Down The Wind (Andrew Lloyd Webber), you can do so here. LOG IN to learn more.
---