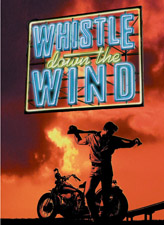 Whistle Down The Wind (Andrew Lloyd Webber)
WHISTLE DOWN THE WIND is no longer available to license through R&H Theatricals. Please visit www.themusicalcompany.com to license all Andrew Lloyd Webber shows.
Participate in the R&H Online Community.
Leave comments or talk with other fans in the forum!

To request the rights to make merchandise for this show email brian.sherman@rnh.com.
Fan Info:



Song #
Song Name
Character Name
Play
Other Versions


Vocal Range of Characters:


// Photos




ADDITIONAL
Pre-Production Pack

1 – Libretto-Vocal Book

1 – Piano Vocal Score

Libretto/Vocal 10 Pack

PRINCIPALS
2 Women
8 Men
1 Boy
1 Girl
ENSEMBLE
Mixed ensemble (adults and children)
CHARACTERS
The Man
Swallow
Amos
Candy
Boone
Brat (girl)
Poor Baby (boy)
Edward
Sheriff
The Minister
Snake Preacher
Earl
Featured Children:
Elizabeth
La Vonne
Winston
Vikki
Louise
Clarence
Louis
Jackie
Ramona
Curly
Charity

WHISTLE DOWN THE WIND takes place in a small Louisiana town, just before Christmas 1959.
Materials Notes
Media Rights
Promotional Video Right
1. The Promotional Video shall be recorded and shown for the sole purposes of advertising your licensed production of the Play.
2. The Promotional Video may not include more than (i) 1 minute from any song or (ii) 3 minutes, in the aggregate, of footage of copyrighted material from the Play.
3. With respect to advertising on YouTube, you may only produce one (1) Promotional Video.
4. The Promotional Video may not include any sponsorship or underwriting without the prior consent of all R&H.
5. The Promotional Video must be submitted to R&H by sending the source video and video link to editor@rnh.com.
6. The Promotional Video must include the following: "Rights courtesy of Rodgers & Hammerstein, www.rnh.com"
7. Upon approval by R&H of the Promotional Video, you agree not to make any alterations in the approved copyrighted material used therein and you agree to obtain the prior written approval of R&H for any other use of the Promotional Video not specifically granted herein.
8. In the event you shall breach any of the provisions set forth herein, the rights herein granted to you shall automatically terminate, without prejudice to our right to recover damages and obtain such other relief as we may be entitled to including, without limitation, a penalty of not less than $600.00 for each such occurrence.
9. Upon termination of the Term, you shall cease to have any rights to use the Promotional Video including, without limitation, in connection with a future production of the Play, and shall immediately remove its content from any and all websites on the Internet.
10. You may not use a commercially available recording.
11. Any additional promotional rights must be approved by R&H by contacting Theatre@rnh.com.
*
Promotional Video Right video rights can only be granted once a performance license for Whistle Down The Wind (Andrew Lloyd Webber) has been secured. Please contact customer service if you have any questions. If you have not yet applied for Whistle Down The Wind (Andrew Lloyd Webber), you can do so here. LOG IN to learn more.
---