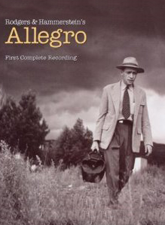 Allegro
This ensemble musical chronicles nearly four decades in the life of an Everyman, Joseph Taylor, Jr., from cradle through a mid-life discovery of who he is and what his life is truly about. The first musical to be staged by a director who was also the choreographer (the legendary Agnes de Mille), the unique structural format allows the saga to whisk us from Joe's birth through his childhood, from college dorm to marriage altar, and on to his career; from the tranquility of his small Midwestern hometown to the hectic din of big city life, in a series of vignettes and musical sequences dazzling in their simplicity and stunning in their impact. Ahead of its time theatrically, ALLEGRO remains timeless in its appeal.
Participate in the R&H Online Community.
Leave comments or talk with other fans in the forum!

To request the rights to make merchandise for this show email brian.sherman@rnh.com.
Fan Info:

In Rodgers & Hammerstein's ALLEGRO, the original version of the song "What A Lovely Day for a Wedding"" was structured as a pantoum, an Indian form of lyric in which whole lines are repeated, rather than rhymed. This is one of many ways in which ALLEGRO was experimental

In 1955 St. Louis Municipal Opera kicked off a six-week "Rodgers & Hammerstein"" festival featuring a symphony concert and productions of CAROUSEL, ALLEGRO, THE KING AND I, and SOUTH PACIFIC."

In 1947, the world premiere of Rodgers & Hammerstein's ALLEGRO was presented at the Shubert Theatre in New Haven.

The birthday of choreographer Agnes de Mille, whose innovative vision created the dream ballet in OKLAHOMA! and the second act ballet in CAROUSEL. She also was the director and choreographer of ALLEGRO.

In 1947, ALLEGRO opened at the Majestic Theatre, New York, where it ran for 315 performances.

In 1954 General Foods sponsored a tribute to Rodgers & Hammerstein broadcast on multiple networks. Hosted by Mary Martin and featuring segments from OKLAHOMA!, STATE FAIR, CAROUSEL, ALLEGRO, SOUTH PACIFIC, THE KING AND I and ME AND JULIET with many members of the original casts, it also included special appearances from Jack Benny, Groucho Marx, Edgar Bergen and Charlie McCarthy, Ed Sullivan, and Rodgers & Hammerstein.

In 1948, the national tour of Rodgers & Hammerstein's ALLEGRO opened at the Shubert Theatre, Philadelphia, at the start of a 31-week, 16-city tour.

Did you know? Oscar Hammerstein II once wrote: "Songwriters fall in love with the songs they write and try to put them into shows where they don't belong. I have done it myself?the most recent one I remember, was in ALLEGRO. We liked the song very much?it was not suitable for any of the leading characters."""


"ALLEGRO is a 'modular' musical, built from deceptively simple little blocks of thematic material that gain in power as they are repeated ...the words are important. But it is the emotional strength of the music that gives these building blocks their greatest impact."
— New York Daily News, January 01, 1994
"A musical play of rare distinction...to be remembered with SHOW BOAT and OKLAHOMA!...a consummate theatrical achievement and an electrifying entertainment..."
— New York Herald Tribune, January 01, 1994
"A musical play of rare distinction...to be remembered with SHOW BOAT and OKLAHOMA!...a consummate theatrical achievement and an electrifying entertainment..."
— New York Herald Tribune, January 01, 1947
Stephen Sondheim Recalls ALLEGRO,
ALLEGRO: First Complete Recording Liner Notes
Written By: Stephen Sondheim
This is taken from comments made by Stephen Sondheim before the first performance of the Encores! presentation of ALLEGRO in March, 1994 at New York's City Center.

ALLEGRO was a seminal experience in my theatrical life.  Luckily, its rehearsals and out-of-town tryout coincided with my summer vacation from college, so Oscar [Hammerstein II] said, "How'd you like to work on it?"  And for twenty-five dollars a week, that's what I did.  I typed scripts, I got coffee, listened to [director/choreographer] Agnes de Mille maltreat the singers, and watched this quite remarkable show come to life.  I think I might not be so attracted to experimental musicals if I hadn't wet my feet with ALLEGRO.

First of all, it was an attempt, and to my knowledge the first commercial attempt, to tell a man's entire life story in a musical – not from birth to death, but from birth to regeneration. Its other major experimentation was that it used a musical comedy chorus as a Greek chorus.  I don't think anybody had ever put those two ideas together before Oscar did.  The chorus in ALLEGRO is used not only to comment on the action, but also to explore the inner thoughts of the main characters.  Something two thousand years old, and nobody had done it before in the musical theater.
Oscar also decided to do away with traditional ways of moving scenery.  He wanted a cinematic, fluid way of changing scenes, so he and Jo Mielziner designed a serpentine curtain that hung from an "S" shaped track, which allowed sets to be revealed and concealed as the curtain was pulled to one side. One set could be placed behind the curtain on Stage Left while a scene was being played on Stage Right and subsequently revealed when the curtain slid across in the other direction.  This movie-wipe technique satisfied Oscar enough for him to use it in his next show, SOUTH PACIFIC, where wipes and dissolves were used throughout.  Hal Prince has often acknowledged that this production was one of the main influences on his style – seeing those cinematic effects employed in the theater.
ALLEGRO inititated that approach, but because it was a failure few people paid attention. With SOUTH PACIFIC, a gigantic hit, everyone jumped on the bandwagon and the cinematic approach to staging became a standardized technique in musicals.

I think there were two reasons ALLEGRO wasn't the success it might have been. First, the critics and audiences expected Rodgers and Hammerstein to give them another CAROUSEL or OKLAHOMA!, which they didn't.  And they paid for it. Second, and more important, was the question of what the show was really about.  Till the day he died, Oscar always wanted to rewrite the second act.  He felt that nobody understood what the intention of the show was, and he was right.  On its surface, it's the story of a doctor, a young doctor in a small town, who marries a childhood sweetheart with more ambitions for him than he has, who moves to the big city and, urged on by her, proceeds to become rich by attending to the trivial needs of what Oscar called "Park Avenue people", and winds up making public appearances and laying cornerstones for heavily endowed hospitals.  Meanwhile his wife cheats on him and he fails to recognize that his faithful nurse is in love with him. Disillusioned and in despair, he decides to return to his hometown and practice medicine there.  It seems to be the old story about the idealist becoming corrupted.

In fact that's not what it's about; more accurately, that isn't what Oscar meant.  The show is autobiographical - Oscar wanted to show what had happened to himself.  As a result of the success of OKLAHOMA! and CAROUSEL, he had become so successful that he was an icon, and a useful one.  He was elected Vice President of the World Federalists, made President of the Authors League, spent time traveling around the country receiving honors and awards by the score, and so forth – all because his clout, his presence, his fame and his celebrity could help promote and raise money for good causes.  In ALLEGRO, he was writing about the conflict between responsibility to your community and responsibility to yourself.  He found that the more public appearances he made, the more speeches he gave, the more he traveled to support these causes, the less time he had for writing, the thing that he was born to do.  That is what he was trying to convey in ALLEGRO.  And nobody got it.  He thought it was the fault of how he had handled the second act – that he hadn't made this clear.  He hadn't, but if you listen carefully, you'll see that that indeed is what ALLEGRO is about.
* * *

ALLEGRO: First Complete Recording – Editorial Content © 2009 The Rodgers & Hammerstein Organization. All Rights Reserved. International copyright secured.

Song #
Song Name
Character Name
Play
Other Versions

ALLEGRO History
By Bert Fink
They had triumphed their first time out, with OKLAHOMA! in 1943. Two years later they exceeded expectations with CAROUSEL, and, in that same year, charmed Hollywood, winning an Academy Award for STATE FAIR. They had also begun producing: first John Van Druten's play I REMEMBER MAMA, then Irving Berlin's blockbuster ANNIE GET YOUR GUN and a tour of SHOW BOAT. By now they were practically deified for making hits by taking chances, and in 1947 composer Richard Rodgers and lyricist/librettist Oscar Hammerstein II seemed as eager as everyone else to see what they would come up with next.
The result was ALLEGRO. Preceded by a mammoth publicity fanfare and the largest advance sale in Broadway history, ALLEGRO opened at the Majestic Theatre in New York on October 10, 1947. Drawing a critical reaction unlike any other in the Rodgers and Hammerstein canon, before or since, ALLEGRO proved controversial.
"A work of great beauty and purity," declared Brooks Atkinson in the New York Times. "A very grave disappointment, and out-right failure," pronounced Louis Kronenberger in PM. To Robert Coleman in the Daily Mirror, ALLEGRO seemed "perfect and great." To George Jean Nathan in the New York Journal-American it was "as pretentious as artificial jewelry and just about as valuable."
Within the context of this critical brouhaha, the show itself remains a fascinating study, as contradictory as the reactions to it. Plot and theme may have been naïve, but the score, structure and staging were absolutely ahead of their time. Hammerstein had brought the idea of ALLEGRO to Rodgers and it was the first of only two original musicals by Rodgers and Hammerstein not adapted from another source (the other being ME & JULIET in 1953). Hammerstein had conceived it as an allegory traveling from birth to death, in which he chose to make his Everyman a doctor. ALLEGRO tackles very real concerns about the medical profession: dilemmas that doctors face when a patient's needs conflict with a hospital's agenda, the role of big business in medicine, and a doctor's responsibility to his own community. Rodgers, whose brother and father both practiced medicine, shared his partner's interest in these issues.
As ALLEGRO began to take shape (with the first-draft storyline of cradle-to-grave truncated to cradle-to-midlife crisis), it became obvious that a new approach in script and style would be required to carry the ambitious story. It needed to move effortlessly through time and place; the allegory could only unfold in an atmosphere of total freedom. Both authors acknowledged that their inspiration was Thornton Wilder's classic of nine years earlier, OUR TOWN, which had freed commercial theater from many of its conventions. ALLEGRO shares with OUR TOWN a common setting (small town America in a simpler time), the use of structural and narrative devices and, above all, a minimalist approach to the design.
Having written the rules on the musical play, Rodgers and Hammerstein now set out to break them. ALLEGRO's score, for example, is filled with innovation, starting from its delicate weaving of song and dialogue, a technique first tried in OKLAHOMA! and perfected in the Bench Scene ("If I Loved You") from CAROUSEL. In ALLEGRO, fragments of song move in and out of the action like passing thoughts; melodies flit by in one scene only to take hold and blossom in the next. Breaking another rule, big numbers like So Far and The Gentleman is a Dope are given to supporting characters while leads like the hero himself have comparatively little solo work. Also unusual is the presence of a Greek chorus shadowing the cast and requisite corps de ballet, giving insight into the plot, commenting on the action and speaking the character's inner thoughts aloud.
The result was a musical unlike anything that had come before, and it demanded staging equally bold and original. Its fluid blend of score, dance, and book, for instance, required the director and choreographer to think and work as one… in fact, the director and choreographer would have to be one. So Rodgers and Hammerstein asked the innovative creator of their ballets for OKLAHOMA! and CAROUSEL, Agnes de Mille, to do double-duty. The position of director-choreographer was unprecedented; offering it to a woman was extraordinary. Agnes de Mille said yes.
Conceptually, ALLEGRO was a simple show. But simplicity in the theater can be awfully complicated. Jo Mielziner's sets and lighting achieved an illusion of effortless motion through a complex system of treadmills, moving platforms, screen and projections supporting a highly sophisticated lighting plot (the first time lighting served as the principal staging factor in a Broadway musical). Added to the massive production budget was a weekly payroll for forty stagehands, eighteen principal actors, twenty-one supporting players, twenty-two dancers, thirty-eight singers and thirty-five musicians. ALLEGRO was not only expansive but expensive.
Rodgers and Hammerstein's fourth collaboration opened at the Shubert Theatre in New Haven on September 1, 1947, and traveled from there to Boston before opening in New York, where expectations were extraordinarily high. Following OKLAHOMA!, CAROUSEL and STATE FAIR was a tough assignment; landing on the covers of Life, Time, and other publications didn't make it any easier. Avid theatergoers, having to wait years for their chance to see the other Rodgers and Hammerstein stage shows, were determined not to be left out in the cold this time. They snapped up tickets to ALLEGRO in record-setting numbers, resulting in the largest advance sale in history: $750,000 on a $4.50 top ticket price, at a time when a $100,000 advance was considered astronomical.
The advance sale helped for a while, as did the good and great reviews (of which, contrary to common assumption, there were quite a few). But the bad reviews hurt and, more importantly, so did word-of-mouth. By July of 1948, less than ten months after it arrived, ALLEGRO was gone. The show failed to pay back its original production costs, and a national tour that visited 16 cities from November '48 to June of '49 didn't fare much better, either critically or financially.
Why? The simplest explanation is that, as the old theater adage goes, the audience is never wrong. "The fault was ours," conceded Rodgers in his autobiography Musical Stages, "for not stating our point of view more clearly." Hammerstein stood by his theme but acknowledged, "if the writer's aim is misread it can only be because he hasn't written clearly enough." Still, he believed that personal fulfillment should be pursued despite all obstacles and, in his introduction to the published script, added tersely, "That is the simple reason why ALLEGRO was written. If you don't like that reason, you won't like ALLEGRO.&rdquo
To many, though, ALLEGRO came across as a "success corrupts" morality play in which the wholesome virtues of America's heartland were set against the graft and greed in the Big Bad City. "We, of course, intended no such conclusion to be drawn from our play," said Hammerstein, but reactions such as Irwin Shaw's of the New Republic were typical: "All I can conclude is that Rodgers and Hammerstein bitterly regret being the richest and most successful people in American theater…they have sacrificed themselves in a cause they don't believe in."
Perhaps Rodgers and Hammerstein the Authors were overshadowed by Rodgers and Hammerstein the Producers (although the Theater Guild produced ALLEGRO, theirs was a credit in name only…Rodgers and Hammerstein were really calling the shots). Judging by the results, they seemed more concerned with style than substance, more fascinated by the possibilities of the staging than the music and story itself. And yet, the chances taken in ALLEGRO did pay off: not for the show itself and, arguably, not even for Rodgers and Hammerstein, but certainly for the American musical. While OKLAHOMA! and CAROUSEL changed the course of the musical overall, ALLEGRO no less importantly signaled the start of a powerful new genre: the concept musical. Reverberations of ALLEGRO resound to this day: from a fragmented score (GRAND HOTEL) and seamless staging (DREAMGIRLS) to the introspective use of dance (WEST SIDE STORY) and chorus (A LITTLE NIGHT MUSIC), from the thematic (COMPANY) to the metaphoric (A CHORUS LINE). ALLEGRO was, in the words of the original production's go-fer, Stephen Sondheim, "the first really good experimental show."
But the effects of ALLEGRO's achievements were not to be seen in Hammerstein's lifetime. And he and Rodgers were left to ponder what was, by any standard definition, their first failure. It would haunt them both for the rest of their lives. "I'm going back to the ALLEGRO idea," Hammerstein told the New Yorker in 1951, "it's still churning inside me." He was working on a television version of it when he died in the summer of 1960. Rodgers, thirty years after ALLEGRO opened on Broadway, wrote in his autobiography: "Of all the musicals I ever worked on that didn't quite succeed, ALLEGRO is the one I think most worthy of a second chance. From time to time, various ideas for revising ALLEGRO have been proposed, and though none so far has seemed feasible, I still keep hoping."
---

Helen Hayes Awards
— The 2005 revival of ALLEGRO at the Signature Theatre in Washington, D.C. was nominated for 7 Helen Hayes Awards and won 2 for Outstanding Resident Musical, and Outstanding Director (Eric Schaeffer).
January 01, 2005 — The 2005 revival of ALLEGRO at the Signature Theatre in Washington, D.C. was nominated for 7 Helen Hayes Awards and won 2 for Outstanding Resident Musical, and Outstanding Director (Eric Schaeffer).

Vocal Range of Characters:

// Photos

---
---
---
---
---


Written By: Oscar Hammerstein II

If you are a young physician building up a fashionable practice, is it not important to go to parties given by wealthy patients and to share their social life? When, because of your growing prominence, you are asked to serve on committees for charity drives and to sit on hospital boards, is it not your duty to lend your time and good judgment to these worthy enterprises? Our doctor is not a Faustian figure beset with the lust for power or pleasure. But he is given no warning, no time to think or choose. The assault on his integrity is so subtly veiled that a good chunk of it is nibbled away before he knows what is happening to him. It is a law of our civilization that as soon as a man proves he can contribute to the well-being of the world, there be created an immediate conspiracy to destroy his usefulness, a conspiracy in which he is usually a willing collaborator. Sometimes he awakens to his danger and does something about it. That is the story of ALLEGRO.
---

Playbill VIP
: 
MAKE YOUR OWN PLAYBILL! Playbill VIP allows you to create your very own Playbill Program. We have provided Playbill with all of the credits, song listings, musical numbers and more so that most of the work is already done for you. Just add your productions details, photos of the cast and share it with all of your friends. Learn more: www.playbillvip.com
---

STANDARD
ALLEGRO - Orchestration Package (26 Books/24-29 Players)

1 – Full Score - Act I

1 – Full Score - Act II

1 – Flute (Doubling Piccolo)

1 – Oboe (English Horn)

1 – Clarinet I

1 – Clarinet II

1 – Bassoon

1 – Horn I

1 – Horn II

1 – Horn III

1 – Trumpet I

1 – Trumpet II

1 – Trumpet III

1 – Trombone I

1 – Trombone II

1 – Tuba

1 – Percussion (see "Materials Notes" under "Production Information")

1 – Piano

2 – Violin I (Divisi)

2 – Violin II (Divisi)

2 – Viola

1 – Cello

1 – Bass

ALLEGRO - Rehearsal Set (22 Books)

20 – Libretto-Vocal

2 – Piano-Vocal

1 – Digital Logo
ADDITIONAL
ALLEGRO - Libretto-Vocal 10-Pack - (10 Books)
ALLEGRO - Pre-Production Package - (2 Books)

1 – Libretto-Vocal

1 – Piano-Vocal

PRINCIPALS
3 Women
4 Men
FEATURED
2 Women
2 Men
ENSEMBLE
Singing-dancing ensemble with several small roles
CHARACTERS
Marjorie Taylor
Dr. Joseph Taylor
Mayor
Grandma Taylor
Friends of Joey (2)
Jennie Brinker
Principal
Georgie
Hazel Skinner
Charlie Townsend
Joseph Taylor, Jr.
Miss Lipscomb
Cheer Leaders
Coach
Ned Brinker
English Professor
Chemistry Professor
Bertram Woolhaven
Molly
Beulah
Minister
Millie
Dot
Addie
Dr. Bigby Denby
Mrs. Mulhouse
Mrs. Lansdale
Jarman, a butler
Maid
Emily West
Doorman
Brook Lansdale
Harry Buckley

ALLEGRO takes place in a small town, a college town, and a large city, all in the same Midwestern state, between 1905 and 1940. The action follows Joseph Taylor Jr.'s life from birth through his thirty-fifth year.
The original production had no stage 'sets' in the conventional sense, but backgrounds for the action were achieved by small scenic pieces on a moving stage, the use of light projections and drops.
SPECIFIC LOCATIONS
Marjorie's Bedroom
The Taylor's Porch
The College Gym
The Football Field
The Campus
Jennie's Garden
Joe's Study
A Classroom
A Woodland
Another Part of the Woodland
Outside the Church
Inside the Church
The Backyard of the Taylor Home
Joe and Jennie's Bedroom
Dr. Taylor's Office
Joe and Jennie's Apartment in Chicago
The Foyer of the Taylor Apartment
The Street Entrance to the Apartment Building
Dr. Denby's Private Office
Joe's Office
The Lobby of the New Private Pavilion
Materials Notes
STRING NOTE: In the original Broadway pit of ALLEGRO there were 7 Violins (divided between Violins A-C and Violins B-D), 3 Violas, 2 Cellos and 2 Bass.
---
STRING NOTE: In the original Broadway pit of ALLEGRO there were 7 Violins (divided between Violins A-C and Violins B-D), 3 Violas, 2 Cellos and 2 Bass.
---
Trap Set, 2 Timpani, Orchestral Bells, Wood Block, Xylophone, Glockenspiel, Bicycle Bell, Champagne Cork or Pop Gun, Triangle.
---
Featured Videos
Media Rights
*

Currently media rights for Allegro are not available. Please contact customer service with any questions.