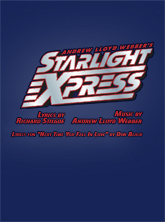 Starlight Express
A child's train set magically comes to life and the various engines compete to become the "Fastest – engine in the World"! The underdog, Rusty the Steam train, has little chance until he is inspired by the legend of the "Starlight Express" and ultimately defeats his arch-rivals "Greaseball" and 'Electra before going on to win the hand of the lovely first class coach, Pearl. Andrew Lloyd Webber's STARLIGHT EXPRESS is the fastest and most dynamic musical you will ever experience, however you choose to perform it! The show has a rock / pop score with enormous appeal for teenagers.
Participate in the R&H Online Community.
Leave comments or talk with other fans in the forum!

To request the rights to make merchandise for this show email brian.sherman@rnh.com.
Fan Info:



Song #
Song Name
Character Name
Play
Other Versions

With lyrics by Richard Stilgoe and choreography by Arlene Phillips, Starlight Express has been seen by almost 20 million people and gross box office world-wide is estimated at over £270 million. The show opened at the Apollo Victoria in London on 27th March 1984. In April 1991 Starlight Express became the second longest running musical in London theatre history at that time. The show has also been produced in Germany, the USA, Canada, Japan, Australia and Mexico, as well as having a production on ice in 1997. In 1993 the entire creative team re-grouped to revise the show for a new generation. Five new songs were added (including "Next Time You Fall in Love" with lyrics by Don Black), numbers were re-choreographed and the show was re-launched at the Apollo Victoria Theatre, London. Starlight Express continues to race to packed houses in Bochum, Germany, where it plays in an especially adapted theatre, and an award-winning production toured the UK in 2004 while the show is set to tour New Zealand again in July 2009.
1984 West End, London, Apollo Victoria

1987 Broadway

1987 Japan/Australia tour

1988 Bochum, Germany (revisions)

1989 U.S. Tour

1990 Japan tour

1992 London – The New Starlight Express (with revisions)

1993 Las Vegas

1997 Mexico

1997 U.S. Tour On Ice

2000 West End, London, Apollo Victoria

2003 U.S Tour

2004 UK Tour

2009 New Zealand Tour
---

Drama Desk (United States)
1987 — WINNER: Outstanding Costume Design, Outstanding Set Design, John NapierNOMINEE: Outstanding Musical, Outstanding Music

Tony Awards (United States)
— WINNER: Best Costumes, John NapierNOMINEE: Best Musical, Best Original Score, Best Featured Actor, Best Lighting Design, Best Choreography, Best Direction

Vocal Range of Characters:


// Photos



Playbill VIP
: 
MAKE YOUR OWN PLAYBILL! Playbill VIP allows you to create your very own Playbill Program. We have provided Playbill with all of the credits, song listings, musical numbers and more so that most of the work is already done for you. Just add your productions details, photos of the cast and share it with all of your friends. Learn more: www.playbillvip.com
---

STANDARD
STARLIGHT EXPRESS - Full Score (1 Act I, 1 Act II)

1 – Full Score, Act I

1 – Full Score, Act II

STARLIGHT EXPRESS - Orchestration (10 Books/8 Players + Tracks)

1 – Woodwind (Piccolo, Alto Sax, Tenor Sax, Flute)

1 – Trumpet

1 – Trombone

1 – Keyboard I

1 – Keyboard II

1 – Guitar (Electric, Acoustic)

1 – Bass Guitar

1 – Drums

1 – Full Score, Act I

1 – Full Score, Act II

STARLIGHT EXPRESS - Rehearsal Set

20 – Libretto-Vocal Book

2 – Piano Vocal Score

1 – Digital Logo
ADDITIONAL
STARLIGHT EXPRESS - Libretto-Vocal Book 10 Pack
STARLIGHT EXPRESS - Pre-Production Package

1 – Piano Vocal Score

1 – Libretto-Vocal Book

CHARACTERS
Rusty
Pearl
Electra
Greaseball
Poppa
Dinah
Duvay
Buffy
Hip Hopper 1
Hip Hopper 2
Hip Hopper 3
Caboose
Dustin
Flat Top
Engine 1 – Nintendo
Engine 2 – Ruhrgold
Engine 3 – Turnov
Engine 4 – Pow/Trax 2
Trax
Purse
Joule
Volta
Wrench
Voice of Control

STARLIGHT EXPRESS takes place at the World Championship Railroad Race as imagined by a young boy. A large amount of space is required to meet the demands of roller skating performers.
Materials Notes
Featured Videos
Media Rights
Promotional Video Right
1. The Promotional Video shall be recorded and shown for the sole purposes of advertising your licensed production of the Play.
2. The Promotional Video may not include more than (i) 1 minute from any song or (ii) 3 minutes, in the aggregate, of footage of copyrighted material from the Play.
3. With respect to advertising on YouTube, you may only produce one (1) Promotional Video.
4. The Promotional Video may not include any sponsorship or underwriting without the prior consent of all R&H.
5. The Promotional Video must be submitted to R&H by sending the source video and video link to editor@rnh.com.
6. The Promotional Video must include the following: "Rights courtesy of Rodgers & Hammerstein, www.rnh.com"
7. Upon approval by R&H of the Promotional Video, you agree not to make any alterations in the approved copyrighted material used therein and you agree to obtain the prior written approval of R&H for any other use of the Promotional Video not specifically granted herein.
8. In the event you shall breach any of the provisions set forth herein, the rights herein granted to you shall automatically terminate, without prejudice to our right to recover damages and obtain such other relief as we may be entitled to including, without limitation, a penalty of not less than $600.00 for each such occurrence.
9. Upon termination of the Term, you shall cease to have any rights to use the Promotional Video including, without limitation, in connection with a future production of the Play, and shall immediately remove its content from any and all websites on the Internet.
10. You may not use a commercially available recording.
11. Any additional promotional rights must be approved by R&H by contacting Theatre@rnh.com.
*
Promotional Video Right video rights can only be granted once a performance license for Starlight Express has been secured. Please contact customer service if you have any questions. If you have not yet applied for Starlight Express, you can do so here. LOG IN to learn more.
---