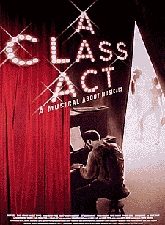 A Class Act
AThe Tony Award winning lyricist of A CHORUS LINE was hell-bent on writing both the words and music for a Broadway show, a goal unrealized in 1987 when he died of cancer at the age of 48. Only posthumously would Ed's songs garner the acclaim they always deserved, in the biographical musical A CLASS ACT. Ed got his start in the BMI Musical Theater Workshop where he largely amasses the charismatic songbook that has been arranged in A CLASS ACT to dramatize Ed's often hilarious, ultimately heartbreaking journey. An ensemble of 7 inhabit the colorful gallery of friends and loved ones in Ed's life including the legendarily acerbic Lehman Engle, the relentlessly peppy Marvin Hamlisch, and Über-creative Michael Bennett. Fourteen years after his death, one of the theater's unsung champions finally got the recognition he always deserved in this vibrant musical about musicals.
Participate in the R&H Online Community.
Leave comments or talk with other fans in the forum!

To request the rights to make merchandise for this show email brian.sherman@rnh.com.
Fan Info:


March 09, 1959

The birthday of Lonny Price, book writer and director of the musical A CLASS ACT. Price has also directed stage concerts of PAL JOEY for Encores, ANNIE GET YOUR GUN at Lincoln Center Theatre, and SWEENEY TODD starring George Hearn and Patti LuPone with the New York Philharmonic.
March 11, 2001

In 2001, A CLASS ACT, the musical memorializing the life and work of songwriter Edward Kleban, had its Broadway premiere at the Ambassador Theatre where it ran for 105 performances.
April 30, 1939

In 1939 Edward Kleban was born. The CHORUS LINE lyricist's life and work is showcased in the musical A CLASS ACT.
June 10, 2001

In 2001 A CLASS ACT closed on Broadway after a run of 105 performances and five Tony nominations, including Best Musical, Book, and Original Score.

"It's been a very long time since I've seen a musical with as much heart as A CLASS ACT. This bittersweet show, which serves as biography of and tribute to composer-lyricist Edward Kleban, is exactly what its title says it is--pure gold, from start to finish, without a single false note. This is the loveliest new score of the season- I can't wait to listen to the C.D."
— Martin Denton, NYTheatre.com
"A CLASS ACT is moving and funny, a celebration of music, friendship, and musical theatre... a tender and affecting evening. Rarely has there ever been a more deserving showcase to honor the juice, the impact, the very nature of creativity."
— Live Design
"Hope, after all, is something that real musical theater, like A CLASS ACT does best."
— The New York Times
"This is the first show of any genre I've seen this season that brought a lump to my throat and tears to my eyes."
— Elyse Sommer, CurtainUp
"A CLASS ACT glories in the intricate workings of the musical theater world."
— Variety
"In this day and age you can't help but be sympathetic to a musical that relies entirely on such old-fashioned pillars as song and dance and story to support the contention that yes, this is entertainment."
— The New York Times
"A CLASS ACT is an entertaining piece of theater. However, this show is more than just a pleasurable musical. It is also a look at an artist who made an everlasting impact on the world of musical theater."
— TalkinBroadway.com
"Chances are you've never heard of Ed Kleban. But after seeing A CLASS ACT, chances are extraordinarily good that you'll never forget his name. Or his songs."
— Metro Weekly
"One of the best tunes in the production is "Paris Through the Window," a whimsically nostalgic song about looking back to sweeter days. It will remind anyone familiar with A CHORUS LINE that Kleban was especially good at writing songs that make the heart shiver."
— Lee Williams, Houston Press, January 01, 2005
'Class Act' a moving tale of a little-known lyricist,
Chicago Tribune
Written By: Chris Jones
You've likely never heard of or, at a minimum, you've forgotten about Edward Kleban, the one-hit-wonder lyricist for "A Chorus Line" who died from a cancer at age 48 with his lyrics known but without ever realizing his long-held ambition of hearing music he composed played on a Broadway stage.
Kleban was a nebbish and a neurotic, famous for not speaking to his friends. But he was a theater person's theater person. Civilians may flock to celebrities and flashy, TV-ready songwriters like Andrew Lloyd Webber. Theater people tend to prefer characters, especially oddballs with a dry sense of humor who can't help but pour their souls into their work.
"A Class Act," a musical (music and lyrics by Kleban) that enjoyed a brief sojourn on Broadway in 2001, thus posthumously fulfilling Kleban's ambition, was penned by Kleban's friends Linda Kline and Lonny Price, a creative outlet, you might say, for their sorrow at their loss of a friend. The Kleban songs were originally written for other things, even if most of them sat at the bottom of his trunk. It is set at Kleban's memorial service and then moves through his life: his early years struggling with his mental health; his middle years struggling with his songwriting; his later years weighed down by the pressure of following up on a mega-hit; all his years spent in complexities with women. The writers fell over themselves to avoid making this a sentimental hagiography, and Kleban's caustic personality provided much assistance there. But their love shines through.
"A Class Act" is finally getting its first Chicago production — Kleban was never a name to light up the hinterlands — by the Porchlight Music Theatre. Since the recently deceased composer Marvin Hamlisch is a character in this piece, the sense of loss is doubled and timeliness re-established. Still, in Chicago in 2012, this show will live or die based on how successful it can be in making Kleban a metaphor for the average Joe or Jane, struggling, not least against their own doubts and tendency to self-destruct, to realize their own ambitions or, as the political conventioneers prefer to say, their own dreams. This show is more honest than the Republicans or Democrats, probing the reality that just because we dream of doing something does not mean someone wants to pay us good money to listen.
Thanks in no small measure to a remarkable performance from Bill Larkin, who throws himself into the role of Kleban with the kind of weirdly compulsive relish Kleban surely would have understood, Stacey Flaster's intimate staging manages precisely that (a small, off-Loop production feels apt, given the material). By the end of the night, whether you're a bricklayer or a trader, you'll surely see yourself in Kleban's struggles in life and love.
This is not a perfect piece of dramaturgy by any means; some of the repeated devices and motifs clunk along, and there are gaping, awkward holes in some of the dialogue sections that Flaster does not fill with sufficient veracity.
So "A Class Act" takes a good while to kick in. It's like slowly opening a rusty trunk. But once revealed, the score is full of gorgeous music, as well sung by this Porchlight cast as any Porchlight show these past two decades has been sung. Many putting-it-together shows of this type rely on stringing together songs that people already know. "A Class Act" is about the discovery of songs you don't know. Songs like "Paris Through the Window," "I Choose You" and, especially, "The Next Best Thing to Love" thus arrive in lush, melodic waves. If you're a fan of serious musical theater, you'll recognize both the quality of their form (Kleban was a notorious perfectionist) and their inherent sense of longing, their constituent desire to make sense of the world.
Flaster has cast the piece exceptionally well, with actors of strikingly different types. The spunky Dana Tretta, at her considerable best here, gets "Broadway Boogie Woogie," the Kleban song that most anticipated his work on "A Chorus Line." The former Second City performer Jessica Joy, a very decent singer, gets the sexy fodder. And Tina Gluschenko is an understated presence as Sophie, the smart girl Kleban most loved in his crazy world, but when she opens her mouth there's a kind of moral intensity that fits this character wonderfully.
But this is Larkin's show. As this deeply empathetic performance unfolds, you feel both his desire for success and the crippling insecurity that made him undermine anything that was finally going well. In the end, of course, you come to see, as did his bereaved friends, that his talent resided in that very paradox, as is so often the case with the great, misunderstood ones.
cjones5@tribune.com
Twitter@ChrisJonesTrib

Where: Theater Wit, 1229 W. Belmont Ave.
theaterwit.org or 773-975-8150
Porchlight's homage to lyricist Edward Kleban is first 'Class',
Sun Times
Written By: Hedy Weiss
Marvin Hamlisch and Michael Bennett are household names to anyone even remotely interested in the Broadway musical. But Edward Kleban? Who was HE?
Well, HE, as it happens, was the guy who wrote such unforgettable lines as "Everything was beautiful at the ballet," and "One singular sensation" and "What I did for love." HE was the lyricist who spent a good part of his all-too-short life writing lyrics (and music) for what he hoped would be a slew of hugely successful Broadway shows, though finally he had only that one singular sensation known as "A Chorus Line."
Kleban did leave behind a trunkful of other clever, gemlike, deeply heartfelt songs when he died of cancer in 1987, at 48. And about two dozen of them find their way into "A Class Act," the funny, poignant, expertly crafted homage and "musical portrait of the artist" crafted by Linda Kline (Kleban's longtime companion) and actor-director Lonny Price.
This show, which began Off-Broadway in 2000, arrived ON Broadway the following year and is now receiving a knockout of a Chicago debut by Porchlight Music Theatre, can easily be added to the long list of self-reflective musicals that includes "42nd Street," "Follies," "tick, tick...BOOM!," and, of course, "A Chorus Line" itself. But more than any of those it is about process (with Price no doubt picking up a few pointers from Stephen Sondheim, whose shows he has frequently directed). The lyricist's art — the way a fictional story can so often be laced with the personal — is beautifully rendered here in shorthand form. So is the battle of egos that resolves into collaboration mode in the creation of any musical.
The Porchlight production is the work of many such collaborating talents, but it is Bill Larkin, the actor who plays Kleban, who makes the whole thing explode with life. A relative unknown, Larkin seizes hold of the composer-lyricist's soul in the most uncanny way, capturing the genius, the mental illness, the self-destructiveness, the perfectionism, the insecurity, the sweetness, the nerdiness and the sadness of this man who was often his own worst enemy, but who had that engine of creativity and that irrepressible ego that can keep an artist at work. Larkin gives an unforgettable performance.
The show unfolds in the form of a memorial service for Kleban, with the songwriter gleefully popping into the story to replay himself. The guy, to use an ideal Yiddish word, was meshugenah. You wouldn't want to be his girlfriend, and he was never secure enough to make anyone his wife. But he was a personality, and he left his mark on all who knew him.
Stacey Flaster, one of the several high-flying women who both direct and choreograph on Chicago's musical stages these days, nails things here, and her casting is ideal. Tina Gluschenko plays Sophie, the childhood friend who becomes an oncologist and, for better and for worse, never fails to tell Kleban the truth. Dana Tretta plays the singer who champions his songs and dotes on him 'til the end. Jessica Joy is the adorably sexy little songwriter, Mona, with whom he has a very brief fling early on. And Sharriese Hamilton is the record company executive who fails to boss him around.
Zach Spound plays Marvin Hamlisch in a zany scene that suggests how two talents can simultaneously chafe and inspire each other. John Francisco is spot-on as choreographer Michael Bennett. So is Michael Glenn as Lehman Engel, whose fabled musical theater workshop was Kleban's home. Beckie Menzie supplies the fine musical direction, as well as the splendid onstage piano accompaniment.
Throughout the show there are excerpts from an intriguing unproduced Kleban musical titled "Gallery." If it fully exists, Porchlight might just be the perfect place to give it a first hearing. Meanwhile, we have what is truly "A Class Act."
Where: Porchlight Music Theatre at Theater Wit, 1229 W. Belmont
Info: (773) 975-8150; www.theaterwit.org
A CLASS ACT at Porchlight MusicTheatre,
The Week (Volume 12, issue 584)
Edward Kleban deserved a second chance at fame, said Hedy Weiss in the Chicago Sun-Times.  The Tony-winning lyricist of A CHORUS LINE, Kleban mostly labored at his craft in obscurity before his death, in 1987, at age 48.  A decade later, his longtime companion, Linda Kline, teamed with Lonny Price to use the "clever, gem-like, deeply heartfelt songs" Kleban left behind to anchor a bio-play celebrating his tumultuous life.  The challenges of songwriting for the stage are, in the musical's Chicago premiere, "beautifully rendered in shorthand form."
Yet it's Bill Larkin's portrayal of Kleban that "makes the whole thing explode with life."  He "seizes hold of the composer-lyricist's soul in the most uncanny way," capturing the many complexities of this angst-ridden artist.  The show's success depends, ultimately, on whether Kleban's artistic and personal trials feel universal enough, said Chris Jones in the Chicago Tribune.
Happily, they do. "By the end of the night, whether you're a bricklayer or a trader, you'll surely see yourself in Kleban's struggles in life and love."  This is due less to the sometimes spotty dialogue than to Kleban's "gorgeous" music.  Musicals celebrating songwriters are usually greatest-hits collections, but A CLASS ACT is "about the discovery of songs you don't know."
Though you've probably never heard the tunes "I Choose You" or "The Next Best Thing to Love," their "inherent sense of longing" and "desire to make sense of the world" will linger in your memory long after the last curtain.  Perhaps Edward Kleban wasn't a one-hit wonder after all.



Obie Awards
January 01, 2001 — Award for Best Music and Lyrics

Drama Desk Awards
January 01, 2001 — 3 Nominations

Tony Awards
June 03, 2001 — 5 nominations: Best Musical; Best Score (Edward Kleban); Best Book (Linda Kline and Lonny Price); Best Actress (Randy Graff); Best Orchestrations (Larry Hochman)

Vocal Range of Characters:

// Photos

---
---
---
---
---
---


Written By: Lonny Price

"Linda Kline, my collaborator, had these songs ... actually years before that, Ira Weitzman had sent me a bunch of Ed Kleban's songs on some tapes which I really loved and didn't know what to do with... So, I went over to Linda's apartment and listened to the songs and fell in love with them again and got very excited about the idea of putting them on the stage. The conventional wisdom, of course, was to do a revue, but I actually don't like and/or understand revues, it's just not a form that I admire particularly. Though I admire people who do them well, I don't understand why they work, so I felt I was the wrong guy. I like book songs, I like songs that are about characters. So, I said what about a book show, and she said great, she was very excited about it.
As we got into the material, it occurred to us that Ed's material was so idiosyncratic, so specific, so urban, it had a unified voice. You couldn't do this kind of show with Stephen Sondheim's music, for instance, because PACIFIC OVERTURES does not sound like COMPANY which doesn't sound like NIGHT MUSIC, I mean, he's so chameleon-like, and Ed really was a very specific kind of guy. I never met Ed. And Linda, I think wisely, wanted somebody to work on the material who had never met him. She wanted a fresh voice, someone who would freshly respond to his material. So, essentially, that's how it came about and we did six years of readings at Musical Theatre Works and it was terrible for a long time and my best friends told me to abandon it, and no one liked it, and then, finally, it just sort of took shape and we did yet another reading, the Manhattan Theatre Club and they liked it, and Marty Bell came, and rest, as they say, you know. That's how it all happened.
What I hate about the British shows is they seem as though an audience's involvement is not necessary. They're like these big machines that start, and I always think the building could fall down and they would still go on. That they're very machine-like, they're like these steamrollers, they're very powerful and they're very loud, they're very mechanized ... What I wanted to create was a show where Sara [Ramirez, the original Broadway Felicia] could stop the show. That there were laughs that would change the timing. That there would be a kind of flow that the audience's participation was important, that you weren't just watching it as a bystander. You were part of the night by their reaction to it. A lot of these shows, I find, are very like a wall in that, I could cough or throw up or laugh or not laugh, and it would come in. I think the stage managers must get it in at the same time each night, because there's no kind of life in them in that way, and I believe in theatre where, if it's going to be live, I want it to be influenced. The show is also built very definitely on everyone having a moment. Everybody in that show had a moment to shine, where it was their ten minutes, and I felt really strong about coming from the factor that there would be no bad part in the show. And I worked really hard on that. I think part of that—maybe why it changed so much—is that people are hotter one night or not, or the audience liked this guy more than they liked this guy. I very much wanted it not to be mechanical, and I had a great company of actors who never phoned it in, I just never felt anyone walked through that show ever.
[On how the show translates to audiences not part of the New York theatre culture] That's what's interesting. I think really well. The audiences there are enormously responsive. We got a lousy review in the L.A. Times. They sent the dance critic so that was upsetting. But the Hollywood Reporter was great, and Variety was great, and the radios were all great. It's only theatre people who seem to feel it's inside. People on the outside seem to find it universal. It's a weird position to be in. You think, "Well, the people they're worried about are fine with it, why doesn't everybody just be fine with it?" I actually think the show has much more universality than some people think. I'll tell you, people are very moved by it, it seems to me, wherever we play. When we were playing downstairs here in 70-seat theater, a year and a half ago for seventy people, they were crying. I don't know ... It's a show that seems to speak a lot of kinds of people, so I don't think it's inside.
The Ambassador [where the show played on Broadway] has a particular problem in that it's very wide, and when you don't have a spectacle ... I loved the way it looked there, but I come from a world where ... I saw COMPANY when I was a kid, and it was eight or ten people or whatever it was on a single unit set. I don't go to the theatre for spectacle, I go for relationships and material and good songs and stuff, I'm in that minority. What I like just doesn't exist much anymore. I am hoping that A CLASS ACT will bring about a renaissance in that kind of show."
---

Playbill VIP
: 
MAKE YOUR OWN PLAYBILL! Playbill VIP allows you to create your very own Playbill Program. We have provided Playbill with all of the credits, song listings, musical numbers and more so that most of the work is already done for you. Just add your productions details, photos of the cast and share it with all of your friends. Learn more: www.playbillvip.com
---

STANDARD
CLASS ACT Orchestration (9 Books)

1 – Keyboard I

1 – KEYBOARD II (Synthesizer)

1 – PERCUSSION (see list below)

1 – REED I (Flute, Alto Flute, Clarinet, Alto Sax)

1 – REED II (Oboe, English Horn, Clarinet, Tenor Sax)

1 – TRUMPET I (Flugelhorn)

1 – TRUMPET II (Flugelhorn)

1 – TROMBONE

1 – BASS (Electric and Acoustic)

CLASS ACT Perusal Package (1 Lib., 1 KB)

1 – Libretto

1 – KEYBOARD / PIANO-CONDUCTOR SCORE

CLASS ACT Rehearsal Set (42 Books)

20 – Libretto

1 – Logo CD

22 – KEYBOARD / PIANO-CONDUCTOR SCORE

0 – Digital Logo
ADDITIONAL
CLASS ACT - PRE-PRODUCTION PACKAGE

1 – Libretto

1 – KEYBOARD / PIANO-CONDUCTOR SCORE

PRINCIPALS
4 Women
4 Men
COMMENTS
Doubling is used for all characters except the roles of Ed Kleban, Lehman Engel and Sophie.
CHARACTERS
Ed Kleban - an aspiring songwriter
Lehman Engel - leader of the BMI Musical Theatre Workshop
Bobby - a drummer and would-be songwriter
Michael Bennett - charismatic choreographer and director
Charley - an aspiring songwriter
Marvin Hamlisch - the composer at age 29
Dr. Nodine - a phychiatrist at a mental hospital. (non-speaking role)
Jean-Claude Chevray - Sophie's boyfriend, suave and confident
Sophie - Ed's first love
Felicia Lipshitz - an aspiring songwriter
Second Girl in 'Light on my Feet'
Tap Dance Students (2)
Dancer Two in 'A Chorus Line'
Lucy - an aspiring singer/songwriter
Dancer One in 'A Chorus Line'
Mona - an aspiring songwriter, seductive and kittenish
First Girl in 'Light on my Feet'
Dancer Three in 'A Chorus Line'

A CLASS ACT takes place in New York City between 1958 and 1988.
SPECIFIC LOCATIONS
The Stage of the Shubert Theatre
Hillside Hospital
The BMI Musical Theatre Workshop
Ed's Apartment
A Recording Studio at Columbia Records
Columbia Records
Outside the Royal Alexandra Theatre in Toronto
Manhattan
Sophie's Laboratory
Central Park
Michael Bennett's Studio
The Public Theatre
St. Vincent's Hospital
Materials Notes
Crash Cymbal, 2 Timpani (A&D), Triangle, Bells (Glock), Suspended Cymbal, Slide Whistle, Bell Tree, Cabasa, Crotales, Shaker (Egg) & Drum Kit.
---
Media Rights
Promotional
1. The Promotional Video shall be recorded and shown for the sole purposes of advertising your licensed production of the Play. For such a video, R&H allows theatres to film up to 10 minutes of total footage taken at either a performance or rehearsal (i.e.: 10 minutes of scripted moments.)
2. The Promotional Video may not include more than (i) 1 minute from any song or (ii) 3 minutes, in the aggregate, of footage of copyrighted material from the Play.
3. The Promotional Video may not include any sponsorship or underwriting without the prior consent of all R&H.
4. The Promotional Video must be submitted to R&H by sending the source video and video link to editor@rnh.com.
5. The Promotional Video must include the following: "Rights courtesy of Rodgers & Hammerstein, www.rnh.com"
6. Upon approval by R&H of the Promotional Video, you agree not to make any alterations in the approved copyrighted material used therein and you agree to obtain the prior written approval of R&H for any other use of the Promotional Video not specifically granted herein.
7. Upon termination of the Term, you shall cease to have any rights to use the Promotional Video including, without limitation, in connection with a future production of the Play, and shall immediately remove its content from any and all websites on the Internet.
8. You may not use a commercially available recording.
9. Any additional promotional rights must be approved by R&H by contactingTheatre@rnh.com.
*
Promotional video rights can only be granted once a performance license for A Class Act has been secured. Please contact customer service if you have any questions. If you have not yet applied for A Class Act, you can do so here. LOG IN to learn more.
---
Archival
1. Subject to the information provided in Licensee's application and payment of the fee as set forth in Paragraph 3 herein, Licensee shall have the right to create a single copy of the Video for internal archival, private viewing purposes at Licensee's address only and shall not be re-copied, distributed or otherwise exploited, in whole or in part, in any media now known or hereafter developed without the prior written approval of R&H. Without limiting the generality of the foregoing, the Video shall not be (i) sold to anyone (ii) telecast by any television station or network, including, without limitation, any local cable station or (iii) distributed, exhibited or otherwise exploited over the Internet or as part of any online auction.
2. Licensee agrees to include the following language at the beginning of the Video:
©Year By R&H Theatricals. This production was videotaped by special arrangement with R&H Theatricals for archival purposes only. All Rights Reserved.
WARNING: Federal law provides severe civil and criminal penalties for the unauthorized reproduction, distribution or exhibition of copyrighted motion pictures, videotapes or videodiscs. Criminal copyright infringement is investigated by the FBI and may constitute a felony with a maximum penalty of up to five years in prison and/or a $250,000.00 fine.
This Video is provided to you for private, organizational and home viewing purposes only. By accepting the Video, you agree not to authorize or permit the Video to be copied, distributed, broadcast, telecast or otherwise exploited, in whole or in part, in any media now known or hereafter developed.
*

You must be logged in and licensed to present A Class Act in order to license Archival rights. Please contact customer service with any questions.
---