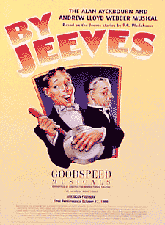 By Jeeves
Music by
Andrew Lloyd Webber
| Book and Lyrics by Alan Ayckbourn | Based on the "Jeeves" stories by P.G. Wodehouse
From the classic P.G. Wodehouse stories of the amiably dense Bertie Wooster and his estimable manservant Jeeves, two of the theater's most celebrated talents have fashioned a jolly chamber musical chock full of hilarity and invention. Bertie is looking forward to enlivening a charity benefit at a church hall when his beloved banjo mysteriously goes missing. Assisted by the unflappable Jeeves, Bertie instead entertains the audience with an improvised account of how he and two chums - with, as one song puts it, 'a collective I.Q. of around 42' - all got their names and identities confused in the course of one riotously raucous weekend. This tale of escalating chaos and labyrinthine high jinx unfolds to the accompaniment of one of Andrew Lloyd Webber's most vivacious and sprightly scores. BY JEEVES cleverly intertwines the twin English passions for amateur theatrics and bumbling silliness, taking us back to a time when flirty girls pursued men, not careers, and where good breeding took precedence over brainpower.
Participate in the R&H Online Community.
Leave comments or talk with other fans in the forum!

To request the rights to make merchandise for this show email brian.sherman@rnh.com.
Fan Info:

In 1948 Andrew Lloyd Webber was born, composer of hit musicals CATS, THE PHANTOM OF THE OPERA, JESUS CHRIST SUPERSTAR, EVITA, JOSEPH AND THE AMAZING TECHNICOLOR DREAMCOAT, BY JEEVES, ASPECTS OF LOVE, WHISTLE DOWN THE WIND, and SUNSET BOULEVARD.

In 2001, BY JEEVES opened on Broadway after a successful UK run. The show was Andrew Lloyd Webber's second musical version of the comic "Jeeves"" stories of P. G. Wodehouse. "

In 1939 renowned British playwright Alan Ayckbourn was born. He wrote book and lyrics for the Andrew Lloyd Webber musical BY JEEVES.

In 2001, Andrew Lloyd Webber's comic musical BY JEEVES closed on Broadway.


"A cheerfully convuluted tale of mistaken identity, romance thwarted and the triumph of true love. Once the giggles start, they rarely subside!"
— Michael Kuchwara, Associated Press
"Nicely done Jeeves! ...Andrew Lloyd Webber's music brightly suits Alan Ayckbourn's neatly turned lyrics. Cozy in style, fizzy in spirits, it makes for a night of jolly good fun!"
— Michael Sommers, The Star-Ledger, January 01, 2001
"Nicely done Jeeves! ...Andrew Lloyd Webber's music brightly suits Alan Ayckbourn's neatly turned lyrics. Cozy in style, fizzy in spirits, it makes for a night of jolly good fun!"
— Michael Sommers, The Star-Ledger

Song #
Song Name
Character Name
Play
Other Versions

BY JEEVES is a totally rewritten version of a 1975 production. The show opened in Scarborough, England, in 1996, transferring to the Duke of Yorks Theatre and the Lyric Theatre in London. The North American premier of BY JEEVES was at the Goodspeed Opera House in East Haddam, Connecticut, in December 1996. A revised Goodspeed production played on Broadway at the Helen Hayes Theatre in 2001. The Broadway production was also filmed for video release.
---

Vocal Range of Characters:

// Photos


Playbill VIP
: 
MAKE YOUR OWN PLAYBILL! Playbill VIP allows you to create your very own Playbill Program. We have provided Playbill with all of the credits, song listings, musical numbers and more so that most of the work is already done for you. Just add your productions details, photos of the cast and share it with all of your friends. Learn more: www.playbillvip.com
---

STANDARD
BY JEEVES - Libretto 10-Pack
BY JEEVES - Orchestra Package (6 Books/6 Players)

1 – Woodwinds (Flute, Alto Sax, Clarinet)

1 – Synthesizer

1 – Guitar (Acoustic)

1 – Bass (Acoustic)

1 – Drums (Trap Set)

1 – Piano-Conductor

BY JEEVES - Perusal Package (2 Books)

1 – Libretto

1 – Piano-Conductor

BY JEEVES - Rehearsal Set (24 Books)

12 – Libretto

1 – Logo CD

12 – Piano-Conductor

Digital Logo
ADDITIONAL
BY JEEVES - Per-Production Pack

1 – Libretto

1 – Piano-Conductor

PRINCIPALS
3 Women
7 Men
FEATURED
1 Woman
2 Men
CHARACTERS
Bertram Wooster
Jeeves
Honoria Glossop
Gussie Fink-Nottle
Harold 'Stinker' Pinker
Stiffy Byng
Bingo Little
Sir Watkyn Bassett
Madeline Bassett
Cyrus Budge III (Junior)
Other Personages (3)

BY JEEVES takes place on the stage of a church hall, later improvised to represent a London flat and the country house and grounds of Totleigh Towers.
Materials Notes
Media Rights
Promotional Video Right
1. The Promotional Video shall be recorded and shown for the sole purposes of advertising your licensed production of the Play.
2. The Promotional Video may not include more than (i) 1 minute from any song or (ii) 3 minutes, in the aggregate, of footage of copyrighted material from the Play.
3. With respect to advertising on YouTube, you may only produce one (1) Promotional Video.
4. The Promotional Video may not include any sponsorship or underwriting without the prior consent of all R&H.
5. The Promotional Video must be submitted to R&H by sending the source video and video link to editor@rnh.com.
6. The Promotional Video must include the following: "Rights courtesy of Rodgers & Hammerstein, www.rnh.com"
7. Upon approval by R&H of the Promotional Video, you agree not to make any alterations in the approved copyrighted material used therein and you agree to obtain the prior written approval of R&H for any other use of the Promotional Video not specifically granted herein.
8. In the event you shall breach any of the provisions set forth herein, the rights herein granted to you shall automatically terminate, without prejudice to our right to recover damages and obtain such other relief as we may be entitled to including, without limitation, a penalty of not less than $600.00 for each such occurrence.
9. Upon termination of the Term, you shall cease to have any rights to use the Promotional Video including, without limitation, in connection with a future production of the Play, and shall immediately remove its content from any and all websites on the Internet.
10. You may not use a commercially available recording.
11. Any additional promotional rights must be approved by R&H by contacting Theatre@rnh.com.
*
Promotional Video Right video rights can only be granted once a performance license for By Jeeves has been secured. Please contact customer service if you have any questions. If you have not yet applied for By Jeeves, you can do so here. LOG IN to learn more.
---