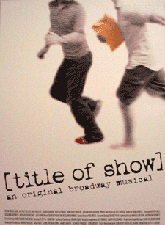 [title of show]
Jeff and Hunter, two struggling writers, hear about a new musical theatre festival. However, the deadline for submissions is a mere three weeks away. With nothing to lose, the pair decides to try to create something new with the help of their friends Susan, Heidi and Larry on the eighty-eights. With the cast in place, Jeff and Hunter begin a conversation about what to write about. Eventually, Jeff suggests they write about what to write about. They make a pact to write up until the festival's deadline and dream about the show changing their lives. [title of show]—taken from the space on the festival's application form which asks for the [title of show]—follows Hunter and Jeff and their friends on their journey through the gauntlet of creative self-expression. In the span of 90 minutes they write and perform their show at the festival and learn lessons about themselves as people, friends and artists. [title of show] is, above all, a love letter to the musical theatre—a uniquely American art form—and to the joy of collaboration. The musical received a Tony Award® nomination for Best Book of a Musical in 2009.
Participate in the R&H Online Community.
Leave comments or talk with other fans in the forum!

To request the rights to make merchandise for this show email brian.sherman@rnh.com.
Fan Info:


July 17, 2008

In 2008, after a successful off-Broadway run and three Obie Awards, the musical [TITLE OF SHOW] opened on Broadway at the Lyceum Theatre where it played for 102 performances.
August 30, 1971

The birthday of Jeff Bowen, composer and lyricist of the musical [TITLE OF SHOW].
October 12, 2008

In 2008, the musical [TITLE OF SHOW] closed on Broadway after 102 performances.
May 29, 2012

The birthday of Hunter Bell, Tony-nominated book writer for [TITLE OF SHOW]. The musical follows Hunter and collaborator Jeff Bowen on their journey through the gauntlet of creative self-expression and musical theater writing, and Bell starred as himself when the show premiered on Broadway.

"in expert hands"
— Associated Press
"terrific. a kick-ass time"
— New York Daily News
"sly, sassy, inspired"
— Entertainment Weekly
"wise, warm, irresistable"
— NY Sun
"a genuine treat"
— Star Ledger
"immensely likeable"
— The New Yorker
"bottomless reservoir of fun"
— Amazon.com
"a crowd-pleaser!"
— Variety
"a good dose of fun"
— AM New York
[tos]ary
Written By: Hunter Bell & Jeff Bowen , February 21, 2010
Please note: No additions or subtractions may be made to the [tos]sary.
Credits:
[tos]sary
by Hunter Bell and Jeff Bowen
www.titleofshow.com
You might want to get familiar with some of the more obscure terms used in [tos] before seeing it, bitches.

Alice Ripley - Unbelievable Broadway actress and belter. As in, "Alice Ripley was f'in fierce in Side Show."

Ass-broke - Without funds. Used like, "If I don't get that check from Paper Mill, I'm gonna be ass-broke, y'all."

Bagels and Yox - 1951 Jewish review that ran on Broadway around the same time as Borscht Capades.

Betty Comden and Adolph Green - Book writers and lyricist of many musicals. As in, "Adolph, quit fartin' around and help Betty write those Will Rogers Follies lyrics."

Bitches - Friends, pals, loved ones. As in, "I appreciate you bitches being so supportive at my grandma's funeral."

Brazilian wax - Depilatory treatment that hurts like a mother f'in bitch.

Bus and truck - The tour of a show that usually plays short gigs in many cities. Heidi may say, "Y'all, should I audition for that bus and truck of Seussical?"

Commodore 64 - Computer released in August of 1982. As in, "Hunter, I just got Donkey Kong for my C64!"

Dan Pessano - "Daddy Warbucks" to Heidi's "Annie" in 1982. Heidi may say, "Y'all, should I audition for that production of Hello, Dolly! that Dan Pessano is directing?"

Dinah Manoff - (See "Empty Nest").

Dixon Ticonderoga - A soft, number 2 pencil. Used like, "Jeff prefers to write songs with a Dixon Ticonderoga, not an f'in Faber-Castell."

Doc Hollywood - 1991 film featuring Michael J. Fox, currently running every hour on the hour on TBS.

Empty Nest - (See Dinah Manoff).

Henry, Sweet Henry - The best damned Don Ameche musical ever.

John Cameron Mitchell - Talented creator of Hedwig and the Angry Inch. Used like, "Susan thinks by saying John Cameron Mitchell's name in the show it increases her chances of meeting him."

Ken Billington - Lighting designer of A Doll's Life, Annie Warbucks and [title of show].

Kwamina - Interracial musical from 1961 with music and lyrics by Richard Adler. Used like, "You can borrow my Kwamina record, but I'll kill you if you scratch it."

Lynda Carter - The most beautiful actress in the world. For example, "If Jeff wasn't gay, he'd have a serious boner for Lynda Carter."

Mamie Duncan-Gibbs - Talented theatre actress and star of Chicago. One of Mamie's friends may say, "Mamie Duncan-Gibbs, that's my girl!"

Mary Stout - Lovable Broadway actress. As in "Mary Stout was excellent as "Enid" in A Change in the Heir."

Me doots - A variant pronunciation of "my doubts." As in, "I hope this [tos]sary helps explain [title of show], but I have me doots."

Mexcellent - When something is both Mexican and excellent. Used like, "My travel agent Eileen said Cancun was Mexcellent this time of year."

Pink Sawdust - A deodorizing powder developed to absorb and neutrilize vomit odors.

Roller Coaster Tycoon 3 - PC game for lonesome nerds. Jeff may say, "My Roller Coaster Tycoon 3 upgrade better have arrived in the mail today or I'm going to be sad."

Roma Torre - NY One anchor and notable theatre critic. Our press agent may say, "I hope Roma Torre doesn't rip [title of show] a new a'hole."

Seafood Mare - Chelsea eatery featuring outdoor dining. A Chelsea boy may say, "I was sitting outside at Seafood Mare when--oh, my god, there's Tim Gunn."
(see Tim Gunn)

S'luck - An appropriate response to "Wish us luck!"

Smell-em-ups - Any scented room sanitizer.

Smell-O-Vision - A 60's invention that allows audience members to smell what they're watching. As in, "When Susan eats Chinese food, it's fortunate for the audience that the show isn't in Smell-O-Vision."

Starlight Express - Andrew Lloyd Weber + roller skates = AMAZING!

The Gray Lady - The New York Times. As in, "The Gray Lady could take the Post in a cage match any day."

The O'Neill Center - Connecticut-based summer camp for grown-up theatre nerds. Hunter may say, "I made out hard with that dude at The O'Neill Center."

The Rink - Kander and Ebb musical from 1984 that starred Chita and Liza. Where's a time machine when you need it?

Tim Gunn - Design mentor of TV's "Project Runway." Used like, "I saw Tim Gunn walk by Seafood Mare."

Tippy Turtle - Iconic reptile used as a litmus test for aspiring artists. For example, "My "Tippy Turtle" drawing wasn't so good, but my "Pete the Pirate" totally rocked."

Word - Street vernacular. Short for "word to your mother." As in, "Word."

Song #
Song Name
Character Name
Play
Other Versions
1
Untitled Opening Number
Company
2
Two Nobodies In New York
Jeff, Hunter
3
An Original Musical
Jeff, Blank Paper (Hunter)
4
Monkeys And Playbills
Company
5
TheTony Award Song
Jeff, Hunter
6
Part Of It All
Jeff, Hunter
7
I Am Playing Me
Heidi, Others
8
What Kind Of Girl Is She?
Heidi, Susan
9
Die Vampire, Die!
Susan, Others
10
Filling Out The Form
Company
11
Montage Part 1: September Song
Company
12
Montage Part 2: Secondary Characters
Heidi, Susan
13
Montage Part 3: Development Medley
Company
14
Change It, Don't Change It
Company
15
Awkward Photo Shoot
Company
16
A Way Back To Then
Heidi
17
Nine People's Favorite Thing
Company


January 12, 2009 — Special Citation for Hunter Bell, Jeff Bowen and Michael Berresse (Director)
January 01, 2009 — Favorite Ensemble Cast

Vocal Range of Characters:

// Photos


Playbill VIP
: 
MAKE YOUR OWN PLAYBILL! Playbill VIP allows you to create your very own Playbill Program. We have provided Playbill with all of the credits, song listings, musical numbers and more so that most of the work is already done for you. Just add your productions details, photos of the cast and share it with all of your friends. Learn more: www.playbillvip.com
---

STANDARD
Title of Show Perusal Package (Libretto & Piano Vocal Score)

1 – Libretto

1 – Piano Vocal Score

Rehearsal Set (16 Books)

8 – Libretto

8 – Piano Vocal Score

1 – Logo CD

0 – Digital Logo
ADDITIONAL
Libretti/Vocal Books 10 pack
[title of show] - Pre-Production Pack

1 – Libretto

1 – Piano Vocal Score

PRINCIPALS
2 Men
2 Women
COMMENTS
[title of show] also features an onstage pianist.
CHARACTERS
Jeff – a composer/lyricist
Hunter – a book writer
Susan – their actor friend
Heidi – their actor friend
*The production pianist appears onstage at the keyboard throughout the entire performance. He is referred to as "Larry." If it is a female pianist, then "Mary."

[title of show] requires a unit set, four chair and a keyboard. The show takes place in various locales in Jeff's and Hunter's lives during the creation of [title of show].
Materials Notes
Media Rights
Promotional
1. The Promotional Video shall be recorded and shown for the sole purposes of advertising your licensed production of the Play. For such a video, R&H allows theatres to film up to 10 minutes of total footage taken at either a performance or rehearsal (i.e.: 10 minutes of scripted moments.)
2. The Promotional Video may not include more than (i) 1 minute from any song or (ii) 3 minutes, in the aggregate, of footage of copyrighted material from the Play.
3. The Promotional Video may not include any sponsorship or underwriting without the prior consent of all R&H.
4. The Promotional Video must be submitted to R&H by sending the source video and video link to editor@rnh.com.
5. The Promotional Video must include the following: "Rights courtesy of Rodgers & Hammerstein, www.rnh.com"
6. Upon approval by R&H of the Promotional Video, you agree not to make any alterations in the approved copyrighted material used therein and you agree to obtain the prior written approval of R&H for any other use of the Promotional Video not specifically granted herein.
7. Upon termination of the Term, you shall cease to have any rights to use the Promotional Video including, without limitation, in connection with a future production of the Play, and shall immediately remove its content from any and all websites on the Internet.
8. You may not use a commercially available recording.
9. Any additional promotional rights must be approved by R&H by contactingTheatre@rnh.com.
*
Promotional video rights can only be granted once a performance license for [title of show] has been secured. Please contact customer service if you have any questions. If you have not yet applied for [title of show], you can do so here. LOG IN to learn more.
---