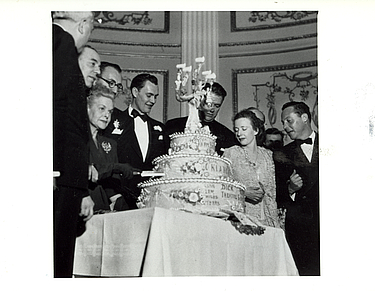 5th Anniversity of Oklahoma! at the University of Nevada in Las Vegas, March 31 1948. From left: Lawrence Langer, Richard Rodgers, Theresa Helburn, Rouben Mamoulina, Lemuel Ayres, Oscar Hammerstein, Agnes de Miller, and Miles White.
5th Anniversity of Oklahoma! University of Nevada Las Vegas from left: Lawrence Langer Richard Rodgers Theresa Helburn Rouben Mamoulina Lemuel Ayres Oscar Hammerstein Agnes de Miller Miles White standing around the birthday cake.
Sorry, there are no photos in this gallery.