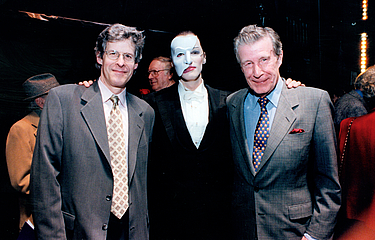 South Pacific 50th anniversary celebration
On April 7, 1999, members of the original 1949 Broadway cast of SOUTH PACIFIC reunited to celebrate their 50th Anniversary; included in the three days of events was an SRO program at Symphony Space, and a historic reunion curtain call back on the stage of the Majestic Theater 50 years to the date of their Broadway opening on the same stage.
Hugh Panaro, Broadway's Phantom on that date, flanked by Ted Chapin (President, Rodgers & Hammerstein) and Schuyler G. Chapin, Commissioner of Cultural Affairs for the City of New York (and Ted Chapin's father!)
Sorry, there are no photos in this gallery.