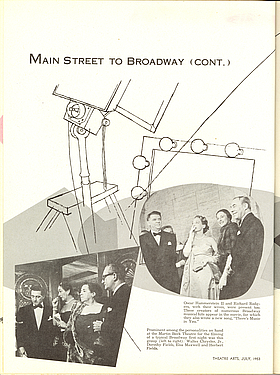 July 1953 Issue of Theatre Arts Magazine, featuring article, "Main Street to Broadway."
Theatre Arts Magazine. July 1953. Feature editorial and special articles entitled "Main Street to Broadway." Page 8 of 9. Special photo spread: "Famous Stage Personalities Play Themselves in a Movie about Themselves". Page 3 of 4 in this spread. Photo of Oscar Hammerstein II and Richard Rodgers with their wives during filming of an opening night.
Sorry, there are no photos in this gallery.