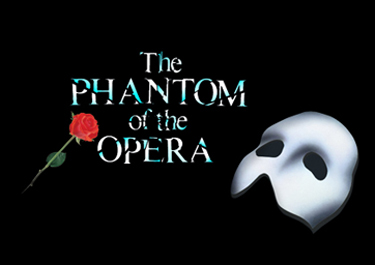 PHANTOM OF THE OPERA Now Available to High Schools and Colleges
Starting today, R&H Theatricals is accepting applications for performances ofAndrew Lloyd Webber's musical phenomenonby high schools and colleges beginning September 2010.
* * * * * * * * * * * * * * * * * * * * * * * * * *
R&H Theatricals, an Imagem Company and a division of The Rodgers & Hammerstein Organization (RHO), is proud to announce that high schools and colleges in the USA and Canada will soon be able to perform the most successful musical of all time, THE PHANTOM OF THE OPERA. Applications to perform Andrew Lloyd Webber's international musical phenomenon are being accepted starting today, June 3, for performances beginning September 1, 2010.
"Andrew's passion for bringing young people into the musical theater is so deeply felt," notes RHO President Ted Chapin, "that he has authorized us to release PHANTOM to schools even while it continues to thrive on Broadway and all over the globe. We always believed that school performances of PHANTOM would bring out the best in each and every student, and the pilot productions we saw across America more than confirmed that belief."
Anticipating the release of PHANTOM to schools, R&H Theatricals created a pilot project working closely with RUG (Lloyd Webber's Really Useful Group). In the 2007-8 academic year, PHANTOM was presented -- in full productions and in its entirety -- by two colleges and four high schools: Baldwin-Wallace College, Berea, Ohio; Elon University, Elon, North Carolina; Carroll Senior High School, Westlake, Texas; Nyack High School, Nyack, New York; Fairfield Senior High School, Fairfield, Ohio; and Capital High School, Charleston, West Virginia.
PHANTOM was a once-in-a-lifetime experience, said Stacie Martinsen of Carroll Senior High School. It helped our departments recognition level go through the roof, and the number of kids who wanted to be involved in theater after PHANTOM nearly doubled. PHANTOM was "more profitable and [received] far more media attention than any other show we've produced," said Mindy Reed of Fairfield Senior High School. "It helped gain respect from the community for our theatre program." It was a "wonderful opportunity" for Baldwin-Wallace College, said administrator Scott Plane. "There was a great deal of 'buzz' about this piece that generated a kind of energy we don't usually experience, which helped our program grow. I'd recommend PHANTOM to any school that wishes to push themselves; it's ultimately extremely rewarding."
R&H Theatricals has been representing North American performance rights to Lloyd Webber's musicals since 2001, with SUNSET BOULEVARD being the latest title to be released (for professional customers only at this time), joining CATS, JOSEPH AND THE AMAZING TECHNICOLOR DREAMCOAT, JESUS CHRIST SUPERSTAR, EVITA, ASPECTS OF LOVE, BY JEEVES, SONG & DANCE -- and now, THE PHANTOM OF THE OPERA.
ABOUT THE PHANTOM OF THE OPERA
THE PHANTOM OF THE OPERA features music by Andrew Lloyd Webber, lyrics by Charles Hart, additional lyrics by Richard Stilgoe, and a book by Richard Stilgoe and Andrew Lloyd Webber. Based on the classic novel Le Fantme de lOpra by Gaston Leroux, THE PHANTOM OF THE OPERA tells the story of a masked figure who lurks beneath the catacombs of the Paris Opera House, exercising a reign of terror over all who inhabit it. He falls madly in love with an innocent young soprano, Christine, and devotes himself to creating a new star by nurturing her extraordinary talents and by employing all of the devious methods at his command. Its sensational score includes "Think of Me," "Angel of Music," "Music of the Night," "All I Ask of You," "Masquerade" and the title song.
The winner of seven 1988 Tony Awards, including Best Musical, THE PHANTOM OF THE OPERA has been seen by over 100 million people in 144 cities in 27 countries. Worldwide, THE PHANTOM OF THE OPERA consistently plays to larger audiences and in longer engagements than any other musical in history. On January 9, 2006, THE PHANTOM OF THE OPERA became the longest-running show in Broadway history, surpassing CATS record-holding run of 7,485 performances. The musical celebrated an unprecedented milestone on January 26, 2008, when it reached its twentieth anniversary on Broadway. It is currently in its 23rd year at Broadways Majestic Theatre, and in its 24th year at London's Her Majesty Theatre, both of which continue to play with no end in sight. The original London and Broadway productions are produced by The Really Useful Theatre Company Ltd. and Cameron Mackintosh and are directed by theatre legend Harold Prince.
R&H Theatricals is excited to partner with the longest running Broadway and national tour productions of THE PHANTOM OF THE OPERA, offering students the chance to see the legendary musical unfold on stage before mounting the show in their schools. To purchase group tickets for the Broadway production, please call 800-334-8457. The national tour is currently playing its final engagements in theatres across the country before closing in Los Angeles this fall. Future cities include East Lansing (Wharton Center, May 19 - June 6), Dayton (Schuster Center, June 9 - 27), Atlanta (Fox Theatre, June 30 - July 25), Cleveland (Playhouse Square, July 28 - August 22), Pittsburgh (Benedum Center, August 25 - September 19) and Los Angeles (Pantages Theatre, Performances begin September 23). For patrons interested in purchasing group tickets for the national tour, please contact tourgroups@thephantomoftheopera.com.
Click here for more information
For more information about the musical visit www.thephantomoftheopera.com
**Subject to certain restrictions
Comments
You must log in before you can post comments. You can login
here
.