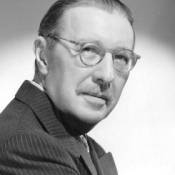 Lindsay, Howard
The Lindsay and Crouse partnership stands today as the longest collaboration of any writers in theatrical history, lasting for 32 years. Howard Lindsay was born in 1889 and died in 1968. He became an actor at nineteen and went on to become a successful Broadway playwright and director. Russel Crouse was born in 1893 and died in 1966. After serving in the Navy, he worked on New York newspapers, gaining his first renown through a signed column in the Post. In 1932 he became head of the publicity department for the Theatre Guild and in 1933 wrote his first Broadway show, collaborating with Corey Ford on the musical comedy HOLD YOUR HORSES. From 1934 on, Crouse wrote only with Lindsay. Their hits include THE SOUND OF MUSIC (with a score by Rodgers and Hammerstein); ANYTHING GOES and RED, HOT AND BLUE (with scores by Cole Porter); CALL ME MADAM (score by Irving Berlin); the long-running play LIFE WITH FATHER (which originally starred Lindsay); the Pulitzer Prize winning STATE OF THE UNION; and THE GREAT SEBASTIANS, written for the Lunts. Their producing credits included THE HASTY HEART, DETECTIVE STORY and ARSENIC AND OLD LACE.
Read More
Shows Associated this writer
Songs Associated this writer
Concerts Associated this writer
News about this writer
The Sound of Music opens in Salzburg - Video
THE SOUND OF MUSIC opened on Sunday October 23rd in Salzburg Austria -- the first time the stage musical has ever been seen in the city where the story began. Watch the video
Read More
Trivia about this writer
In 1962, MR. PRESIDENT opened at the St. James Theatre on Broadway where it ran for 265 performances.
In 1963 MR. PRESIDENT closed on Broadway after a run of 265 performances and three Tony Award nominations.
In 1889 book writer Howard Lindsay was born. Lindsay became best known for writing the books to THE SOUND OF MUSIC, CALL ME MADAM, MR. PRESIDENT, and ANYTHING GOES.