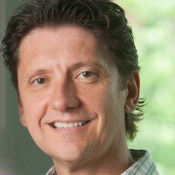 Bartram, Neil
Neil is the composer and lyricist of Broadway's The Story of My Life, a production which garnered four Drama Desk Award nominations in 2009, two of which were for Mr. Bartram's music and lyrics. Prior to Broadway, The Story of My Life played at CanStage in Toronto and Goodspeed Musical's Norma Terris Theatre. The top-selling original Broadway Cast recording of The Story of My Life is available through PS Classics and features Will Chase and Malcolm Gets.
With book writer Brian Hill, Neil has written music and lyrics for Somewhere in the World, his first musical, which ran for five seasons at the Charlottetown Festival, Clara's Piano, developed by the Stratford Festival and The National Ballet of Canada and directed by the Tony Award-nominated director of The Secret Garden Susan H. Schulman, Not Wanted On The Voyage, based on Timothy Findley's controversial novel of the Great Flood, The Adventures of Pinocchio, which premiered at Chicago Shakespeare Theatre, Spin, directed by the Signature Theatre's artistic director, Eric Schaeffer, and Belles Soeurs, an adaptation of Michel Tremblay's groundbreaking play, which premiered in a sell-out production in Montreal in 2014. His student-specific musical The Theory of Relativity, commissioned by Toronto's Canadian Music Theatre Project, was part of Goodspeed's 2014 New Works Festival. The Theory of Relativity had its London premiere in May of 2014, was featured in Goodspeed Musical's 2015 season, and received an encore Off West End production in the same year.
Other projects include a musical based on Ray Bradbury's cult classic novel Something Wicked This Way Comes and the stage adaptation of Disney's beloved film Bedknobs & Broomsticks, developed by the Tony Award-winning Chicago Shakespeare Theatre and helmed by the multiple Drama Desk Award-winning artistic director of New York?s Transport Group, Jack Cummings, III
Neil's awards include a Jonathan Larson Foundation Award, a Dramatists Guild Fellowship, and a Dora Award. Neil is a member of the Dramatists Guild, ASCAP, and is an alumnus of the BMI Lehman Engel Music Theatre Workshop. He is published by Warner/Chappell Music.
Shows Associated this writer
Songs Associated this writer
Concerts Associated this writer