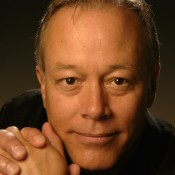 Briggs, Tom
Director of The R&H Theatre Library (precursor to R&H Theatricals) for over a dozen years, Tom Briggs began his association with Rodgers and Hammerstein as a youngster in his native Wisconsin, appearing in a community theater production of OKLAHOMA! and in his high school production of SOUTH PACIFIC. His teen years found him singing and dancing in the opening acts for such luminaries of the era as Diana Ross and the Supremes, Sonny and Cher, Tom Jones, The Association, B.J. Thomas and The Carpenters. He toured the country with entertainers including Doc Severinsen, Barbara Mandrel, Mike Douglas and Tennessee Ernie Ford, and with such troupes as The Brothers & Sisters, The Young Americans, The Fresh Collection and Today's Children. After attending the University of Wisconsin he went on to study at the American Conservatory Theatre in San Francisco where he appeared in several plays with the resident company. As a director and choreographer his affiliations include The O'Neill Theatre Center, Actors' Theatre of Pennsylvania, Fulton Opera House, Chicago Premiere Society, Dorset Theatre Festival, National Theatre Institute, Candlewood Playhouse, National Theatre Workshop of the Handicapped and Union College, where he served on the faculty. As the Artistic Director of St. Bart's Playhouse in NYC, he produced over 25 productions, many of which he also directed. He recently directed the world premiere of the musical POMPEII at Thalian Hall Center for the Performing Arts in Wilmington, NC. As a librettist, Tom's credits include the stage adaptation of STATE FAIR, the final Broadway musical produced by the legendary David Merrick; the stage adaptation of Rodgers & Hammerstein's CINDERELLA starring Eartha Kitt and Jamie-Lynn Sigler; and providing script continuity for THE MELODY LINGERS ON, an Irving Berlin revue. After 30 years in New York City, Tom has returned to his roots in community theater and currently serves as the Executive Director of the Thalian Association in Wilmington, NC. He continues as Creative Consultant to The R&H Organization.
Shows Associated this writer
Songs Associated this writer
Concerts Associated this writer
Trivia about this writer
The birthday of the librettist Tom Briggs, whose work includes the stage adaptations of STATE FAIR and CINDERELLA, and the revue THE MELODY LINGERS ON.