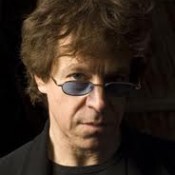 Goodman, Paul Scott
Paul Scott Goodman was born and raised in Glasgow, Scotland. In 1984, following UK tours with John Cougar Mellancamp, Joan Armatrading, David Essex, and The Average White Band PSG moved to NYC after a quick year performing in LA. Paul wrote the book, music, and lyrics for BRIGHT LIGHTS, BIG CITY, which was presented at the New York Theater Workshop (directed by Michael Greif), The Guggenheim Museum, the Prince Music Theater, Philadelphia in June 2006, and is now licensed worldwide by R&H Theatricals. The CD of BRIGHT LIGHTS, starring Patrick Wilson, Sherie Renee Scott, Jesse L. Martin, and Christine Ebersole is available on Sh-K-Boom Records. Paul's other produced musicals include HIM & HER produced at the Prince Music Theater in April 2007, and which won a New York International Fringe Festival 2002 Best Performance Award; ROOMS, produced by the University of Michigan and the New York Musical Theatre Festival in September 2005, (directed by Scott Schwartz); ALIVE IN THE WORLD produced by van Hill Productions for the New York Musical Theater Festival, September 2006; GOD SAVE THE NEW WAVE (Bottom Line, West Bank Theater); METROPOLITAN MUSIC (Marymount Manhattan College); JUST EAST OF BROADWAY (The Duplex). Paul Scott Goodman was the first recipient of the Songwriters' Hall of Fame Best New Songwriter Award, winner of the Backstage Bistro Award for DOMESTICA (book, music and lyrics), first solo recipient of the Jonathan Larson Foundation Award, and winner of the Gilman Gonzalez-Falla Theater Foundation Commendation Award. In London, Paul's musicals have also been produced at the National Theater, The New End Theater, and BBC TV. He lives in Soho, Manhattan with his wife and three children.
Shows Associated this writer
Songs Associated this writer
Concerts Associated this writer
Trivia about this writer
The birthday of Paul Scott Goodman, composer and lyricist of the musical BRIGHT LIGHTS, BIG CITY.
In 1999, the rock musical BRIGHT LIGHTS, BIG CITY by Paul Scott Goodman opened at New York Theatre Workshop.