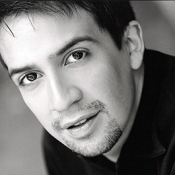 Miranda, Lin-Manuel
LIN-MANUEL MIRANDA won the 2008 Tony Award for Best Original Score for In the Heights. He wrote the first incarnation of In the Heights during his sophomore year at Wesleyan University, CT. Off-Broadway: In the Heights: nine Drama Desk nominations, including Best Music, Best Lyrics and won the award for Outstanding Ensemble Performance; the Lucille Lortel Award and Outer Critics Circle Award for Best Musical; the Obie Award for Outstanding Music and Lyrics; a Theatre World Award for Outstanding Debut Performance and the Clarence Derwent Award, both for Mr. Miranda's performance. He is the recipient of the 2007 ASCAP Richard Rodgers New Horizons Award. TV/film: "The Sopranos," "Sex and the City," "House," and "Sesame Street." A co-founding member of Freestyle Love Supreme, a hip-hop comedy group that tours comedy festivals all over the world. Love and gratitude to Luz, Luis, Lucecita y Mundi. He dedicates In the Heights to the memory of Abuela Eva.
Shows Associated this writer
Songs Associated this writer
Concerts Associated this writer
Trivia about this writer
February 14, 2008
In 2008, IN THE HEIGHTS opened on Broadway at the Richard Rodgers Theatre, where it ran for 1,184 performances. It won the 2008 Tony Awards for Best Musical and Best Original Score, and became a finalist for the 2009 Pulitzer Prize for Drama.
January 16, 1980
The birthday of Lin-Manuel Miranda, writer and composer of the Tony Award-winning musical IN THE HEIGHTS! Miranda not only wrote the show, but also starred in the original Broadway production as Usnavi. Born in 1980, Miranda is the youngest R&H writer!
January 09, 2011
In 2011, In the Heights closed on Broadway after 1,184 performances. The show was honored as a 2009 Pulitzer Prize finalist for Drama and won the 2008 Tony Awards for Best Musical and Best Original Score.